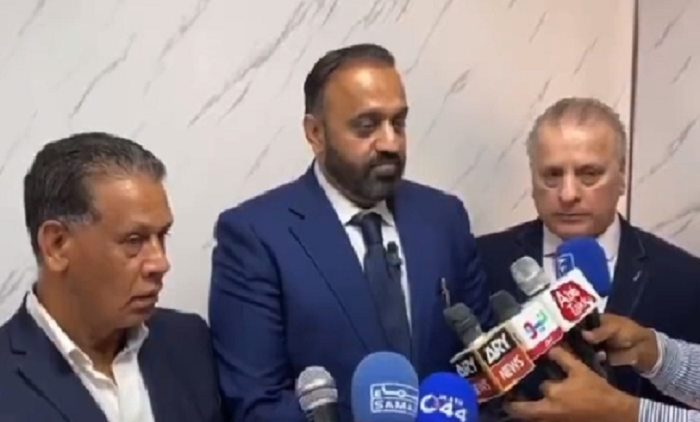 ---
LONDON:
A man who claimed to be a spokesperson of the Pakistan Muslim League-Nawaz has alleged that the conspiracy of attack on Pakistan Tehreek-e-Insaf (PTI) Chairman Imran Khan and the murder of journalist Arshad Sharif was hatched in London.
According to private TV channel on Sunday, Tasneem Haider Shah, who said he was associated with the PML-N for the past 20 years, told a press conference that he had three meetings with PML-N supremo Nawaz Sharif in the office of his son Hassan Nawaz, alleging that he was called to kill Arshad Sharif and Imran Khan.
According to Shah, the first meeting was held on July 8, the second on September 20 and the third on October 29. He added that he was told that Arshad Sharif and Imran Khan should be removed before the appointment of the new army chief.
He further alleged that Nawaz Sharif had told him that if he could provide the shooter, they [the PML-N] would give a place in Wazirabad and the blame would fall on the Punjab government. However, Shah added that he refused. Shah also said that the plot was reported to the British police.
Read 'Assassination attempt on former PM's life not a small matter'
However, the PML-N vehemently rebutted the charge, with its spokesperson and Information Minister Marriyum Aurangzeb saying that the person, Tasneem Haider Shah had no link to the party, warning that no one should try to forcefully become the spokesperson for the party.
وزیر اطلاعات مریم اورنگزیب کا بیان

تسنیم حیدر نامی شخص پاکستان مسلم لیگ (ن) لندن کا ترجمان نہیں

تسنیم حیدر کا مسلم لیگ ن سے کوئی تعلق نہیں

تسنیم حیدر کے پاس ثبوت ہیں تو جے آئی ٹی کے قانونی فورم پر پیش کریں

کوئی شخص زبردستی پارٹی ترجمان بننے کی کوشش نہ کرے

— PML(N) (@pmln_org) November 20, 2022
Aurangzeb stressed that if anyone had any proofs, should present then before the legal forum. "Forgery, lies and fake news cannot divert attention from the real killers of Arshad Sharif," she added.
تصویر میں نظر آنے والا شخص پی ٹی آئی لندن کا آرگنائزر ہے

اے آر وائے کو چیلنج ہےکہ یہ خبر برطانیہ میں آن ائیر کرے

برطانیہ میں جھوٹی خبر اس ڈر سےنشر نہیں کرتےکیونکہ پہلے بھی جھوٹ پر جرمانے بھر چکےہیں

جعلسازی، جھوٹ اور فیک نیوز سےارشد شریف کےاصل قاتلوں سےتوجہ ہٹائی نہیں جاسکتی

— PML(N) (@pmln_org) November 20, 2022
In a statement, Punjab government's adviser on interior Umar Sarfaraz Cheema said that the authorities had contacted Tasneem Haider Shah and included him in the investigation into the assassination attempt on former prime minister Imran Khan.
Cheema also said the central, provincial and district level leaderships of PML-N would also be questioned regarding the Wazirabad gun attack following revelations of the self-confessed PML-N leader.
"The scope of the Wazirabad incident investigation has been widened," he added.
(Agencies with input from News Desk)
COMMENTS
Comments are moderated and generally will be posted if they are on-topic and not abusive.
For more information, please see our Comments FAQ