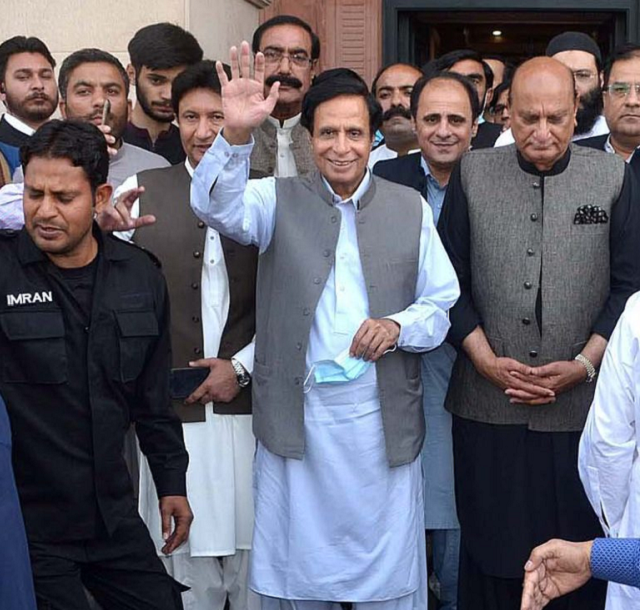 ---
LAHORE/ISLAMABAD:
Punjab Chief Minister Chaudhry Parvez Elahi on Sunday said the provincial government would "protect" PTI chairman and deposed premier Imran Khan when he resumed his long march towards the federal capital.
The PTI chief had suffered bullet wounds to his leg after an attack on his container, as he led his party's "Haqeeqi Azadi March" in Wazirabad on November 3.
While speaking to media personnel in Lahore, Elahi, who is also a PML-Q stalwart, pledged to accept whoever was appointed the new army chief "constitutionally".
To a reporter's query, he replied that he would see fully well what the PTI's long march had achieved in the coming few days.
"Look at the faces of the PML-N leaders," he continued. "They look like a destroyed field so that should be sign enough of what their situation actually is," he added.
Responding to another journalist's question about Imran's anti-establishment stance, the Punjab CM said: "You have not heard what he [PTI chief] is saying at all. Just yesterday, he said the establishment neither had any role in the attack on him, nor in toppling his government."
Criticising the PML-N government and in particular Prime Minister Shehbaz Sharif's recent decisions, Elahi described it as a "drama" that took place in the past and was now being repeated.
"After the last 10 to 15 years, whatever we are trying to do [in Punjab] right now is to rectify the results of Shehbaz Sharif's decisions during his tenure as the chief minister," he claimed. "Believe me, he [Shehbaz] knows nothing about how things are done," he maintained.
"He [Shehbaz] has been exposed badly. He used to claim that he would do this and that, but hasn't accomplished a single thing," Elahi added.
Elahi was speaking to the media outside the newly completed mother and child block at Gangaram Hospital. On the occasion, he praised PTI leader Punjab Health Minister Dr Yasmin Rashid for her hard work and dedication.
Reflecting on the developmental projects in Lahore, the CM said there was a fruit market at one location that his government had retrieved and now it was going to build a 400-bed emergency hospital there.
"We are also going to extend the Lahore wing of the Punjab Institute of Cardiology to double its size and build an emergency block there as well," the CM said, adding that he was also "going to build a separate system for daily patients".
"In that same vein, Services Institute of Medical Sciences is going to be demolished within a few days and a new hospital is going to be built there," he said.
He also disclosed his plan to build a cancer hospital at the Fatima Jinnah Medical University.
Separately, as the PTI is gearing up for its final showdown of its much-hyped long march, the Islamabad Capital Territory (ICT) police said entry to Islamabad from Rawalpindi could be closed down on November 26 -- the day when the former ruling party's supporters would gather in the garrison city to demand early elections.
Islamabad IG Dr Akbar Nasir Khan presided over an important meeting on public order following the PTI chairman's announcement that everyone would receive a "surprise" on November 26.
During the meeting, risks were assessed in connection with the expected PTI rally in the area adjacent to the federal capital and the entire security situation was reviewed.
"Any type of illegal activity will not be tolerated in Islamabad," the ICT police wrote in a series of tweets.
They also said that entry to the capital from Rawalpindi could be closed down on November 26 that might cause problems for the people.
"Any political activity in Islamabad will be done according to the law and with the permission of the city's administration," the ICT police added.
They said police, FC and Rangers personnel would be deployed to ensure the security of the Red Zone. Besides, they added that security would also be boosted.
"Keeping in view the threats of terrorism, search operations will be conducted throughout the district," they said, adding that strict action would be taken on any kind of "obstruction".
The Islamabad IG said that all possible measures would be taken to ensure the safety of the lives and properties of the citizens of the federal capital.
COMMENTS
Comments are moderated and generally will be posted if they are on-topic and not abusive.
For more information, please see our Comments FAQ