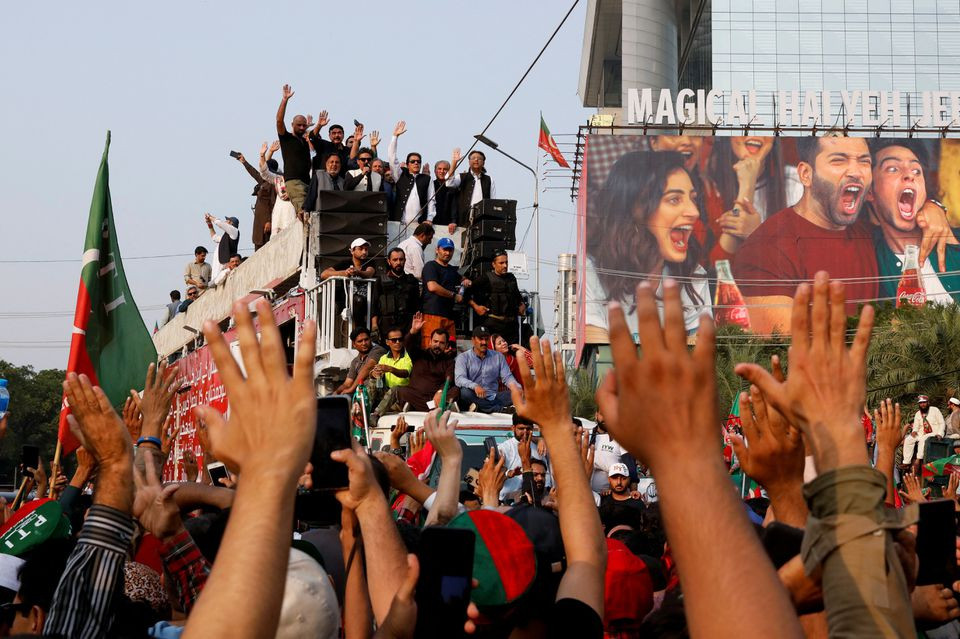 ---
ISLAMABAD:
As the Pakistan Tehreek-e-Insaf (PTI) long march converges on the twin cities, both sides stick to their guns with the government staying firm on its stance of completing the remaining constitutional tenure while PTI is adamant not to budge from its demand of getting a date for fresh election.
Since his ouster in April this year through a vote of no-confidence, PTI chairman Imran Khan has been demanding fresh general election, or at least a date for it. He has even announced to take a step back on army chief's appointment but not the election date.
However, the government has constantly been saying that the PTI would not even get a perceived victory through the long march, stressing that no face-saving would be given no matter what tactics PTI resorts to.
Pakistan Muslim League-Nawaz (PML-N) supremo Nawaz Sharif has even strictly barred Prime Minister Shehbaz Sharif from giving any kind of face-saving to the former prime minister "no matter what".
Read more: 'Friendly ISI source' tipped Shehbaz was plotting my assassination: Imran
Prime Minister Shehbaz Sharif's spokesperson Fahd Hussain said that the government had been very clear that elections would be held on the scheduled time. "If the PTI chairman expects that he will get the government to announce early elections under pressure, he should prepare to be bitterly disappointed," Hussain added.
Emphasising that there was "zero chance" of Imran getting an election date through the long march, Hussain said that no group would be allowed to "blackmail the government through tactics that stop children from going to school, patients going to hospital and people going to offices and markets".
"There will be no face-saving to such groups and elections will take place on time," Hussain said, adding that it was the government's responsibility to ensure that no group or individual took law into their hands and caused inconvenience to the citizens of Pakistan.
When asked whether the government would cave in and give a date for elections, Information Minister Marriyum Aurangzeb quipped that the PTI chief would definitely get a date for the next general elections and that would be "August 2023".
Read more: Imran believes threat to his life still very much there
Similarly, Minister for Power Khurram Dastgir said that it was "unlikely" that Imran would manage to get elections' date, saying "chances diminishing every day".
PTI leadership, however, has several reasons to believe that the party would achieve its objective of early polls or a date for the next general election through its long march. "We expect the nation's voice will be heard when IK [Imran Khan] comes to Pindi and people from across the country come to join our Haqeeqi Azadi march," senior PTI leader Dr Shireen Mazari said.
To a question as to how long the PTI was planning to stay in Rawalpindi or in Islamabad to achieve its objective of getting the election date, Dr Mazari, who served as the human rights minister during the previous Imran-led government, replied: "Let us see how it goes".
Another PTI leader and former information minister Fawad Chaudhry opined that there were several factors that would ensure that the PTI achieved its objective. Chaudhry listed four key factors: peoples' support; political instability; economic downturn and change in establishment.
Imran Khan had started his party's much-awaited long march on October 28. On the way, he survived an assassination attempt in Wazirabad on November 3 – the seventh day of his Haqeeqi Azaadi (real freedom) March.
From holding rallies to making history in by-elections and from leading long marches to being declared disqualified by the Election Commission of Pakistan (ECP), the PTI chief has shown consistency on one thing: he wants fresh polls or a date for the next election.
Simultaneously, the government has been giving him a cold shoulder. Soon, Imran would be arriving in the garrison city and might prolong his stay just like he did it in 2014. What would be the actual outcome of the face-off between the government and the PTI would depend on who blinks first.
COMMENTS
Comments are moderated and generally will be posted if they are on-topic and not abusive.
For more information, please see our Comments FAQ