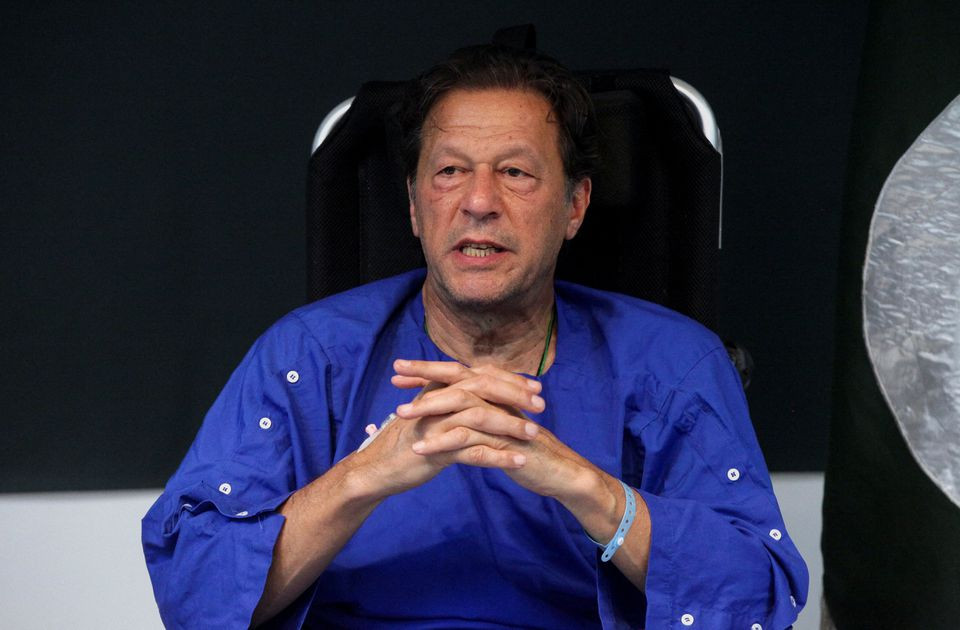 ---
Former prime minister and Pakistan Tehreek-e-Insaf (PTI) Chairman Imran Khan has claimed he had been tipped off by a friendly source in the Inter-Services Intelligence (ISI) that Prime Minister Shehbaz Sharif would try to pass off an "organised assassination attempt" as being carried out by a "rogue Islamic fundamentalist".
In an interview with The Telegraph, Imran alleged that "desperate" PM Shehbaz had a "track record" on ordering killings, saying he was "not surprised" an attack had been ordered against himself, as his political rival seeks to consolidate his hold on power.
"I think it was Human Rights Watch or Amnesty who said that during 1997 and 1999 when he [Shehbaz Sharif] was chief minister in Punjab, they listed the number of people he had killed through extrajudicial killings, I think it was around 900 people," Imran alleged.
"When he came to power [in April] he had a case of billions of rupees against him and he was about to be convicted – it was an open and shut case. Then four witnesses died mysteriously in two months, and one of the investigators also died too," he went on to claim.
Read more: Imran believes threat to his life still very much there
"They have already tried other ways. To get me disqualified [from politics] in legal cases, terrorism charges, I have around 25 cases against me right now," Imran said.
"But, these cases were failing and as my support grew, I knew my life would be in danger."
'Threat to life remains'
Imran said that threat to his life remains despite the failed assassination attempt. "Yes, I feel that there would be another attempt [on my life] unless Pakistan's Supreme Court takes up the issue," he admits.
The former premier said that the investors were losing confidence in the current government, adding that Pakistan was going to go down an economic quagmire if the current government stays in power.
"I feel there will be social unrest unless [early] elections are held because of the economic meltdown that is taking place right now," he added.
'Protests democratic right'
Talking about the protests by the PTI, he said that it was his party's democratic right. "Marches and peaceful protests belong in a democracy and we see protests across Europe now, like in France or Britain, protests by unions and against price hikes," said Imran.
"So, there is nothing wrong with [our] protests and they shouldn't destabilise the country. We had three long marches against me when we were in power and we didn't try to stop them or take coercive action."
Also read: Will tell tomorrow when long march will reach Islamabad, says Imran
He said that he hasn't taken a day off from campaigning since being ousted from power.
In the interview, the ousted prime minister also spoke about his sons, Sulaiman Isa and Kasim, who visited him last week.
The report stated that together, Imran "afforded himself several 'wonderful' hours and they watched the World Cup cricket final together between England and Pakistan — as long as his boys promised him that they would support the Green Army.
"The United Kingdom is like a second home to me… some of my closest friendships are there but since my party came into power, it is impossible for me to visit," he says.
"Since we were outside power, it is even more difficult, I am on the campaign trail. I don't see myself leaving Pakistan now."
'It was straight forward assassination attempt'
Describing the Wazirabad incident that occurred on November 3, Imran said that it was straight forward assassination attempt.
"When the shooter fired, there was a man standing on the street [next to him] and this young supporter, he put his hand on the gun and so rather than hitting my chest, the bullets hit my legs," Imran said, recalling the actions of a bystander who intervened and grappled a handgun away from the attacker.
"This caused my legs to collapse. There was a second shooter but the bullets then went over my head," he added, doubling down on his claim that another gunman was involved that contradicts police reports.
COMMENTS
Comments are moderated and generally will be posted if they are on-topic and not abusive.
For more information, please see our Comments FAQ