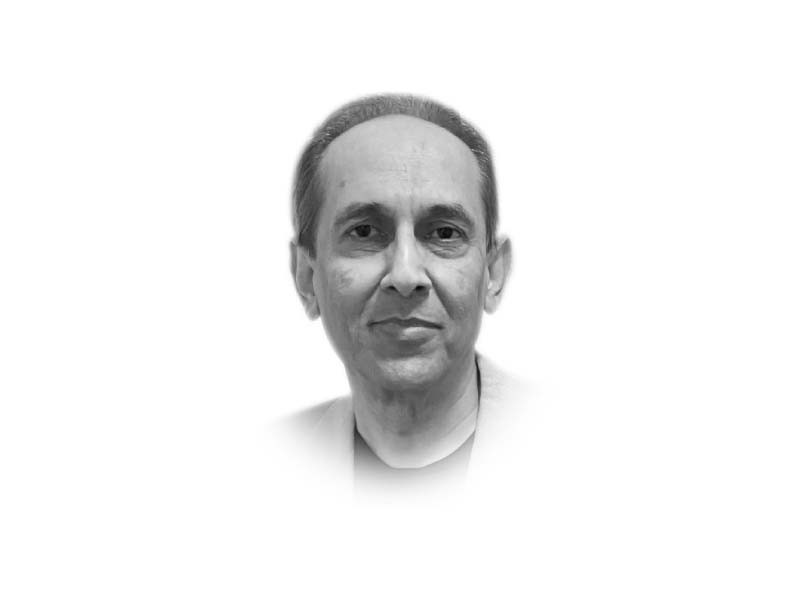 ---
The year is 2007. A charismatic Benazir Bhutto returns to her homeland from self-exile. She has been warned of a suicide attack on her life. But she's a maverick. She calls herself "the daughter of Zulfikar". As she steps out of the airplane, a smile of triumph graces her face. Tears of joy trickle down her cheeks. "I'm very emotional coming back to my country. I've dreamt of this day for so many months. I counted the hours. I counted the minutes. To see this land, to see the grass, to see the sky."
Two months later, unbeknown to Benazir Bhutto, the sun rises on the wrong side of the horizon. All day, she's swamped with work and meetings. In the afternoon, she addresses a huge election rally at Rawalpindi's Liaquat National Bagh. There are chants and slogans. PPP flags flutter across the arena. The euphoria is palpable. She knows she has to fight tooth and nail to be the next prime minister. Even at the cost of playing Russian roulette with her life!
As the daughter of Zulfikar leaves the park in a bulletproof vehicle, she raises her head through the sunroof hatch to wave at the jubilant crowd. And just then, a 15-year-old boy points a pistol at her head. Shots are fired at point-blank range. She takes a tumble. Soon thereafter, an explosion rocks the ground. The maverick has been silenced.
Fifteen years later, another maverick, standing atop a container, waves at a rapturous crowd just before shots are fired. But, as luck would have it, he survives the assassination attempt with bullet fragments lodged in his leg. This is Imran Khan — a man driven by unrestrained ambition to reclaim his lost power as the prime minister of Pakistan. If there is something he shares with Benazir Bhutto more than anything else, it's popularity. He is vividly dynamic, deeply inspiring and extremely popular. But so was Adolph Hitler.
Known for his trimmed moustache and rousing speeches, Hitler was able to revive Germany after humiliation his country received at the end of World War I in the form of Treaty of Versailles. "This age must be called, not the decline of the West," proclaimed the Fuhrer, "but the resurrection of the peoples of this West of ours. Only that which is old decays and perishes. Let it die. But new life will spring up. Our leadership has the will, and faith is with the people." Imran Khan, much like Hitler, possesses an unmistakable duende that draws crowds like a magnet. In a 1918 speech, he captured the imagination of his supporters: "The weak are dying of hunger. I will try my best — all of my policies will be made to raise our worker class, for our laborers, for our farmers who work all year and (make) no money. No country can prosper when there is a small island of rich people, and a sea of poor."
But democracy is more than a popularity contest. Your popularity does not, and should not, entitle you to special privileges. It does not give you the right to block roads and highways and create mayhem when you should be sitting in parliament to serve the people who elected you. Despite his utter disregard for the parliamentary procedure, IK has been able to mobilise masses behind a powerful message, that the military should stay away from politics — a poignant message except that it reeks of duplicity and hypocrisy. What he's saying in fact is that the military should continue to help him as they did in the past — just not his political opponents. Pampered by the military generals for over a decade and funded by generous donors and fundraisers, including but not limited to Arif Naqvi, he is spoiled to the point where he is quick to call the generals 'chowkidars' when left to his fate, biting the very hand that fed him.
The question is: what now? Can we find a silver lining in the clouds of uncertainty that loom ominously over the future of Pakistan's democracy?
Let's start by welcoming the statement made by General Qamar Bajwa himself on October 4 in Washington DC that the armed forces have distanced themselves from the politics and want to stay out of it in the future as well. Let's hope that the new Army Chief, like General Ashfaq Kayani did in 2008, will forbid military officers from holding civilian posts in the government. That an Army Chief will not be eligible for an extension in the future.
On the other hand, to put an end to dynastic politics, let's introduce Term Limits. No more than two terms for prime minister and president and for all representatives in the National Assembly and the Senate.
As I mentioned in my last piece, Term Limits will prevent the president or the prime minister from amassing too much power. It is embarrassing that Shehbaz Sharif, the current prime minister of Pakistan, has to rush to London so frequently as if to seek advice or approval of his party's ultimate bigwig — Nawaz Sharif. It reminds us of the film Godfather featuring a mafia kingpin. "Never let anyone know what you are thinking."
Let's not turn Pakistan into an autocratic state. We don't need a powerful leader; we need a powerful system. A system of checks and balances. A system that promotes education and healthcare and high infrastructure development. A system that puts a damper on elite capture. A system that guarantees everyone equal protection and due process of law. A system that does not suppress dissent and freedom of speech.
"The ruling ideas of each age have been the ideas of its ruling class." —Karl Marx
Published in The Express Tribune, November 19th, 2022.
Like Opinion & Editorial on Facebook, follow @ETOpEd on Twitter to receive all updates on all our daily pieces.
COMMENTS
Comments are moderated and generally will be posted if they are on-topic and not abusive.
For more information, please see our Comments FAQ