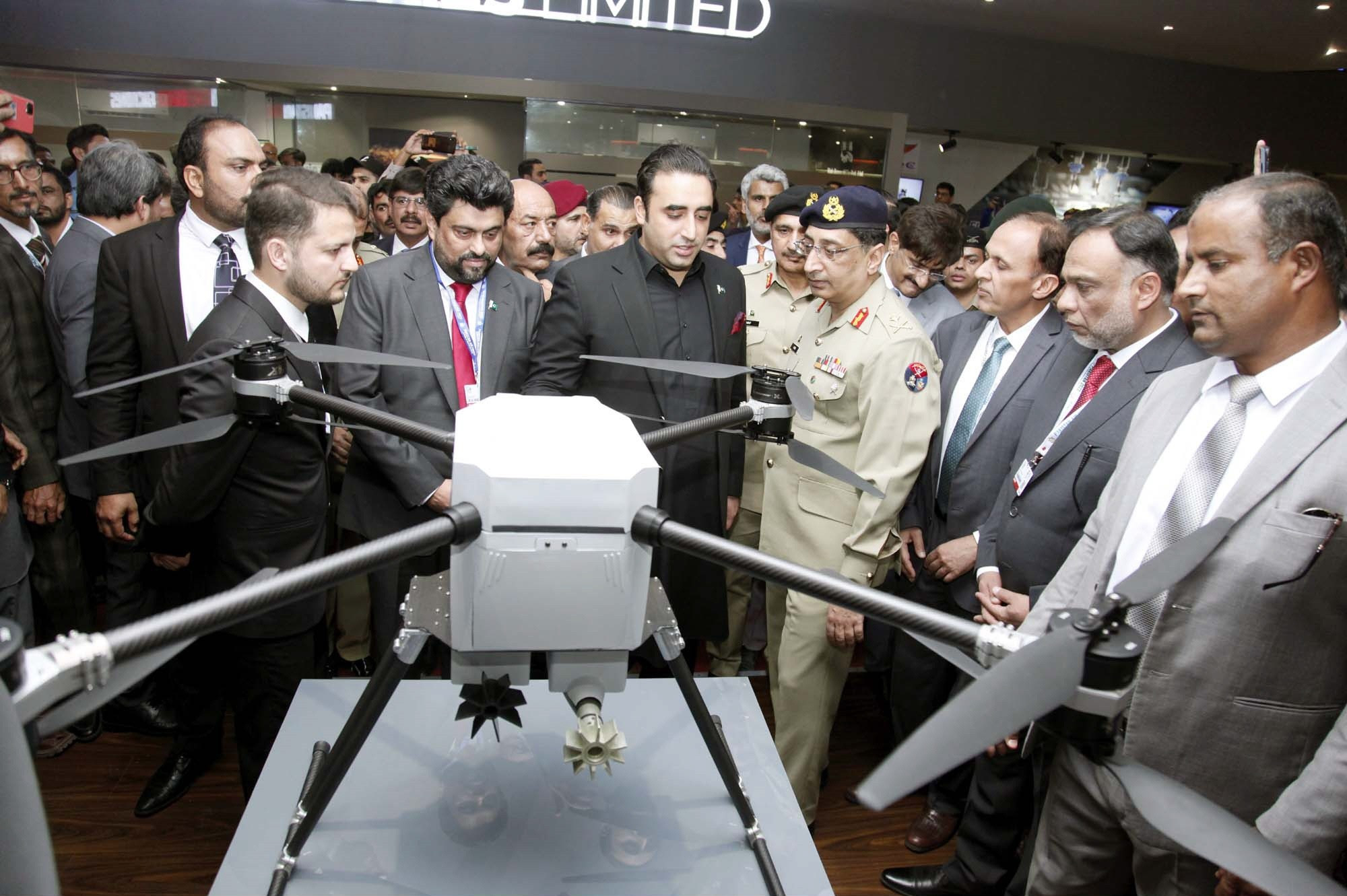 ---
KARACHI:
The International Defence Exhibition and Seminar 2022 (IDEAS-22) kicked off in Karachi on Tuesday, showcasing the latest technology in the defence sector and gathering together hundreds of high-level delegates from dozens of countries and international manufacturers.
Foreign Minister Bilawal Bhutto Zardari inaugurated IDEAS-22 at the Karachi Expo Centre. Defence Production Minister Israr Tareen, Defence Export Promotion Organization Director General Maj-Gen Arif Malik, Sindh Chief Minister Murad Ali Shah and senior civil and military officials also attended the inauguration ceremony.
Speaking as the chief guest, Bilawal told the ceremony that Pakistan offered enormous opportunities for profitable investments, joint ventures and trade in all sectors, including the defence industry. He added that Pakistan's defence industry had reached the threshold of quality and reliability.
He maintained that though Pakistan was exporting high-tech defence products to more than 60 countries, the volume of exports did not commensurate with the country's actual potential because of the limited involvement of the private sector and lack of attention to academia interface.
"In order to achieve this goal, I will stress the integration of the private and public sectors to achieve maximum results," the foreign minister told the participants. On the occasion, he urged the small and medium industries to "join hands" with the defence industry.
"When we talk about the defence industry", Bilawal said, "IDEAS is an iconic platform for showcasing the latest defence technologies, and is a regional gateway for international suppliers and manufacturers to explore new avenues of defence cooperation through joint ventures, outsourcing and collaborations."
Bilawal emphasised the vital role played by technologies in confronting modern-day security challenges. "Its responsible use can make the world a better and safer place," he stressed. "Pakistan, being a responsible state, is always committed to play its role for international peace, stability and order," he said.
"Reciprocity, mutual interests and international norms are the guiding principles that govern Pakistan's relations at the bilateral and multilateral levels. Pakistan always believes in meaningful dialogue on the basis of equality to resolve bilateral issues and give a chance to peace and harmony in region," he said.
In the regional context, he maintained that the transformation of the South Asian geo-strategic environment had further accentuated the importance of the region in the world affairs. "Resultantly, regional cooperation and active engagement with regional and global players has become imperative," he added.
However, he cautioned that with the rapid advancement in technology and proliferation in knowledge "we are facing a physical change in the established security paradigm", adding that the increasingly complex security environment of the world posed multifaceted threats to national security and the stability of the country.
"In today's globalised world, national security has emerged as a dynamic concept that is as much economic, social, political and institutional as it is military and strategic in nature," he said. "In the age of fake news and disinformation the threats to national security have increased," he added.
According to the minister, the spectre of rising global food and energy crises was putting immense strain on national cohesion thus, deepening the internal fault lines. "It is our opinion that the best way to safeguard and strengthen national security is to achieve economic self-reliance, rebuild and strengthen political institutions."
He stressed the need for the Institutions to function within constitutional domains, focusing on the objective and the national goal. "For example, I am a parliamentarian and it is my job to be answerable in parliament, rather than lashing out at my political opponents on the streets or in the public arena," he said.
Bilawal maintained that the government had been focused on making "service delivery efficient and people-centred", fixing Pakistan's energy woes, rebuilding Pakistan's foreign relations and "giving a sense of stability in our policy if not the political environment".
Commenting on the country's "strengthened" foreign policy, he said that it was the result of teamwork and extensive positive engagement across the board.
"Governments come and go, political parties change, but we should never compromise on the fundamentals of our national economic policy," he exhorted.
Global footprint
At the outset of his speech, Bilawal said that he was pleased to see a large number of guests, including delegates, exhibitors and trade visitors "who travelled from around the world", adding: "Your presence strengthens our resolve to foster strategic relations with our partners and friends."
Earlier, Defence Production Minister Tareen told the ceremony that Pakistan had the potential to emerge as a global platform for defence research, scientific growth, manufacturing and joint ventures. In his address of welcome, DEPO DG Maj-Gen Malik welcomed the visiting delegates, foreign and domestic exhibitors.
Meanwhile, writing on his Twitter handle, Prime Minister Shehbaz Sharif expressed satisfaction that the country's defence sector was catering to the needs of the technological era and highlighted that IDEAS had evolved into an important platform in the global defence market.
He emphasised that the theme of this year's event – 'Arms for Peace' – reflected Pakistan's desire for peace and stability. "Good to see that our defence sector is catering to demands of tech era," he said, adding that IDEAS had evolved into a platform that highlighted Pakistan's growing footprint in the global defence market.
IDEAS is a mega regional event biennially-organised by DEPO. Since its inception in 2000, IDEAS has emerged as an international rendezvous for defence manufacturers, entrepreneurs, R&D specialists, financial experts, and top level policymakers for defence collaboration.
However, the event this year has surpassed all previous milestones in terms of space, booking, exhibitors and delegates both domestic and foreign. Karachi Expo Centre has been booked to its capacity with more than 500 exhibitors from Turkey, China, North America, South America, Europe, Asia and Far East.
Besides trade visitors, more than 285 high level delegates from 64 countries are visiting the exhibition. The exhibition will continue till Friday and 300 exhibitors from 32 countries are displaying their latest and innovative products, whereas over 500 national and international delegates are taking part in the exhibition.
COMMENTS
Comments are moderated and generally will be posted if they are on-topic and not abusive.
For more information, please see our Comments FAQ