 ---
Ahmer Farooq is a Lahore-based visual artist who works with mixed medium to produce contemporary art that depicts current concerns, anxieties and aspirations by focusing on personalities and movements in an evocative and alluring manner. Over the years he has developed a signature style using a colorful palette and his own developed style of Urdu calligraphy that has been recognised globally.
Farooq recently showcased his new works and an art installation at Art Collectors Soiree' Pakistan Art Forum Gallery in Lahore. His works was in a collaboration with The Pink Ribbon Foundation, which work towards creating awareness among the masses about the breast cancer. All the proceeds from the sale of the artworks are to go towards the cause.
He made this artwork to express the rebirth that comes from breast cancer survivors and to remind women who have suffered from this illness that they are still the beautiful women they were born as. Having breasts does not define a woman's femininity and fighting and surviving that fight just makes them stronger in the end. The scars they are left with should be reminders they are cancer veterans who fought and won their battle rather than cancer victims.
The soft and pastel colours that he has painted in these pieces symbolizes the beautiful rebirth of a survivor and expresses that though they may have scars and feel like they have lost a part of them, they are still feminine and their womanhood hasn't been broken in anyway because they have lost their breasts. Each random shape painted represents a symbol of strength, hope, and healing which is what any survivor of cancer has to have to live through the pain of fighting. Simultaneously, these pieces reflets upon people who have lost the fight with breast cancer and how they will always be remembered by their loved ones and recognized for their hard battle with cancer that they fought to live through. He has used his own developed Urdu calligraphy style, which is unique. This flowing text across the canvas tells an unspoken story of emotional struggle loved ones around the cancer patient go though.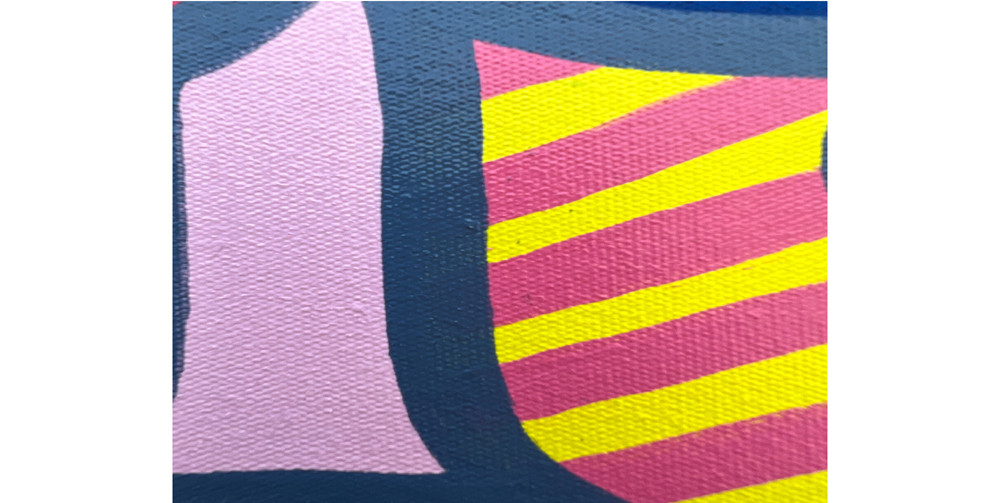 Farooq says "As a person who has personally known few women who have suffered this great illness and their loved ones who had their own struggle with taking care of the patient. I wanted to make a meaningful piece for them and let them know that they have accomplished more than what they recognise in themselves and I hope they see this through my artwork."
Farooq had two large size canvases on display at the show. He titled them 'Left breast' and 'Right breast' to make a more solid connection with the topic of conversation. Each canvas had various shades of pastel pink and pastel blue, depicting the various emotions one feels during this tough journey. There are hints of yellow which peep through the clutter of colours. "Yellow here symbolise hope. Hope is the most important element in any patents journey towards recovery. Hope is the only thing that keep the patent moving forward," said the artist. The artist used green colour to represent the religious believe of the patient and his family. In such circumstances, most people revert to their religious believes. Trying to find strength in the divine power to deal with this illness.
Another very interesting piece which was created by the artist was women's bra, which had Farooqs painting "Left breast" and "Right breast" printed on it. This is a conversation piece. In Pakistan breast cancer is a taboo and people generally don't like to speak about it. Hence, each year thousands of women lose their lives to this illness. The artist tries to make a conversation with the audience by bringing women's undergarment into public space.
Ahmer Farooq have produced some stunning piece of works for this show. Which are not only very pleasing to look at but are also very thought provoking. Which are packed with colours and trigger emotions in the viewer. The art works has an immediate, vibrant punch which grabs your attention. It's a perfect example of 'Good art for a good cause'.
COMMENTS
Comments are moderated and generally will be posted if they are on-topic and not abusive.
For more information, please see our Comments FAQ