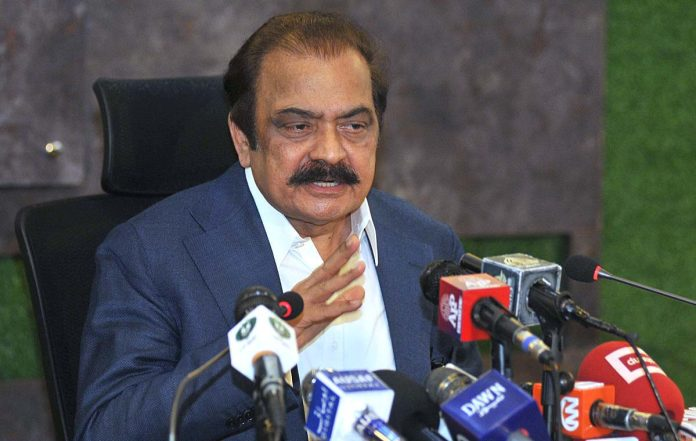 ---
RAWALPINDI:
Interior Minister Rana Sanaullah clarified on Saturday that he was "completely fine" after a photograph of him in a hospital went viral late last night.
Various social media users shared a photograph of him lying on a hospital bed wearing a hospital gown and an oxygen mask.
In an audio message posted on his official Twitter handle, the interior minister reassured those who were "panicked and worried" and maintained that he was "completely fine".
وفاقی وزیرِ داخلہ و صدر پاکستان مسلم لیگ (ن) پنجاب رانا ثناء اللّٰہ کا اے ایف آئی سی راولپنڈی سے آڈیو پیغام جاری۔

میں بالکل خیریت سے ٹھیک ٹھاک ہوں، چھوٹے موٹے چیک اپ و پروسیجر کیلیے ہسپتال آیا تھا، انشاء اللّٰہ ایک آدھ دن میں آپ کے درمیان ہوں گا۔ pic.twitter.com/JoXAhKEmNY

— Rana SanaUllah Khan (@PresPMLNPunjab) November 11, 2022
Sana stated that he was at the Armed Forces Institute of Cardiology (AFIC) to get a "small procedure and general check-up conducted" which the doctors said was "necessary".
Read Sana says Arshad Sharif killed in 'targeted attack'
He said that he had a heart surgery in 2004 due to which a minor procedure and a general checkup were needed every few years. The minister furthered that he visited the hospital "two to three times this year" because of this.
Sana added that he would be discharged within a day or two and urged his friends to not rush to the hospital due to the restrictions.
Information Minister Marriyum Aurangzeb also took to Twitter to explain that there was "no truth to the speculations regarding" the home minister's health, and he was in Rawalpindi for a "routine medical checkup".
وزیر داخلہ رانا ثناء اللہ معمول کے طبی معائنے کے لئے عسکری ادارہ برائے امراض قلب (اے ایف آئی سی) راولپنڈی گئے تھے۔ اُن کی صحت کے حوالے سے قیاس آرائیوں میں صداقت نہیں۔ 18 سال قبل 2004 میں رانا صاحب کی ہارٹ سرجری ہوئی تھی۔ ہر دو تین سال بعد اس کا چیک اپ کروانا لازم ہوتا ہے۔

— Marriyum Aurangzeb (@Marriyum_A) November 11, 2022
She detailed that Sanaullah had heart surgery 18 years ago that needed to be checked every "two to three years".
COMMENTS
Comments are moderated and generally will be posted if they are on-topic and not abusive.
For more information, please see our Comments FAQ