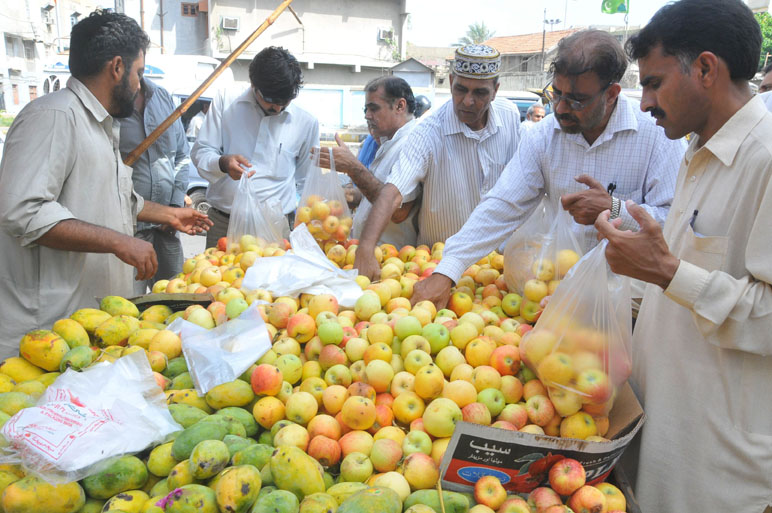 ---
ISLAMABAD:
The inflationary trend, which has been rising relentlessly for four months, slightly abated in the week ending on November 10 as the year-on-year (YoY) inflation fell from 30.6% to 29.24%.
However, according to data shared by the Pakistan Bureau of Statistics (PBS) showed on Friday, week-on-week (WoW) inflation showed a slight increase, recording at 0.74% compared to 0.53 per cent last week and a record 4.13% in the week that ended on Oct 27.
During the recent week, the prices of 22 out of 51 items increased, 14 decreased, and 15 remained stable.
Chicken prices have increased by 1.98%, potato prices by 5.31%, onion prices by 27.16%, tea leaf prices by 4.62, sugar prices by 3.60% and egg prices by 2.13%.
As per week-on-week terms, the prices of onions increased by 27.16%, potatoes by 5.31 per cent, tea by 4.62 per cent, bananas by 4.38% and sugar by 3.6%.
On the other hand, prices of other essential items declined on WoW basic. The data showed tomatoes recorded a decline of 6.37%, pulse gram 2.02%, pulse masoor: 1.5%, moong: 0.9%, and cooking oil 5-litre: 0.89%.
Similarly, according to the highest YoY decline, the costs of chilli powder saw a decline of 41.85%, sugar 8.9%, gur 6.87% and LPG 0.25%.
Meanwhile, prices of 15 essential commodities remained stable.
According to the SPI, an increase of 26.17% in the rate of inflation was witnessed for the group earning up to Rs17,732 per month on an annual basis during the last week.
An increase of 27.44% for the strata having monthly income from Rs17,733 to Rs22,888 and similarly, a surge of 29.25% was witnessed in the rate of inflation for those earning Rs22,889 to Rs29,517 rupees.
As for those with a monthly income of Rs29,518 rupees to Rs44,175, the inflation rate was 30.26%, while the rate was 30.14% for the group having an income of more than Rs44,176 rupees per month.
COMMENTS
Comments are moderated and generally will be posted if they are on-topic and not abusive.
For more information, please see our Comments FAQ