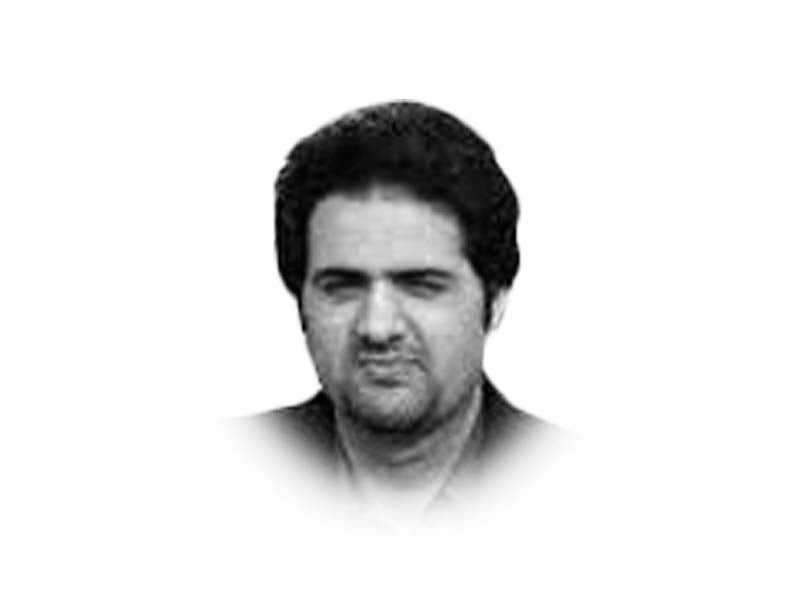 ---
For those who may not know what claustrophobia is, it is the mental sickness where people feel trapped within a confined space and when they realise that exit from the confined space is not within their reach, they start to feel suffocated and the result is a panic attack. I am one of those unfortunate ones who suffer from the sickness.
On a macro level, Pakistan today feels no different than an open air confined space. There is extreme pressure exerted over whatever even remotely looks like free speech. I was watching Imran Khan's hospital speech after the long march attack and I heard more beeps than all the beeps I had heard in a single day. And this was not the only time we heard beeps across all TV channels this month. For a moment, I toyed with the idea of making 'beep' the national anthem of this country.
Journalists have been scared into running away from the country. A series of very grim threats compelled one journalist named Arshad Sharif to leave his safe haven twice, resulting in his assassination. A veteran journalist named Ayaz Amir was beaten. Some were jailed and insulted in front of their families. I have not witnessed a more vicious assault on journalism. Twitter is perhaps the only space where people can blow some steam and practise some much-needed freedom of speech. For those who might wonder and complain as to why news originates on Twitter and the traditional news media catch it only afterwards should look nowhere but at the censorship of the media.
Whatever limited freedom of speech, including on Twitter, is there has meant nothing to the movers and shakers of this country. Ever since early 2022, democracy has been in place on paper and major decisions taken and executed, yet the people have had no power or input in them. The national collective wish is to make it in one piece from one breaking news to the next. In the meantime, we can tweet our hearts out.
Then there has been the silent Politicians' Porn Industrial Complex, if you will, lurking in the shadows, very reminiscent of the tactics of the KGB from the yesteryear. Quite a fantastic use of technology. Azam Swati only was the latest victim of these disgusting shenanigans.
For decades, America and India had been trying unsuccessfully to turn the people of Pakistan against their beloved armed forces. No amount of expensive propaganda or lavish spending on local spin doctors could achieve this goal. But since the ouster of Imran Khan, not only have the people turned against their institutions but rather the insulting assaults from the American president have remained unabated. President Biden called Pakistan "one of the most dangerous nations in the world". The Taliban have been such close and reliable allies of Pakistan that the mighty US came knocking on Pakistani doors to seek its help in negotiating a peace deal with them. Recently, the Taliban had been upset about some actions of Pakistan and are showing signs of a breakup. It would be only a matter of time before Pakistan would once again lose an ally to India.
Manzoor Pashteen had been a hated figure. A significant majority of the Pakistani people despised the Pashtun Tahaffuz Movement and always doubted their entire existence. There was also another group of people that disagreed with or disliked Imran Khan. I have no way of proving this, but today, it seems to me that those two groups of people have merged together into one, which passionately supports Imran Khan and finds the narrative of Manzoor Pashteen very therapeutic. They also now sympathise with people such as Gulalai Ismail, which until very recently they hated. I wouldn't be surprised if Hussein Haqqani became a messiah overnight. When emotions are high, any despicable charlatan can start to look like a genuine person. Let us pray for betterment ahead before even prayers are censored.
Published in The Express Tribune, November 10th, 2022.
Like Opinion & Editorial on Facebook, follow @ETOpEd on Twitter to receive all updates on all our daily pieces.
COMMENTS
Comments are moderated and generally will be posted if they are on-topic and not abusive.
For more information, please see our Comments FAQ