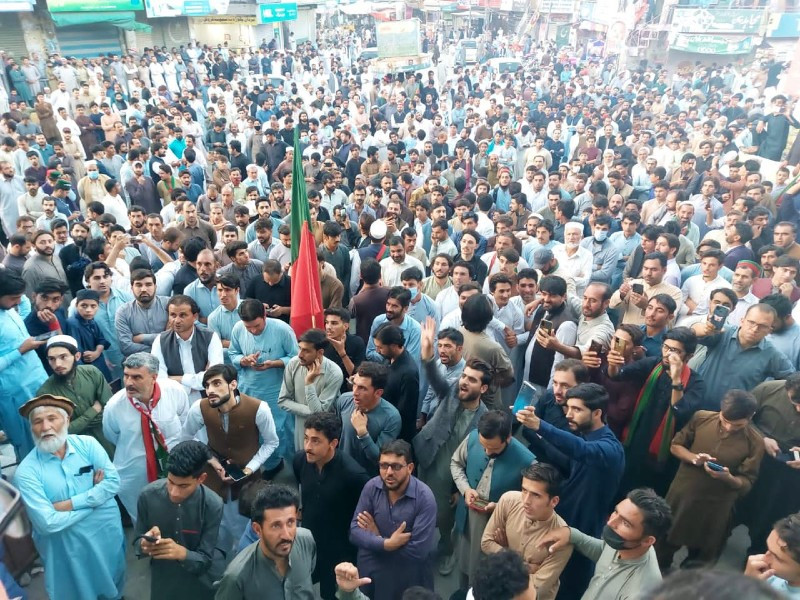 ---
RAWALPINDI/ISLAMABAD:
The twin cities of Islamabad and Rawalpindi turned into a battlefield on Friday as Pakistan Tehreek-e-Insaf (PTI) workers protesting against the disqualification of party chief and former prime minister Imran Khan clashed with police in different areas.
Clashes between the police and the PTI workers took place at Faizabad Interchange, outside the election commission office and other areas of the red zone — which is a stone's throw from the diplomatic enclave, Parliament House and the Supreme Court — and other places including on IJ Principal Road and the Islamabad Expressway.
Hundreds of PTI workers gathered in Faizabad and tried to march on Islamabad but they were intercepted by a contingent of police who fired teargas shelling to disperse them.
When a large number of PTI workers led by Punjab Assembly Deputy Speaker Wasiq Qayyum attempted to enter Islamabad from the Faizabad side, Islamabad police deployed at the intersection resorted to heavy shelling, forcing the charged workers to retreat.
The clash continued for several hours and the protesters pelted police with stones and attacked them with sticks. Police retaliated with heavy shelling.
Due to protests, Murree Road, Islamabad Expressway, IJP Road, GT Road and Motorway were closed at different points which caused immense inconvenience to the citizens including patients, motorists and travellers.
A PTI worker was also injured during the clash with the police. The protesters set fire to garbage dumps at different places to mitigate shelling effects.
Traffic between twin cities remained disrupted for several hours due to the protests as public transport vanished from roads forcing commuters to walk for miles to reach their destinations. Due to the closure of main highways in Rawalpindi, citizens faced severe problems.
All commercial centers, hotels and bus stands adjacent to Faizabad Interchange remained closed. Due to severe shelling at Faizabad, residents of nearby areas struggled to inhale fresh air as black and white smoke pervade the area.
Islamabad police also clashed with PTI workers in different areas including outside the ECP headquarters, where party leaders and workers had converged ahead of the verdict against their leader.
Police stopped the PTI workers from marching on the red zone and pushed them back. Islamabad police also arrested a Khyber-Pakhtunkhwa police official, who was on security duty with MNA Sahil Muhammad, from outside the ECP office after he resorted to aerial firing.
In the evening, Islamabad police issued an update stating that the route from Faizabad to Islamabad had been opened. "The route from Islamabad will also be opened soon," police said, adding that some citizens were setting trees on fire and hampering the flow of traffic.
The Islamabad Police had earlier issued a high alert for the federal capital fearing possible law and order situation following the ECP verdict in the Toshakhana reference, disqualifying PTI chief Imran Khan from holding public office.
The police had also established checkpoints at all 13 entry points in Islamabad. "Peaceful protest is a right of every citizen but no one will be allowed to damage properties in the name of protest," the Islamabad police said.
Published in The Express Tribune, October 22nd, 2022.
COMMENTS
Comments are moderated and generally will be posted if they are on-topic and not abusive.
For more information, please see our Comments FAQ