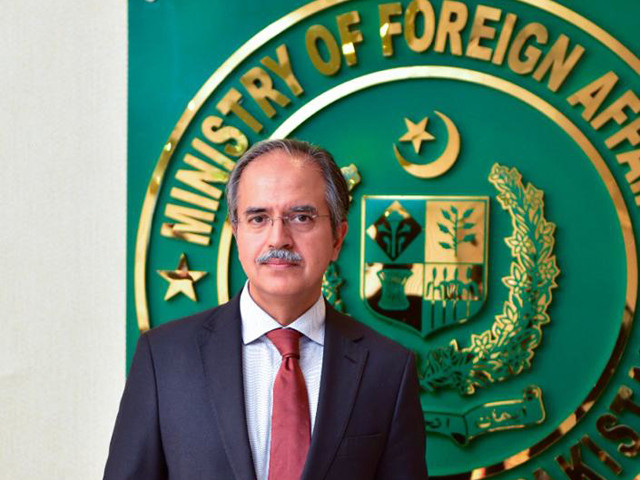 ---
A day before Financial Action Task Force's plenary session, Pakistan on Thursday rejected malicious campaigns by Indian media ahead of the all-important huddle.
In a meeting in June, FATF said it was keeping Pakistan on the list -- also known as the "grey list" -- but said it might be removed after an on-site visit to verify progress.
Last month, FATF technical team had conducted a "successful" visit and Islamabad was expecting a "logical conclusion" of the evaluation process in October.
If removed from the list, Pakistan would essentially receive a reputational boost and get a clean bill of health from the international community on terrorist financing.
Read more: Officials hopeful Pakistan will exit FATF 'grey list'
Responding to media questions on various news items published by Indian media ahead of the meeting, FO spokesperson Asim Iftikhar said: "We categorically reject the orchestrated malevolent campaign against Pakistan by Indian media ahead of the FATF plenary meeting."
He said that this was not the first time the Indian media has been fed official leaks to promote misleading, baseless and fabricated propaganda against Pakistan, just before the official FATF meetings.
The spokesperson said that the FATF and the wider international community have repeatedly acknowledged the steps taken by Pakistan to improve its anti-money laundering and counter-financing of terrorism regime.
Asim said that despite India's feverish attempts to politicise the process and cast doubts on Pakistan's efforts and accomplishments, FATF agreed in its June 2022 plenary meeting that Pakistan had fully completed all substantive and procedural requirements of both its 2018 and 2021 action plans.
Read more: What would it mean for Pakistan to exit FATF grey list?
"Realising that there are no takers of its aspersions within FATF, India is desperately attempting to promote its malicious intentions through a characteristic disinformation campaign. Pakistan has brought this recurring malafide endeavour to the attention of FATF," he added.
The spokesperson said that Indian media and state organs, feeding a mill of lies and propaganda, have no credibility.
"Their anti-Pakistan narrative is unfounded and pathological. If anything, these shenanigans only serve to further expose Indian media's hollow credentials and the malice of its patrons," he further said.
The FATF, in June, had hinted at Pakistan's removal from the grey list after it concluded that Pakistan complied with the 34-point plan of action and agreed to send its team for the verification of those steps.
Pakistan was listed in 2018 because of "strategic counter-terrorist financing-related deficiencies". FATF gave the country a wide-ranging reform programme. It was first given a 27-point action plan and later another 7-point plan to comply with the FATF's standards.
The major stumbling block was the prosecution of certain UNSC-designated individuals accused of terror financing. Just days before the June plenary FATF meeting in Berlin, a Pakistani anti-terrorism court convicted Sajid Mir in a terror financing case, something that convinced the FATF members to acknowledge Pakistan's progress.
Pakistani officials were confident that the FATF team would give a positive assessment of the country's progress. The officials, however, cautioned that the neighbouring country might still use its influence to drag Pakistan's case.
The United States is believed to have played a key role in ensuring the on-site visit for Pakistan as it expressed satisfaction with the country's measures to curb terror financing, particularly in prosecuting certain individuals.
COMMENTS
Comments are moderated and generally will be posted if they are on-topic and not abusive.
For more information, please see our Comments FAQ