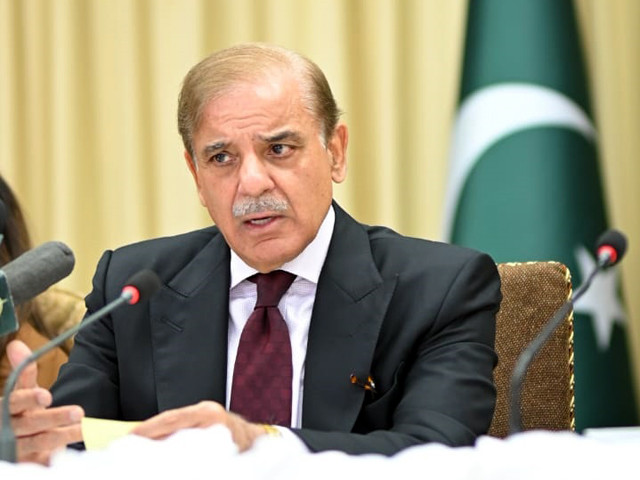 ---
ISLAMABAD:
Prime Minister Shehbaz Sharif on Sunday called for collective steps to ensure food security in the world.
Taking to Twitter on the occasion of World Food Day, he said that the recent devastating floods in Pakistan had destroyed standing crops on millions of acres.
He said that even an agricultural country like Pakistan had to import edible items to compensate for these crop losses. "World Food Day highlights the need for collective measures of the world to ensure the food security of different countries," he added.
موسمیاتی تبدیلی کی وجہ سےقدرتی آفات اور عالمی منڈی میں بڑھتی ہوئی قیمتوں سےغذائیت سےبھرپور خوراک،جس کی پہلے سےہی کمی تھی،کی عالمی سطح پرمزید قلت کا خدشہ ہے۔ موسمیاتی تبدیلی ہماری زندگیوں پرکئی طریقےسے منفی اثرات مرتب کر رہی ہےجس میں عالمی سطح پرغربت اور بھوک میں اضافہ سر فہرست ہے

— Shehbaz Sharif (@CMShehbaz) October 16, 2022
"Due to climate-induced natural disasters and because of rising prices in the international market, there is a risk of further shortage of already scarce nutritional food at the international level," the prime minister warned.
He said that climate change was having negative effects on our lives and the increase in poverty and hunger were the foremost issues.
On Friday, while observing the World Food Day, speakers at an event called for addressing food wastage at all levels including household, storage, and production.
Read more: Call for employing technology to achieve food security
"On this World Food Day, we as a nation must address food wastage, not only at household level but also how we produce, process and store food in Pakistan. As we go forward with the efforts of reconstruction and rehabilitation, we must make advocacy to stop food waste at all levels as part of those efforts," Resident Coordinator of United Nations in Pakistan Julian Harnies said while addressing the event organised by Food and Agriculture Organisation (FAO).
World Food Programme (WFP), United Nations Children's Fund (UNICEF), UN-Women, United Nations Industrial Development Organization (UNIDO), and International Fund for Agriculture Development (IFAD), and Ministry of National Food Security & Research also collaborated in the event.
Ministry of National Food and Security Zafar Hassan highlighted the point that the damage to Pakistan's agricultural sector would also be felt across the globe. "Pakistan is one of the world's top producers and exporters of cotton and rice, which have been destroyed by the flood," he added.
He further said that agriculture has special importance for Pakistan's economy, which at present is contributing about 19 per cent to the national GDP, and generating employment opportunities for more than 35 per cent of the labour force.
"Currently, we are facing a serious challenge for food and nutritional security that needs enough resources and funds to compensate for the loss of crops and livestock to our farmers. However, the Ministry of National Food Security and Research is making dire efforts to meet this challenge and address this issue in a befitting manner," he further said.
COMMENTS
Comments are moderated and generally will be posted if they are on-topic and not abusive.
For more information, please see our Comments FAQ