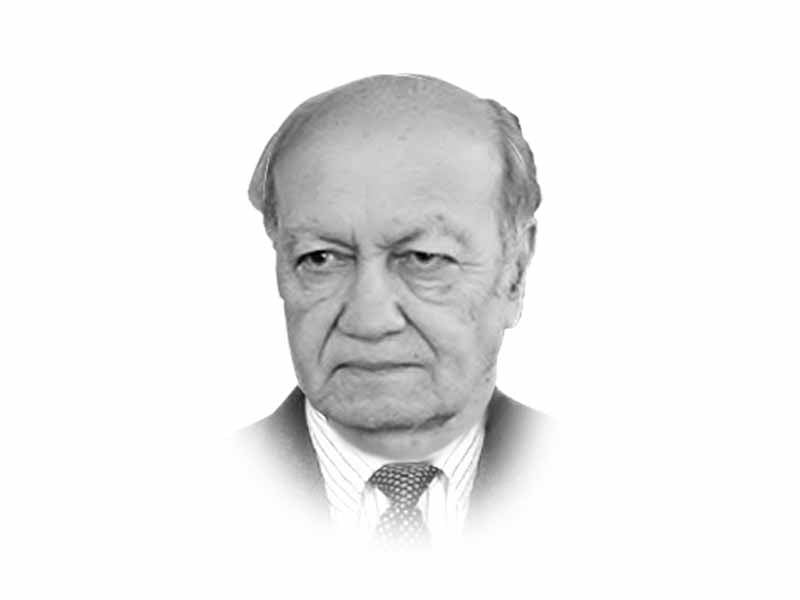 ---
The recent devastating floods have exposed the best and worst of Pakistan. Close to 33 million people are still living in the open or makeshift tents. Generally, the government has dithered and at best its efforts can be described as perfunctory, both at the federal and provincial level. In sharp contrast some of the NGOs and members of community have made a remarkable contribution; they risked their lives but remained in the forefront of assisting the flood victims with food, clothes and shelter.
Adding to the misfortune the calamity has come at a time when Pakistan is stressed to its limits managing its sinking economy and dealing with multiple security challenges and foreign policy dilemmas. In this situation the political leadership was expected to rise to mitigate the suffering of its people and not remain occupied manipulating facts to belittle each other. But sadly, the bitter acrimony continues. And Imran Khan's call of launching his "crusade" to place Pakistan on a righteous course is likely to create anarchy and bloodshed instead. In this scenario, it is not surprising that the COAS had to give a warning that nobody will be allowed to create political and economic instability in the country.
The warning is clear that armed forces will support the PMLN-led coalition government in ensuring peace and have no tolerance for adventurism. With this categorical assertion of the army leadership, it is expected that Imran Khan would be having second thoughts on launching his long march. Backtracking by him after raising the pitch and expectations of his young followers may not be easy and it is very likely that he may take the high-risk option of confronting the establishment and political opponents simultaneously.
The most harm is done to the country and its people when leaders close their minds and are unwilling to embrace changes in their thinking or in the policies; and pursue illusory and self-defeating plans and projects. Why are some leaders so self-possessed? How do they start believing they know all specially in a complex world as ours. The more knowing and wiser a person would be the humbler and more eager to learn. But it seems this does not apply to our geniuses.
Ego and self-righteousness have become the dominant feature of the current political discourse and interaction with political rivals is absent. It has been replaced by accusations, manipulative dealings and fake truth. A saner approach would have been that the leadership of PTI, PML-N, PPP and other parties seriously discuss and debate in the parliament, public forums and media all major issues — economic, political and strategic. Even the growing fears of militancy spreading fast in Khyber-Pakhtunkhwa do not attract attention. Until recently government policy was to engage TTP leadership in dialogue with limited military action rather than conduct full-scale operations. This is changing as TTP has stepped up its attacks. TTP's presence in Afghanistan and the Taliban government giving them a free hand while they conduct raids in Pakistan is highly intriguing. There is hardly any serious dialogue between the government and PTI leaders on this issue although it affects K-P the most. Addressing national and regional issues jointly remains only a wish now in view of the obstinacy and misplaced priorities of leaders to ignore each other.
It was expected that there would be a comprehensive discussion in parliament on policy changes being made by the finance minister. And the government would not formulate major financial policies without input from credible stakeholders. Absence of serious discussion on how Senator Ishaq Dar wants to steer the country from the current financial crisis and what factors led to modify his predecessor Senator Miftah's certain policies should have been discussed more thoroughly for better clarity. A temporary gain in the exchange rate is fine but it could slide back and is no guarantee that we are on the right track. More so when some aspects of it are not in conformity with our agreement with the IMF there could be consequences. There is also a feeling of mistrust about the government's financial management in general that needs to be addressed. This can best be removed with greater visibility and provision of facts and figures that can be easily authenticated.
It is a hard reality that Pakistan's economy cannot be fixed unless its politics is right. In this state of acute confrontation between the government and the opposition and mass protest rallies, reforming Pakistan's economy and addressing major challenges of poverty, corruption and improving governance, if ever intended, has been further relegated.
A dedicated effort with broad consensus among political parties on addressing the immediate problems of the displaced people affected by floods should have been the priority. The worst hit are women and children. Education of the youth is suffering badly with long term consequences.
The extreme human suffering and the colossal impact of the floods that threaten our financial viability need serious attention by the parliament. It seems there is general indifference and insensitivity to the plight of the displaced persons by the government and opposition leadership. They are generally shy of visiting the temporary shelters and have nothing substantial to offer them monetarily or contribute to alleviating their misery. Aid received from the US, EU, Saudi Arabia and other friendly countries and international aid agencies should be distributed diligently and be clearly visible. The spread of Covid globally spanning three years and the impact of the Russia-Ukraine conflict have adversely affected major economies and fears of recession in the US and some Western countries exist and they are not that forthcoming in assisting developing countries affected by climate change. As such expectations of any significant aid would be misplaced.
The recent mass displacement of people caused by the devastating floods has demonstrated the impact of environmental risk on the country's economy and infrastructure. It is possible that massive flooding may become even worse over time. The present and future governments should be prepared to deal with these contingencies more effectively in future.
Published in The Express Tribune, October 12th, 2022.
Like Opinion & Editorial on Facebook, follow @ETOpEd on Twitter to receive all updates on all our daily pieces.
COMMENTS
Comments are moderated and generally will be posted if they are on-topic and not abusive.
For more information, please see our Comments FAQ