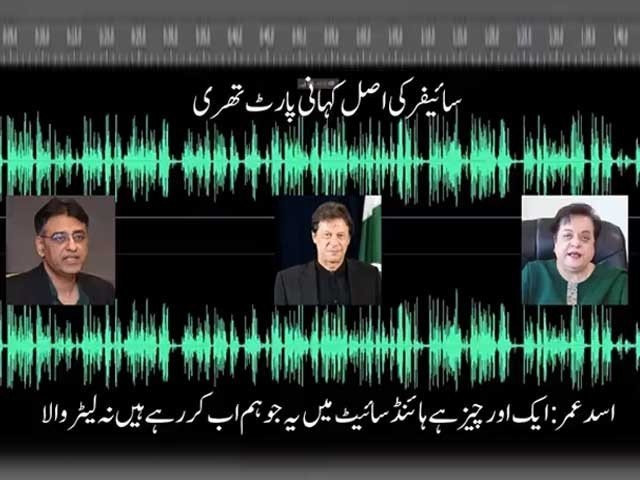 ---
ISLAMABAD:
Two fresh audio recordings, purportedly that of PTI chairman and deposed premier Imran Khan, on Friday surfaced on social media in a series of such leaks in recent days – the only difference this time was the one in which he allegedly talked about "horse-trading" instead of the US cipher like in the other ones.
The first audio surfaced featuring the PTI chairman talking about "buying" MNAs – a practice also known as horse-trading.
The 0.45-second audio starts with Imran allegedly stating "don't think everything is over", a possible reference to the vote of no-confidence earlier this year.
"From this point onwards, the next 48 hours is a long, long time. Plenty of things are happening and I am also making some moves which we can't disclose to the public," says the voice attributed to the PTI chief.
"I am buying five [MNAs], I have five [MNAs]. Those five are important. Tell him, if he can secure five more, we will have a total of 10. The game will be in our hands," he purportedly adds.
Towards the end of the audio, Imran can be heard saying that the nation is alarmed at the moment and wants "us" to win in any way.
"Nobody should worry and think if this is right or wrong, whatever tactic it is. Breaking even a single [MNA] will make a big difference," the voice attributed to the PTI chief instructs party members.
Later in the day, another alleged audio of the PTI chairman surfaced on social media in which the former premier could be heard talking about the cipher with party leaders Asad Umar and Shireen Mazari.
In the 1:03-minute audio – leaked by an unnamed hacker – a voice, attributed to Umar, can be heard saying that issue of the US cipher – which Imran claims was instrumental in the ouster of his government – should have been raised a week or 10 days earlier.
To which Imran purportedly replies that the impact of the cipher has been felt across the world.
"What we have done has created an impact, now the strategy is to brand and spoon-feed the public on Mir Jafar and Mir Sadiq. Their (public) minds are already fertile to accept this. We have to brand them (traitors) for life," the PTI chief can be heard saying.
Shireen allegedly says China has issued an official statement condemning US interference in Pakistan's internal affairs.
The PTI chief responds by saying that the entire world was now talking about it as they had thought.
Shireen tells Imran that the Chinese officials have also condemned the cipher.
It should be noted that two audio recordings related to the cipher have already come to the fore before the latest leak.
COMMENTS
Comments are moderated and generally will be posted if they are on-topic and not abusive.
For more information, please see our Comments FAQ