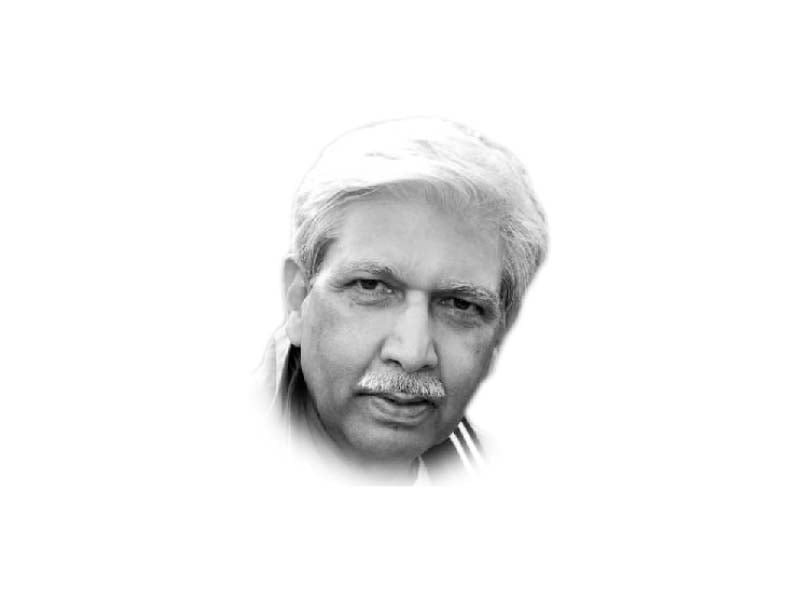 ---
The title is oft repeated under the name of accomplished writers who know far more of the economy than this layman-ish effort by the scribe. It may as well be 'Pashonomics' or the rather sedate and doctrinaire 'Hafeezonomics'. These help explain the vicious cycle Pakistan's economy has been stuck in over decades. The issue has regained currency since the return of Ishaq Dar, PML-N's answer to all economic ills. In actuality though, more than the economic wizardry it has to do with the politics of the country and how expedient it holds economic balance sheets as a tool of politics. Whether they have an economic policy at all — any political party — pulls a blank because there is effectively none. What stands instead is a make-do recourse to political needs through crass short-termism.
It may be unfair to include Hafeez Pasha in the list. He is a genuine economist but without a long enough stint to make a difference in correcting the distortions in the economy. He and a couple others come in the view whenever a non-political government is in place and therefore their impact on the economy has remained limited. Under political dispensations of which we now have had three continuous iterations (parliamentary cycles), and numerous economic managers, we continue to hurtle down the same track always ending disastrously.
Consider: The PTI had a bad run with the economy in its first couple of years for numerous reasons and was shocked into acknowledging the disaster it had become. It inducted Hafeez Shaikh to halt the slide which he did but given his conservative approach which shied away from laissez-faire largesse of spend and spend he failed to find favour to remain on the team. He was conveniently replaced with Shaukat Tarin who answered the political call of a spending spree on various Ehsas programmes coined by the PTI. The first two lackluster years were followed in PTI's penultimate financial year in power with a solid economic performance built around production not consumption as had been the order till then. Though this needs to be better qualified.
Covid had placed the economies of major global producers into hibernation. Yet consumption hit its peak when people locked at home because of the pandemic found an escape in binge buying of consumptive items. Pakistan took its chances and filled in the gap as others were still coming to terms with the ravaging after-effects. Agriculture found renewed impetus under a helpful cropping climate in a stellar year. Re-basing of the economic indices against revised parameters which were invoked under Tarin helped turn in an exemplary economic performance. When most of the world was reeling at negative growth or barely keeping up Pakistan returned an impressive GDP growth rate of 5.6 per cent. CAD which had been heavily curtailed helped show steady gains.
As soon as the gap year was over and bigger economies revved up Pakistan was forced to take a back seat. Even if agriculture sustained somewhat the real driver for growth had to fall back on what had been successfully curtailed till then: import-driven growth which skewed CAD badly even if short-term numbers showed sustained growth. A 50-75 billion CAD was for the following government to fill in. Production back to its lackluster state meant only more borrowing could ease the pain. Or, a default loomed. When a government knows it is on its way out it leaves gaping holes in the revenue stream, especially in the FE Head, which daunts economic stability. Hafeez Shaikh would instead curtail growth and keep all numbers in a sedate check casting an eye on future payables; economy would appear in a slump and political returns would be minimal. PPP's tenure exemplifies. He was therefore reluctant to give out the freebies especially when most monies were still borrowed. Tarin on the other hand was liberal with the payouts in pursuance of PTI's political agenda without concern for what might follow.
Dar has jumped into the economic fracas with a similar context. The Rupee had badly slid under various administrative failures of the Shehbaz government to rein in the misappropriation of the USD. It only made life miserable for the already reeling segments under IMF prescriptions and a commodity super-cycle. Dar also has a short-lease of another government's final year to show his wizardry without having to bear the consequences. His earlier recourse of pumping in USD in the money market to manipulate its value against the Rupee may not be as easy this time unless he can induct significant numbers parked abroad through special favours or by using his personal influence on those he may know to be the beneficiaries and owners of those monies. This shall force the Dollar down from its current standing enabling commercial banks, if not the State Bank, to buy dollars off the market to burgeon reserves. All in all it can have a savoury effect on lowering inflation and reducing the debt pile in Rupee terms.
The flip side of it is that those who would have brought money in will be as quick in taking it out of country if a political change in the next elections does not suit their palate. This will once again leave a void which the new government will find difficult to fill in without going to the IMF and borrowing heavily from bilateral partners. When Dar defies the IMF or claims to do so he is unencumbered with what it might do the country's chances when it reverts back to the IMF. In his last stint he used the State Bank to control the Dollar but then had to escape in a hurry as soon as it became evident that the new government may ask him to answer for financial manipulation of the economy. Despite his ability to leverage a better economic performance on paper without the trouble of tweaking production cycles, a very challenging global economic situation may not permit him the flexibility to sustain the farce for too long. But would this chimera of an economic recovery win his party some crucial brownie points to benefit from in the next elections remains to be seen.
Reality will soon bite though leaving its marks all over. A shorter remaining term of the PML-N government means he has the luxury to show an improvement without bearing the consequences. Under the new government, this or another, the beginning shall be as heavily laden against it as can be with the economy in dire straits. Ishaq Dar may yet again not be in the country to explain how we got there. Real growth will continue to slide — unfortunate but true, unless someone commits to rectifying the distortions in the economy with a long eye on the future. This might create another turmoil in politics as default looms again leading to what might be the option of unrepresentative technocrats taking the helm. That may just be what will set us right. Till then though politics has its chance. The state of the economy will decide which way the dice settles.
Published in The Express Tribune, October 7th, 2022.
Like Opinion & Editorial on Facebook, follow @ETOpEd on Twitter to receive all updates on all our daily pieces.
COMMENTS
Comments are moderated and generally will be posted if they are on-topic and not abusive.
For more information, please see our Comments FAQ