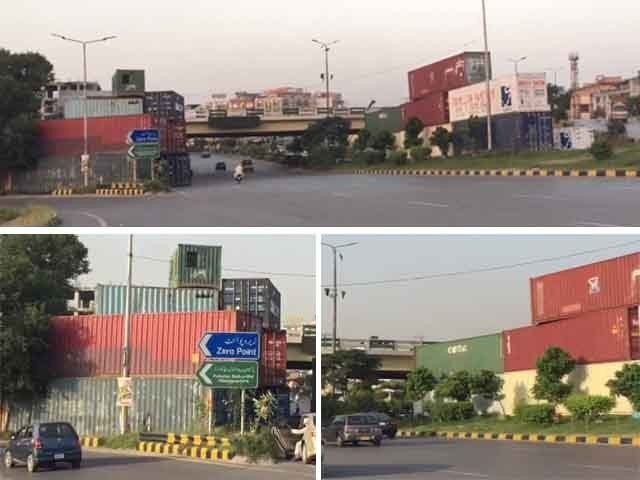 ---
ISLAMABAD:
The Islamabad Capital Police has gathered more than 1,100 containers, with hundreds delivered to the federal capital on Thursday, in an effort to prevent the Pakistan Tehreek-e-Insaf's 'Haqeeqi Azadi March' to the federal capital.
According to sources, the capital will be completely sealed for a week following PTI chief Imran Khan's announcement of a confirmed date for the march. Schools and colleges will be shut down for this duration and all exams will be postponed.
Sources claimed that 25,000 additional personnel will be brought to the capital to reinforce the ranks of the police force. The government will also provide around 50,000 rubber bullets and more than 60,000 tear gas shells to security forces in addition to ten drones.
In case of any disruptions, security agencies have reportedly prepared lists for the arrest of PTI workers and leaders.
Sources maintained that if the ousted premier announced a sit-in from Bani Gala, the residence will be declared a sub-jail and Imran will be put under house arrest.
Govt warns provinces, lawbreakers
As Imran Khan continued to build momentum for the party's upcoming march, the ruling coalition decided to bar the PTI chief from storming the federal capital, warning that no one would be allowed to break the law.
Read IHC takes up PTI MNAs plea on resignations
Prime Minister Shehbaz Sharif chaired a meeting of the coalition party leaders, including the Pakistan Democratic Movement (PDM). The meeting discussed the government's strategy regarding the PTI's proposed long march, besides the overall political and economic situation of the country.
During the government's meeting, it was decided that the PTI chief would not be allowed to storm the federal capital. The meeting also warned that the governments of Punjab and Khyber-Pakhtunkhwa should refrain from becoming tools of Imran, saying that law would take its course if constitutional limits were crossed.
The meeting decided that those who tried to destabilise the country, politically and economically, would be dealt with severely.
Long march likely in October
The PTI's much-awaited long march to the federal capital might finally be happening, as Imran Khan indicated at it taking place in the third week of this month.
The former prime minister held a meeting of district presidents and secretaries of his party's Khyber Pakhtunkhwa (K-P) and Punjab wings, wherein he issued strict instructions to officials for the upcoming march.
He directed them to ensure full participation of the people and advised them to consider "real freedom" as "jihad". He added that if they do not get "real freedom" now, they might never get it at all.
COMMENTS
Comments are moderated and generally will be posted if they are on-topic and not abusive.
For more information, please see our Comments FAQ