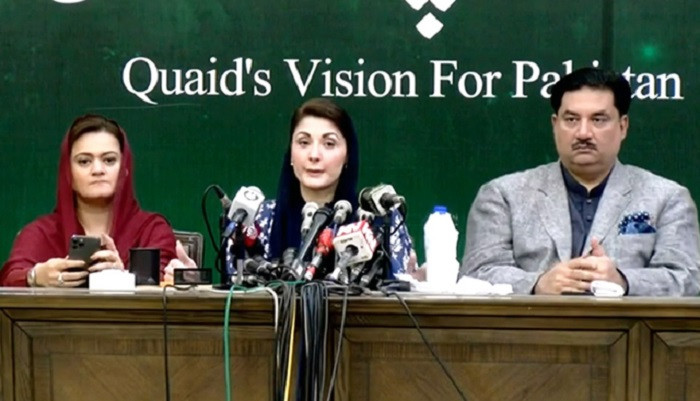 ---
LAHORE:
PML-N Vice President Maryam Nawaz has alleged that former prime minister and Pakistan Tehreek-e-Insaf (PTI) Chairman Imran Khan is seeking an NRO-like deal in secret meetings at the President House, saying that when he does not get one he takes to the streets.
Maryam was referring to reports that Imran held a meeting with an "important personality" at the Aiwan-e-Sadr recently.
To a query about the meeting in a recent interview with a private TV channel, the PTI chief said: "I don't lie and cannot tell the truth."
Addressing a news conference here on Tuesday after receiving her passport from the Lahore High Court, Maryam said the former premier was raising hue and cry after failing to get any relief from the powers that be.
She had surrendered her passport before the deputy registrar (judicial) in 2019 in return for securing a post-arrest bail in the Chaudhry Sugar Mills case.
Talking to media persons, Maryam said that there were many big cases against Imran. "He was found guilty in the prohibited funding and Toshakhana cases, while Farah Khan, (a close friend of Imran's wife Bushra Bibi), was sent abroad overnight … is this not an NRO?"
Last month, Farah was cleared by the Anti-Corruption Establishment in a case of alleged illegal allotment of two industrial plots, measuring 10 acres, to a company owned by her.
"Like you [Imran], we don't covertly get bail," Maryam said, demanding that PML-N leader Daniyal Aziz and others should also be forgiven.
In June 2018, the Supreme Court had disqualified Aziz from holding public office for five years in a contempt of court proceeding stemming from his "contemptuous speeches" against the judiciary in the wake of the SC's July 28, 2017 verdict that resulted in the disqualification of former premier Nawaz Sharif and the beginning of graft cases against him and his family members.
Continuing her diatribe against Imran, Maryam said, "I request the judiciary not to pardon such an evil mind and should such a person [Imran] be allowed to march on Islamabad? Rather, an example should be made of such a person."
Maryam said that when Imran was in power, the army was good and when the power was gone, the "army became bad", adding that if they came to power today, they will start praising them.
"Imran, who till yesterday used to call the army chief and the army best, is now calling them Mir Jafar, Mir Sadiq and neutrals," she said, adding that these two narratives were of the same person.
The PML-N vice president said that those who support Imran would have no place to hide and Pervaiz Elahi, (who is the incumbent Punjab chief minister), would also have to answer because "he will not always be able to support Imran".
She said that after the audio came out, Imran's cipher statement also turned out to be false. "Imran Khan said in a TV interview that the cipher is lost. Is it a diamond ring that it got lost," she said, accusing Imran of making the state document disappear.
"The world today is afraid to send ciphers to Pakistan."
Maryam said that the return of Ishaq Dar, who is the incumbent finance minister, is being called an NRO, "but you have falsely registered Bani Gala and that is called an NRO".
"Imran Khan has no shame. Instead of apologising, he is chanting NRO over and over.
She claimed that the economy was improving due to the return of Dar. "Dar Sahib has brought the country out of crises twice before and now, if the economy improves, will these people be able to show their face to the nation," Maryam said, adding that Nawaz Sharif had already predicted that it PTI came to power, the economy will be destroyed.
Maryam said Imran says women are highly respected in our society, "but I was sent to jail during your government and I was still a woman when I was forced to be pushed in the courts for six years. I was arrested in front of my father, was I not a woman at that time"?
To a query, Maryam said that she would use her passport to fly to England and return with her father Nawaz Sharif. "May your words come true," said the PML-N leader.
COMMENTS
Comments are moderated and generally will be posted if they are on-topic and not abusive.
For more information, please see our Comments FAQ