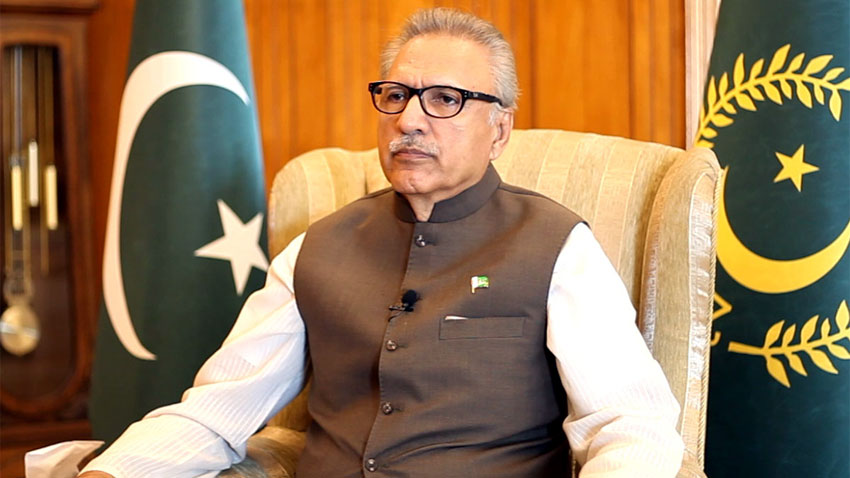 ---
ISLAMABAD:
President Dr Arif Alvi has called a joint session of parliament on October 6 (Thursday).
The president will address the session summoned under Articles 54-1 and 56-3 of the Constitution.
In his address, the president will give a road map to the government while discussing constitutional and legal issues.
President Alvi will also shed light on the economy, democracy and human rights.
Earlier, National Assembly Speaker Raja Pervaiz Ashraf had postponed the joint session scheduled for September 22 for the third time for another month.
The NA speaker did this despite the president's address to a joint sitting of parliament being mandatory.
The official notification in this connection read that the speaker had delayed the joint sitting exercising his "powers conferred by proviso to Rule 4 of the Parliament (Joint Sittings) Rules 1973".
"The speaker shall determine when a joint sitting shall be adjourned sine die or to a particular day, or to an hour of the same day, provided that the speaker may, if he thinks fit, call a joint sitting before the date or time to which it has been adjourned or at any time after the joint sitting has been adjourned sine die," the rule stated.
Read SC backs IHC advice, urges PTI to return to parliament
The last joint session of parliament was held on June 9, in which the government successfully approved the controversial electoral reforms and accountability laws, which President Alvi had earlier refused to give the nod to despite approval from the NA and Senate.
The current NA, which came into existence as a result of the general elections of July 25, 2018, has entered its last parliamentary year after completing its four-year term, and the president must address the joint session on August 13.
It has become mandatory since the beginning of the last parliamentary year but remained stalled.
Article 56-3 of the Constitution read: "At the commencement of the first session after each general election to the National Assembly and at the commencement of the first session of each year, the president shall address both houses assembled together and inform the Majlis-i-Shoora (parliament) of the causes of its summons".
Dr Alvi has addressed parliament four times as president since September 2018 after the PTI came into power.
Last year on September 13, Dr Alvi had addressed a joint session amid the then-opposition parties' fierce protests.
According to sources, the federal government, coalition parties and the speaker's office had held a lengthy discussion on the matter.
They had come to the conclusion that the president's address to the joint session was essential for the new parliamentary year.
The government was earlier considering other options apart from the president's address.
COMMENTS
Comments are moderated and generally will be posted if they are on-topic and not abusive.
For more information, please see our Comments FAQ