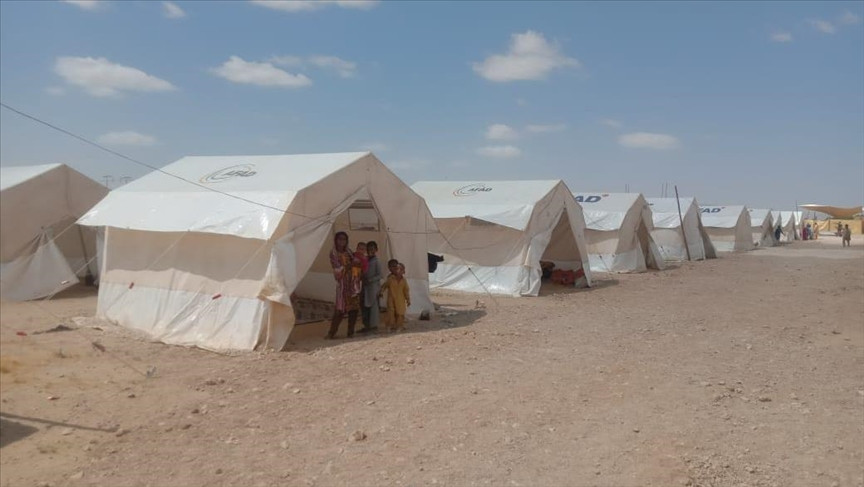 ---
BHOLARI:
A tent city named after Turkish President Recep Tayyip Erdogan to accommodate flood victims has been set up in Bholari, a remote village located at the limits of Jamshoro district.
The tent city has been set up by the Turkish Disaster and Emergency Management Authority (AFAD) in collaboration with the Pakistan Air Force (PAF), and Baitussalam Trust in Bholari.
Turkish Consul General in Karachi, Cemal Sangu, Deputy Head of AFAD, Önder Bozkurt, and Air Vice Marshall Zaeem Afzal inaugurated the facility on Sunday.
At present, the facility, comprising 200 tents, is accommodating over 500 people displaced by the catastrophic floods last month.
A total of 90 families from different areas, including Khairpur Nathan Shah and adjacent areas, have been shifted to the newly established tent city.
Addressing the ceremony, the Turkish consul general noted that the devastation caused by rains and floods is "so huge," and that Islamabad alone cannot handle it.
Therefore, he added, Ankara will stand by Pakistan in its efforts to mitigate the aftershocks of the catastrophe.
Not only in Turkiye, but the Turks living abroad "have also felt the pain of their Pakistani brothers, and are ready to help them."
Read Tent city set up in Malir for flood victims
The Turkish government, he said, plans to set up the third tent city in the Thatta district of Sindh province, which has been hit hard by the super floods.
Over 30,000 tents have already been distributed by the AFAD in 19 different regions, providing temporary housing to around 200,000 displaced people, AFAD's deputy head, Bozkurt, said in his remarks.
The AFAD has established an "air bridge" and the "Goodness Train Expeditions" in collaboration with Turkiye's Ministry for National Defense and the Ministry for Transport and Infrastructure to ship humanitarian aid to the flood-battered areas.
So far, Ankara has sent 14 planes and 13 "goodness trains" loaded with relief goods, including tents, food items, medicines, kitchen items, vaccines, and other supplies to the flood-hit regions, Bozkurt added.
A 15th plane, carrying malaria pills, tetanus vaccines and other medical supplies will arrive in Pakistan on Monday as the flood victims are grappling with an outbreak of several waterborne, eye, and skin diseases, he further said.
'Everyone is alert in Turkiye'
The Turkish consul also shared that every person in Turkiye was reaffirmed that his country will always stand by Pakistan.
Sangu assured that Pakistan was not alone and said that his countrymen not only in Turkiye but across the world were collecting donations and sending them to Pakistan. "Our relationship is deep and profound," he added.
Addressing the media persons at the tent city, he said there were over 90,000 mosques in Turkiye and everyone was praying for the affected families by the recent floods in Pakistan.
Air Vice Marshall Afzal, for his part, thanked President Erdogan and the people of Turkiye for standing by Pakistan in this time of need.
Afzal said that the plan was to settle down at least 500 families in Bholari's tent city. He also said that another tent city was being set up in Thatta.
Also read Disease outbreaks after floods spur calls for crisis plan
He said that the families were being supplied food, drinking water, electricity, medical help and schools for the children. He said that the affected families will be accommodated in the tent city until they could go back to their villages.
"At least 20 million people have been affected by the floods," Afzal said. He said that his team were trying their best to support the affected families across Sindh.
A senior banker while talking to the media said that his team supported the flood-affected families. He said that the displaced families needed basic relief items, including food, water, tents and others items.
'We lost everything'
Shana, 50, reached the tent city four days ago along with her elderly husband. "We lost everything during the heavy rains and floods," she said while weeping. "It was even a miserable life that we had for last one month near Kotri city," she narrated.
Shana belonged to Pejao village near Khairpur Nathan Shah. All of her community people were displaced and left the village using boats. "We reached Dadu and then Sehwan but there was nothing for us," she said. "Kotri was our final destination. But all of and sudden some people came and asked us to shift to the tent city."
"At least we have a shelter and some food here," Shana again wept. "I saw my aged husband running on the road every day to arrange a tent but this poor and weak man could not do anything for me."
At least 30 families from Pejao have been brought to the newly established tent city. "We will go back to our homes [village] once, the water recedes. This life is very painful," commented another villager, Qamaruddin.
(With Input from Anadolu Agency)
COMMENTS
Comments are moderated and generally will be posted if they are on-topic and not abusive.
For more information, please see our Comments FAQ