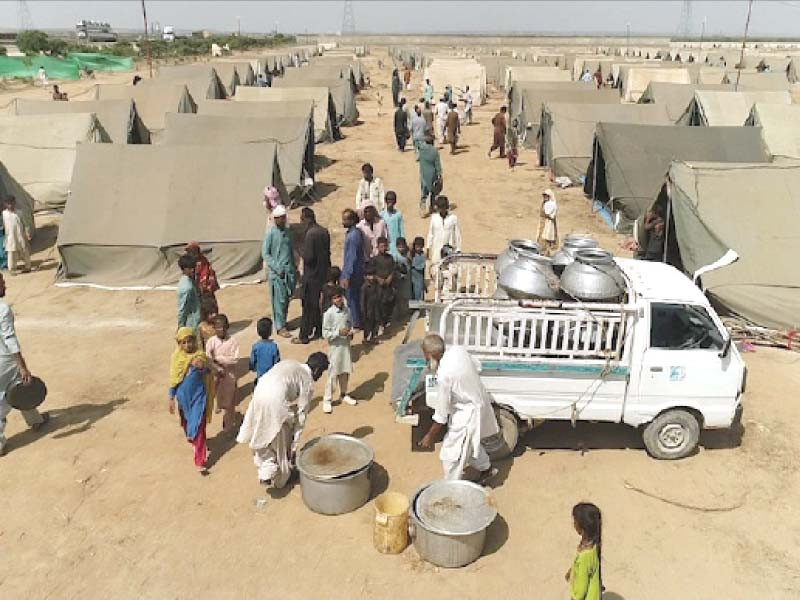 ---
KARACHI:
The Sindh government temporarily accommodated more than 500 families in over 1,300 tent houses in a tent city set up on 31 acres of MDA land in Malir district for flood victims. Many families have moved to the tent settlement on their own.
According to details, the tent city set up by the Sindh government for the flood victims from different districts of the province in the Malir area near the National Highway Toll Plaza. The purpose of setting up a temporary settlement is to facilitate flood victims.
More than 1,300 tents have been erected on 31 acres of land, in which more than 500 families are living, while there is a capacity to install 3,000 tents on 100 acres of land. A single family is living in one tent while more tents could be set up if need arises. A tent can accommodate 10 people.
The tent city is equipped with electricity, water, washrooms and sanitation facilities for the flood victims.
In this regard, according to Engineer District Council Karachi, Imdaad Solangi, the work is being done under the supervision of the Deputy Commissioner. The flood-affectees have washrooms and medical facilities while two meals a day are being provided by welfare organisations.
He said that Sindh Education Foundation visited the site to build schools for the flood victim children in near future.
Engineer Imdaad said that the mosque is also being built. The tent city also has a fresh water line. There are two 30 KW generators in which one is for street light. He further said that the K Electric has also taken part in Sindh government's efforts of facilitating flood affectees. The KE will install electricity line in 10 days.
Assistant Commissioner District Malir, Ejaz Ali told The Express Tribune that more than 1,300 tents have been set up in which more than 500 families from Larkana, Qamber Shahdadkot, Khairpur, Jacobabad have been accommodated.
He said, in order to identify the real flood victims, Deputy Commissioner Irfan Salam has spoken to NADRA to verify the data so that opportunists cannot take undue advantage of the government facility. "We are also doing identity card verification on our own," he said.
The children of the flood victims in the tent city are busy playing. While many children are worried about continuing their education.
Zamira, a flood victim from Nawabshah said that the field she was taking care of was someone else's property, when the field was submerged, where would she work, so she is living in this tent and does not know where she will next.
Sagar, a 9-year-old flood victim, said that he used to get first position in examinations, but now he doesn't know about his future education.
"Our education is worst hit, Sindh government should build a school for us at the earliest, so that our education is not affected."
The officials said that the flood victims will stay in this tent city until the rehabilitation work is completed in their native areas.
Published in The Express Tribune, October 2nd, 2022.
COMMENTS
Comments are moderated and generally will be posted if they are on-topic and not abusive.
For more information, please see our Comments FAQ