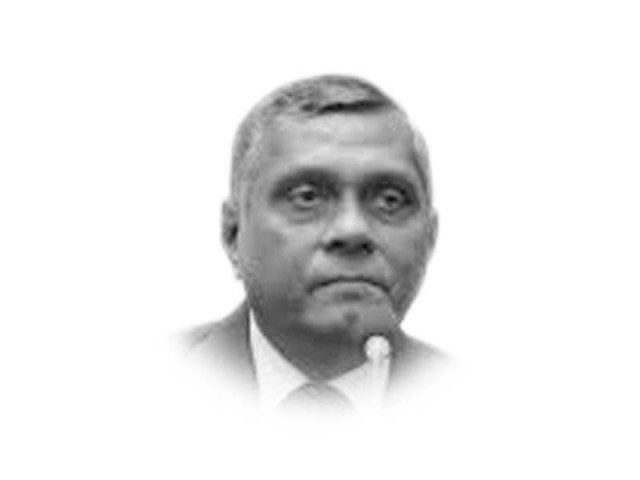 ---
Justice Qazi Faiz Isa, the next in line to become the Supreme Court Chief Justice — while speaking at the 9th judicial conference in Islamabad on Sept 24 — lamented why the state was holding talks with terrorists. "Are we saying to them, please bomb five schools and not six and take some money and weapons," said Justice Isa as he expressed concern over the reports of talks with the Tehrik-e-Taliban Pakistan, the TTP.
It's indeed matter of concern as to how the state can hold talks with a terrorist outfit which is involved in heinous terrorist acts — like the APS massacre, violence in Swat (2008-09) and attacks on security forces — and refuses to accept the writ of the state and the Constitution of Pakistan.
Justice Isa quoted figures from the Global Terrorism Database that from 1970-2019 there were about 1,000 attacks on educational institutions in Pakistan.
There are countless examples to prove that a 'soft policy' was pursued by state vis-a-vis TTP and Tehrek-e-Labbaik Pakistan (TLP). While the state did not do enough to stop the TTP from killing Pakistani nationals and attacking schools in Khyber-Pakhtunkhwa, no action was taken against TLP at all when it frequently blocked roads leading to the federal capital. A policy of 'appeasement' was pursued against religious terrorist outfits which enabled both TTP and TLP to act as a state within the state.
On January 11, 2020, then TTP spokesperson Ehsanullah Ehsan was allowed to escape from jail. In an audio message, Ehsan revealed that he, along with his family, escaped to Turkey. His audio message stated: "I am Ehsanullah Ehsan. I am the former spokesman of Tehrik-e-Taliban Pakistan and Jamaatul Ahrar. I had surrendered to the Pakistani security authorities on February 5, 2017, under an agreement. I honoured this agreement for three years, but the Pakistani authorities violated it and kept me in a prison along with my children."
Ehsan, a known terrorist also stated to be linked to the APS attack, escaped despite being under high security custody. No action was taken against those who facilitated his escape to a foreign country.
Negotiating with those involved in heinous crimes against the state in the name of religion raises a fundamental question: why is the state policy of dealing with nationalist groups blamed for terrorism different from the one adopted vis-à-vis groups carrying out terrorism in the name of religion? Appeasing religious terrorists but getting tough against nationalist groups is contradictory and gives a bad name to the country.
Justice Isa has been questioning the failure of the state to pursue a 'zero tolerance' policy against TTP, TLP and other religious extremist elements.
In February 2019, a two-member bench of the top court announced its verdict on a suo motu notice of a TLP sit-in at Faizabad interchange, Rawalpindi. A part of the verdict stated: "Intelligence agencies should monitor activities of all those who threaten the territorial integrity of the country and all those who undermine the security of the people and the State by resorting to or inciting violence."
Unfortunately, the verdict of the Supreme Court bench, headed by Justice Isa, was not taken seriously and a policy of appeasement vis-à-vis religious terrorist groups persisted which again compelled him to remind the state that it should not be soft and complacent on elements involved in killing and destroying property in the name of religion. Negotiating with declared terrorists may be counter-productive and give an opportunity to foreign countries to criticise Pakistan for not doing enough to eradicate terrorism and violence.
Does it mean there are rogue elements within who have been supporting TTP and TLP, in turn, weakening democratic and moderate forces? Or is the state weakened to an extent that it is unable to rein in the groups responsible for fanning religious fanaticism, hatred and violence in the name of Islam?
Offering negotiations to TTP has three major dimensions, as follows:
First, since the US military withdrawal and Taliban's takeover of Afghanistan in August 2021, one can observe a surge in TTP activities in ex-FATA region as well as settled areas of Swat, Bannu and Buner. Local people in these areas are protesting the "inability" of security agencies to prevent this surge. When those challenging state writ are not neutralised and the rule of law is not ensured, one fears a replay of TTP takeover of Swat like in 2008-09. Even the PTI government in K-P is silent on the resurge of TTP, and its own MPAs are vulnerable to attacks from that terrorist organisation. Afghan Taliban's support for TTP is not a myth. Had this not been the case, the Taliban-led government of Afghanistan would have taken strict measures to prevent TTP attacks on Pakistan's security forces.
Second is the perception in the power circles of Islamabad that TTP is a lesser evil than Baloch insurgents; and if they are on board, it will be possible to control them.
Third is the reality that the judicial system of Pakistan is unable to rein in terrorism, as in many cases bail is granted to known terrorists because of weak persecution.
Justice Isa, during his address, also lamented over fault lines in judiciary as it has failed to provide justice to common people. Issues like bad governance, absence of rule of law, lack of accountability, corruption, nepotism and blatant violation of merit reflect how weak Pakistan's judicial system is.
Ground realities pertaining to the rule of law provide space for violent extremism to grow in Pakistan. When Justice Isa took notice of the Faizabad sit-in, he was heavily criticised. Unless the judicial system of Pakistan works properly and ensures justice to all, neither can terrorism be eradicated nor can good governance, rule of law, accountability and merit-based culture be established.
Erosion of judicial system in the country should be a wake-up call for those who want to save the country from becoming a failing and failed state.
Published in The Express Tribune, October 2nd, 2022.
Like Opinion & Editorial on Facebook, follow @ETOpEd on Twitter to receive all updates on all our daily pieces.
COMMENTS
Comments are moderated and generally will be posted if they are on-topic and not abusive.
For more information, please see our Comments FAQ