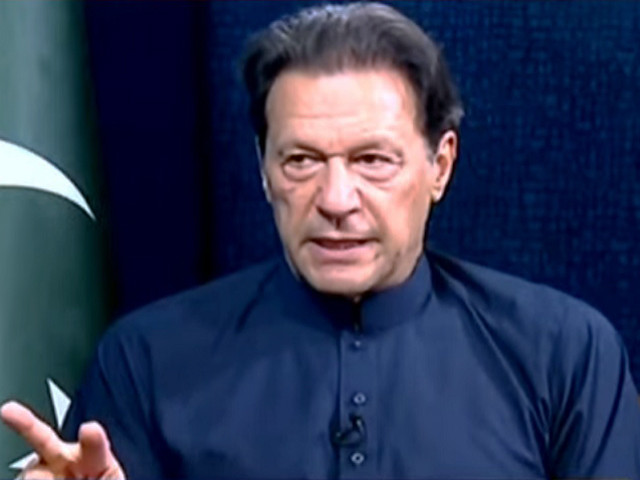 ---
Hours after a local magistrate in Islamabad issued warrant for Pakistan Tehreek-e-Insaf (PTI) Chairman Imran Khan's arrest, the former prime minister on Saturday said that the current rulers will try to arrest him and put him into prison ahead of elections and he was ready for it.
"The last time I came to know about my arrest, I had packed my bag and was prepared for it... I am ready for my arrest," Imran said during an interview with a private TV channel.
Read more: Islamabad magistrate issues warrant for Imran Khan's arrest
He alleged that Sharifs and Zardari work like a mafia and they either buy people or get them murdered.
"I know they would try to disqualify me... they want to hold the election when I am disqualified," he said, adding that he is mentally prepared for all possibilities and will continue to fight for the 'real freedom' for people.
To a question about the 'missing' diplomatic cypher, the ex-premier said that it is available and it was not made public because it is a state secret.
"Cypher exists and it is with the chief justice. The president and the army chief have also seen it," he went on to say.
However, he admitted that the copy of cypher he had was missing and he doesn't know about its whereabouts.
Elaborating why he used the word letter instead of cypher or transcript, Imran said that he was talking in context of a public gathering.
"If I say cypher during a jalsa, no one would have understood it. I used [the word] letter for the understanding of people. When you address people you use common terms."
Also read: PML-N seeks public apology from Imran for weaving 'fake conspiracy narrative'
To a question about a meeting at the presidency in which a high-level official including members of the establishment participated, the former premier said: "I don't want to lie and I cannot reveal the truth."
About an alleged deal with PML-N at the time when the former prime minister Nawaz Sharif was leaving for London in 2019, he said that all the [medical] reports presented to his government were fake.
"It was obvious that all that was a lie. Now in hindsight, I see that everything can be done here. You can make fake medical reports. At one time we were worried whether he (Nawaz Sharif) will be able to board the plane," he added.
Imran said that the PML-N wanted to blackmail them to get 'NRO'. "Unfortunately, our justice system is such that they managed to delay their cases. Nawaz managed to delay his case and eventually fled abroad," he added.
COMMENTS
Comments are moderated and generally will be posted if they are on-topic and not abusive.
For more information, please see our Comments FAQ