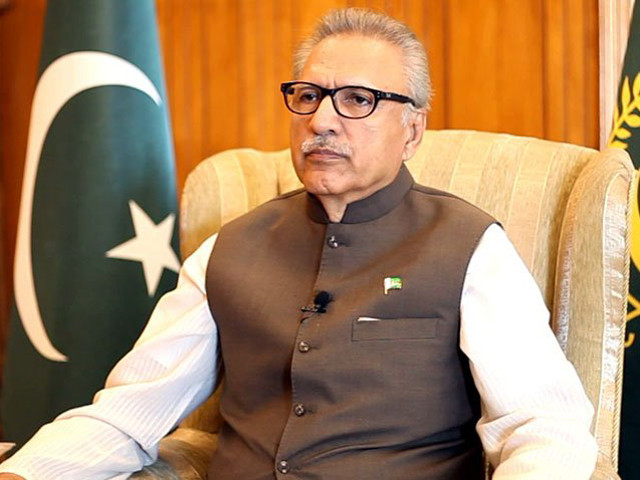 ---
ISLAMABAD:
The federal government has overcome its reluctance to President Arif Alvi's address to the joint sitting of parliament and agreed send him an official request in this regard.
Sources said the reservations of National Assembly Speaker Raja Pervaiz Ashraf have also been removed. The president, who belonged to the PTI, has been formally invited to address the joint session of parliament.
According to the sources, the federal government, coalition parties and the speaker's office had held a lengthy discussion on the matter.
They came to the conclusion that the president's address to the joint session was essential for the new parliamentary year.
The government was earlier considering other options apart from the president's address, the sources added.
The federal coalition government was suspicious of the president's use of words in a political context.
The sources said the government was considering giving the president a written speech to read.
However, the president desired a unique address to the session.
The constitutional and legal experts of the National Assembly informed the federal government about the strategy and convinced them about the address.
A joint parliament session will be convened in the first week of October.
On Friday, President Alvi urged political parties to put politics on the back burner and asked all stakeholders to launch a nationwide drive to mobilise people and organisations to assist civil and military administrations in their rescue and relief efforts in the devastating floods.
In what seems to be a clear departure from his party chairman Imran Khan's current strategy, Alvi's call to shun politicking stood out because it appeared to put him at odds with the sparkly, booming power shows of the PTI in several cities.
It may be recalled here that PTI has invited vehement criticism from the ruling coalition for its alleged 'relaxed' and 'nonchalant' stance taken toward the evolving flood calamity as it continues to zoom around several cities to mount pressure on the government. Nevertheless, PTI leaders have defended their rallies.
During a meeting held at Aiwad-e-Sadr with senior media persons, Alvi clarified that "as a president, he did not have a constitutional obligation to play a role in defusing the current political polarisation".
"However, if all the stakeholders agreed, I will volunteer in my personal capacity to mediate among the stakeholders on major questions faced by the country, including the date of the next elections, consensus-based economic charter, and the way forward on making key appointments," he added.
Answering a question, Alvi reiterated that all the institutions, including the judiciary and the army, should not be used for political point scoring, as such comments were not in the greater national interest of the country.
COMMENTS
Comments are moderated and generally will be posted if they are on-topic and not abusive.
For more information, please see our Comments FAQ