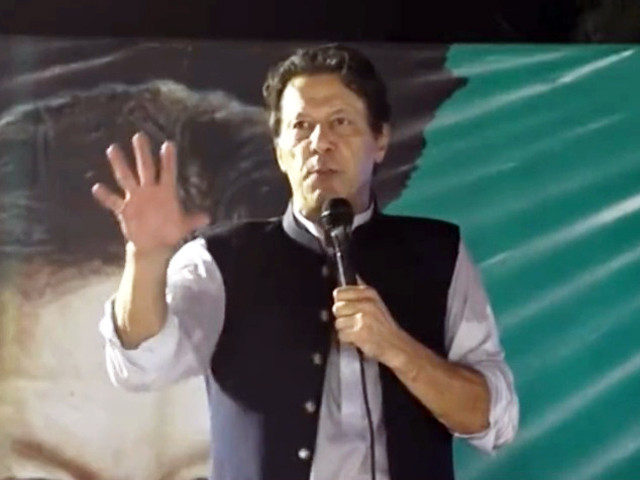 ---
RAHIM YAR KHAN:
PTI chief Imran Khan on Saturday asserted that he would give the final call for anti-government protests when the time was ripe for it, saying it would come when he is assured that he can "take three wickets in one ball".
Addressing his party's power show in Punjab's Rahim Yar Khan district, Imran said he was supervising the preparations taken by the party activists and maintained he will give a call on the day when he is confident that the party was fully prepared.
"You remain prepared I will give you [protest] call when my opponents believe that Imran Khan has given up and that day is not far," he said. "This time we will come with full preparation."
Imran said that his much-hyped call for the next protest against the coalition government will be the "last" following that call he would not stage any protest or hold a long march.
"That call will be given to save Pakistan through free and transparent elections. We don't have any other way other than the elections to save the country."
Without political stability and stable government, the country's economic woes cannot be solved, said Imran, adding that only free and transparent elections can bring stability to the economy and the country.
Responding to Interior Minister Rana Sanaullah's warning against marching on Islamabad, Imran while addressing him said it was his party's democratic right to stage a peaceful protest. "This person [Rana Sanaullah] who should be in jail is lecturing us on democracy."
"Rana Sanaullah, listen with open ears that this time we will come with 'full planning'. Everyone knows what Rana Sanaullah will do but no one knows what I will do," he said while referring to the violence his party workers were subjected to during their short-lived long march in May.
"I have never witnessed such awareness among masses which I am witnessing today… I have never seen my nation coming out of their homes during hot weather," he added.
Imran said no one can get a high-profile position in this government unless without committing any major crime.
"Neither we stopped opposition during my government from staging protest nor we created hurdles and did not place any containers… instead we offered food to their participants," he added.
At the start of his address, Imran thanked the supporters for turning up in large numbers and waiting for his speech. "They [PM Shehbaz and his delegation] are staying at expensive hotels to show off to those from whom he [PM Shehbaz] is asking donations," he remarked.
PM Shehbaz was imposed upon the country not because he had any leadership qualities but because he would take dictation from all powers including IMF, he added.
The PTI chief said the country has no future if such corrupt leaders, including PM Shehbaz and his son, who were set to be indicted in a money laundering case, continued to rule it.
'NRO's being given'
Imran said they had given themselves an NRO and closed down corruption cases worth Rs1,100 billion. "Foreign powers imposed corrupt leaders so that they can be controlled easily."
"If we accept the theft of Rs11,000 billion and slavery of these 'imported rulers' then we have no future." Taking a jibe at PM Shehbaz for seeking donations from the international community for flood victims, Imran said the country would have to compromise on national interest by receiving foreign aid as "there is no free lunch".
He said incumbent rulers were trying to disqualify him as they are scared of the people's power.
"Four people have made a decision behind closed doors to have me assassinated... they are still working on this plan," he claimed.
As part of the assassination plot, Imran said PML-N leaders Javed Latif and Maryam Nawaz distorted his remarks during a press conference to provoke the people to attack him and would later term it an attack by "religious fanatics".
'Break idol of fear'
Imran also called upon his workers to break the 'idol of fear', urging them to combat threat calls with counter threats.
"Our supporters are being threatened through unknown numbers this does not happen in an independent country," he lamented.
"If someone threatens you from an unknown number, threaten them back… you have to tell them that the Constitution and law give me the right to freedom of expression and independent judiciary allows people to stand for freedom of expression.
"No one gives freedom easily… history tells us that freedom can only be achieved through struggle and jihad."
Imran said the time has come to stand against the "thieves and dacoits who have been imposed upon the country".
"Their cases are being closed down every day and now Ishaq Dar is returning… he himself had confessed that he had been doing money laundering for the Sharif family."
He reiterated that all sectors of the economy including exports, remittances and others were growing when a 'conspiracy' was hatched to topple his government.
"I am asking establishment… is it only my responsibility to stop corruption in the country… is it not your responsibility as well," he asked.
Imran said the establishment has power but they remained 'neutral' when his government was overthrown through a vote of no-confidence.
"Allah has not allowed us to remain neutral… these thieves who looted the country for 30 years and now they have returned and got relief in corruption cases under the deal.
"Only real freedom can pave way for real democracy," he added.
Earlier, the PTI chief had arrived at the venue amid a loud cheer from the huge crowd.
Imran, the deposed premier, on Wednesday announced that the final phase of his party's movement for "Haqeeqi Azaadi" – 'real freedom' - would begin on September 24.
PTI leaders in major cities including Karachi, Islamabad, Lahore, Multan, Peshawar and others have set up screens in their respective areas to show his live speech.
COMMENTS
Comments are moderated and generally will be posted if they are on-topic and not abusive.
For more information, please see our Comments FAQ