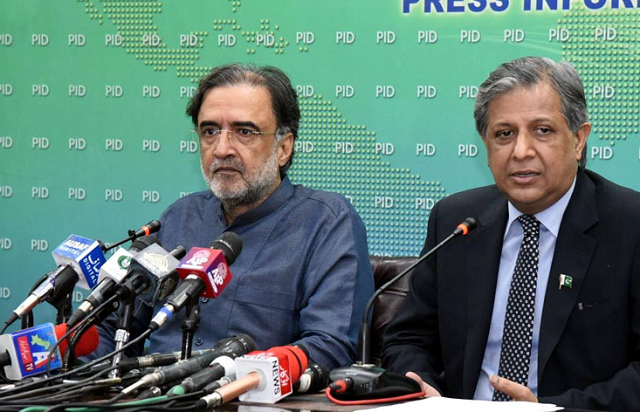 ---
ISLAMABAD:
Law Minister Azam Nazeer Tarar defended the Transgender Protection Act, saying that the transgender people were also human beings and their due rights must be granted to them as per law.
Addressing a joint press conference with Prime Minister's Adviser Qamar Zaman Kaira, the minister declared that the "criminal cases" against Pakistan Tehreek-e-Insaf (PTI) Chairman Imran Khan would not be withdrawn.
The law minister told reporters that the Federal Investigation Agency (FIA) was investigating the foreign funding case, adding that a decision in this regard would be taken once the investigation was completed.
The minister advised the PTI chief to return to parliament and try to change the government through democratic means. He added that imposition of governor's rule was also an option, depending upon the situation.
Tarar said that transgender people were also human beings and it was the responsibility of the state to give them their fundamental rights. He added that amendments had been proposed to the Transgender Act, which should be encouraged.
"Under the bill, discriminatory treatment of transgender people has been banned. It has been ensured that they get share in the property in accordance with Sharia," he said, adding however that any law could have loopholes.
Also read: Trans people decry objections to rights bill
"In 2018, this law came to parliament through a private member's bill. It was not the bill of the government at that time. Two years have passed since the approval of the bill and now some complaints surfaced," Tarar said.
"Every law that is passed may have some loopholes," Tarar said. "Senator Mushtaq [Ahmad of the Jamaat-e-Islami (JI)] has presented a bill to stop the misuse of this law," added Kaira, the adviser to prime minister on Kashmir and Gilgit-Baltistan Affairs.
"Senator Mushtaq's proposed amendment will further improve the transgender law. This amendment bill must be supported to remove errors," Kaira said, adding that the senator had not said that it was wrong legislation.
Responding to a question, Kaira said that freedom of expression did not mean destroying moral values or calling names. "We do not want to ban social media but its misuse must be stopped," the adviser emphasised.
Responding to another question, Tarar concurred with the questioner that the cabinet size should be small but stressed that the focus should be on quality, rather than quantity. "The law has fixed the limit of cabinet ministers and so far the government had not crossed it."
COMMENTS
Comments are moderated and generally will be posted if they are on-topic and not abusive.
For more information, please see our Comments FAQ