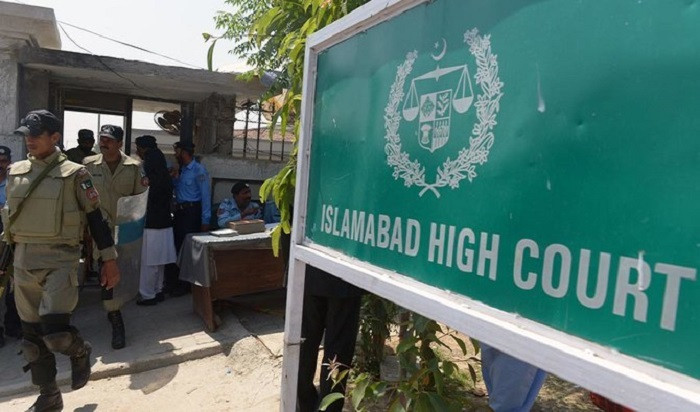 ---
ISLAMABAD:
The Islamabad High Court on Monday heard the unconditional apology submitted by former Gilgit-Baltistan (G-B) chief judge Rana Shamim in the contempt of court case and sought the assistance of the attorney general for Pakistan on the next hearing.
Shamim on Saturday tendered an apology, terming his affidavit "wrong and unnecessary".
The contempt case proceeded against Shamim over allegations of judicial manipulation levelled against former chief justice of Pakistan Saqib Nisar.
Shamim had stated in a notarised affidavit that he was a witness to the-then CJP Nisar's direction to a high court judge not to release PML-N Quaid Nawaz Sharif and his daughter Maryam Nawaz on bail at any cost before the 2018 general elections.
Chief Justice Athar Minullah heard the contempt of court case.
Rana Shamim appeared in the court along with his lawyer Abdul Latif Afridi and asked for an unconditional apology.
A one-page unconditional apology was presented by Shamim.
CJ Minallah said that there was no attorney general so he would take a decision after listening to him at the next hearing. The court sought the attorney general's opinion about the print media and its editorial policy.
Justice Minallah remarked that they would determine whether Shamim had given this apology voluntarily and there was no pressure from the court on him. However, the court had asked him to provide the list of witnesses, the chief justice added.
"The new apology given by Rana Shamim may also have serious consequences," CJ Minallah remarked. "We will not see it in contempt of court."
During the hearing, the court asked Advocate Afridi how to proceed with the new apology letter.
Afridi said that the new affidavit had been printed in all newspapers.
"The court can terminate the contempt proceedings as the apology has been submitted," Afridi said, adding that the attorney general may say that this case should proceed, which could further complicate the problem.
Justice Minallah said to make one thing clear that Shamim was giving the new affidavit voluntarily and that there was never any pressure from this court.
"We were ready to hear witnesses on the London affidavit," the CJ remarked. "We will take the assistance of the attorney general on some points."
The chief justice said it was not necessary for Shamim to appear in person in court on the next hearing.
Later, the hearing was adjourned till September 29.
COMMENTS
Comments are moderated and generally will be posted if they are on-topic and not abusive.
For more information, please see our Comments FAQ