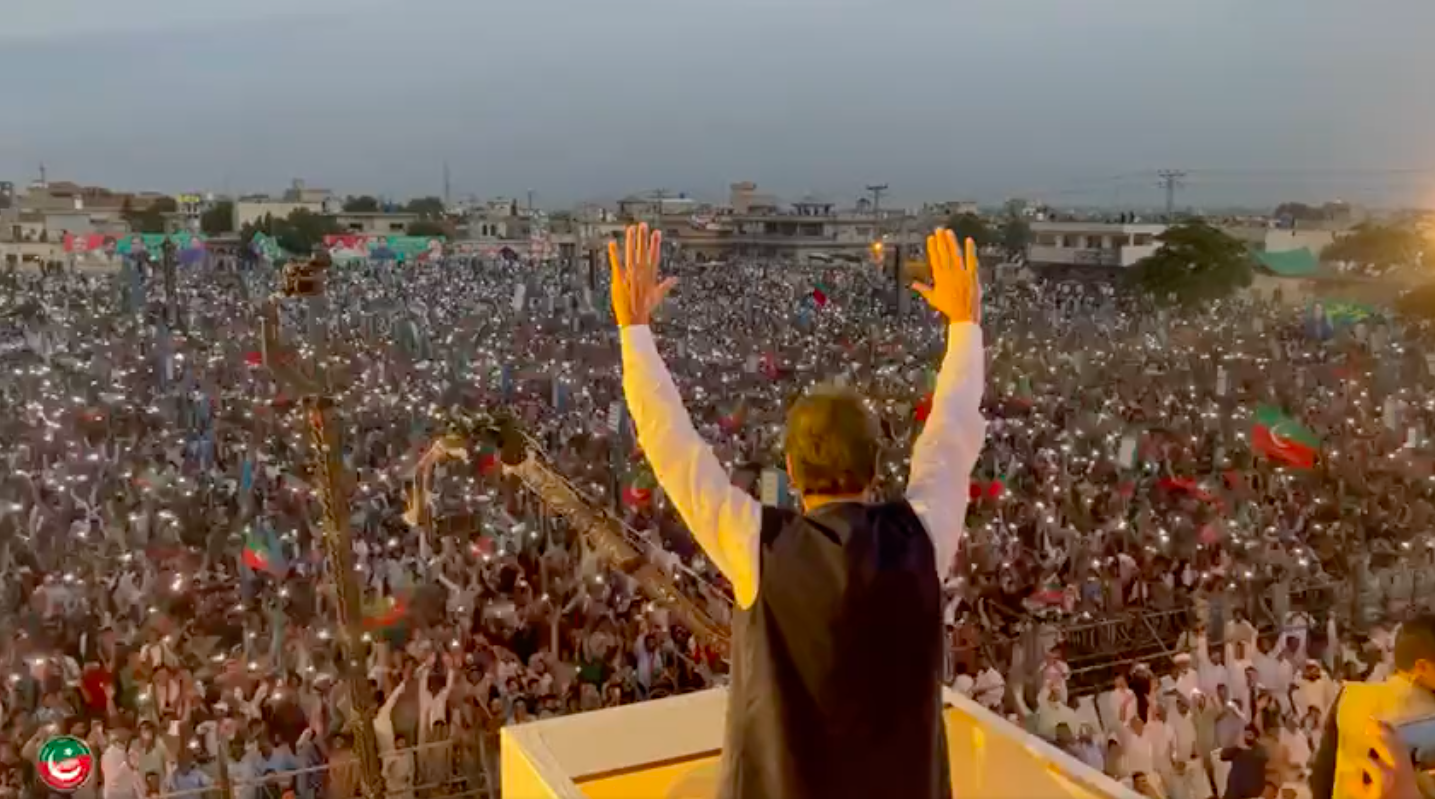 ---
ISLAMABAD:
PTI chairman and deposed premier Imran Khan on Monday encouraged his party leaders and supporters to threaten back those threatening them from unknown numbers.
Invoking the mysterious figures of 'Mr X' and 'Mr Y', Imran urged the party activists to smash "the idol of fear" and combat their threats with similar threats.
He said those trying to intimidate party cadres through calls from secret numbers will now be dealt with similar tactics.
"Break the idol of fear, this call that comes from an anonymous number to threaten. Give it back to them. They give threats, return those threats," the PTI chief roared.
He also questioned on the Director General of the Inter-Services Public Relations' (ISPR) decision of rebutting his statement about army chief's appointment, saying the DG ISPR should have at least understood what he said and what it meant.
In his speech at a public rally at Chakwal, the PTI chief said that he wanted army chief's appointment on merit, saying he had said that ex-premier Nawaz Sharif and ex-president Asif Ali Zardari could never do selection on merit as they were not even familiar with the concept of merit and can't see beyond their families.
The ISPR had taken a strong exception to the PTI chairman's remarks regarding the appointment of the new army chief, saying it was "aghast at the defamatory and uncalled for" statement about the institution's senior leadership.
"Regrettably, an attempt has been made to discredit and undermine [the] senior leadership of [the] Pakistan Army at a time when the institution is laying lives for the security and safety of the people of Pakistan every day," the official statement had read. The ISPR said that the senior politicians trying to stir controversies on COAS' appointment, the procedure for which is well defined in the constitution, was most unfortunate and disappointing.
While criticising Zardari's decision to appoint his son, Foreign Minister Bilawal Bhutto Zardari, as PPP chairman and Sharif's decision to make his daughter Maryam Nawaz as the "queen" of his party, ex-PM Imran argued that they both should have picked up Aitzaz Ahsan and Chaudhry Nisar Ali Khan, respectively, as their experience and acumen was unmatched.
PTI chairman also lashed out at PM Shehbaz Sharif for appointing his son as Punjab CM, saying Sharifs and Zardari families do not even understand the concept of merit. He alleged that his opponents' assets were abroad and they can't stand for true freedom of the country as they were slaves of the countries where their money and assets were stashed.
Amid loud roar of the crowd, Imran said that books and articles were written on Sharifs and Zardaris corruption and questioned if such people would be allowed to select the new army chief of the country. PTI chairman said that Sharif was living abroad as an absconder and his brother, Shehbaz Sharif, had given an affidavit to the courts that his brother would return soon but he hasn't yet.
"I would definitely ask our DG ISPR this question today that you should have at least understood what I was saying," Imran said, adding "the whole nation is standing by my side and these thieves should never select the army chief". In addition, he asked "how is it possible for a country that an absconding convicted criminal is deciding who will be the next COAS?"
Meanwhile, Imran took a jibe at Maryam Nawaz and accused her of mastering the art of telling lies. "Maryam has got PhD in telling lies; that's her only quality," Imran said before he ran a video clip where she said that she didn't have any properties abroad or in Pakistan. He quipped that Maryam has filed an application seeking a home through Ehsaas program.
"I have never seen anyone telling a lie with such straight face," Imran said while referring to Maryam's different statements, saying these people have triple PhDs in telling lies. In his speech, Imran also asked people to threaten back unknown callers when they make threatening calls.
"Do whatever you want; we will do whatever we can," he said, saying he will continue fighting and ultimately defeat all of his opponents.
Imran mocked PM Shehbaz for being unable to accurately put on ear phones during his meeting with Russian President Vladimir Putin and ran a video clip. Imran while taking a jibe at PM said that he was nervous, adding that the foreign powers 'imposed' the incumbent rulers so that they may continue to obey their orders instead of serving the people.
Referring to ex-premier Nawaz Sharif's meeting with ex-US president Barrack Obama, Imran said that Sharif had invited the US president while reading from a piece of paper as he feared that he might make a mistake.
Imran lashed out at Sharif and Zardari families, saying the incumbent rulers from both the families would not have to beg from different countries if they bring back half of the "looted money" in the last 30 years to the country. He said Zulfiqar Ali Bhutto was also a respected leader whom the foreign powers had removed from power and scene.
Recalling his cricketing days, Imran said that the one lesson that he learnt was that no one can defeat someone who doesn't give up, saying "Imran Khan has never given up in his life."
He said that he was never nourished in any nursery of establishment and reached to the power corridors on his own. He reiterated that he would never accept "thieves" and continue fighting till the end. "I will never give up," he announced.
Throughout his speech, he continued calling his opponents as thieves, looters, traitors, and corrupts and reiterated that he would never go along with the "biggest dacoits".
Imran said that he wanted to tell all the traitors who imposed the government that the nation was paying the price of their decision. Throughout his speech, he kept urging people to stay ready for his call for protest and long march to the capital, which he plans to do this month.
COMMENTS
Comments are moderated and generally will be posted if they are on-topic and not abusive.
For more information, please see our Comments FAQ