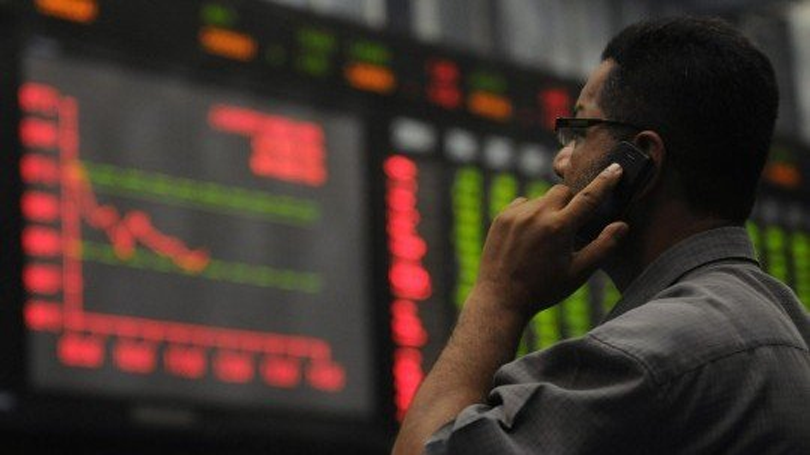 ---
KARACHI:
The Pakistan Stock Exchange witnessed a lacklustre trading week as jittery investors weighed the impact of rising political and economic uncertainty in the country coupled with persistent rupee depreciation. On Monday, stock trading kicked off with a slide as weakening of the local currency sparked a sell-off. Investors' participation remained muted in anticipation of mounting inflation.
Positive developments on the political front in the subsequent session helped the market stage a rebound as the former prime minister showed his willingness to speak to the government if it agreed to hold free and fair elections. Market participants managed to keep the benchmark KSE-100 index in the green for two consecutive sessions despite highly volatile trading.
The index reversed trend as selling pressure dragged the market down in a two-day bear run with continuous rupee devaluation hammering investors' interest. The index closed the week in the red and settled at 41,679.49, down 269 points week-on-week. "Pakistan equities closed the week on a negative note at 41,679, down 269 points," said JS Global analyst Muhammad Waqas Ghani in a report.
Profit-taking was witnessed during the week, which stemmed from the assessment of flood damages, political noise and recent round of rupee devaluation (3.5% week-on-week), he said. According to the All Pakistan Textile Mills Association, cotton crop losses, caused by rains and flooding, could reach $1.5 billion.
Fitch Solutions shared its latest report on Pakistan, according to which reduction in agri-production would likely lead to higher inflation, prompting the State Bank to tighten monetary policy. On the other hand, the World Bank signalled a global recession amid higher interest rates. "Average daily volumes during the week rose 32% with 183 million shares traded. Key underperformers were exploration and production firms (-3.1%), engineering companies (-2.7%) and textile producers (-2.5%)," the analyst said.
On the news front, workers' remittances registered 8% month-on-month growth in August 2022. Moreover, in the PIB auction held during the week, Rs211 billion worth of bids were accepted against the target of Rs175 billion. Cut-off yields fell slightly in the range of 1-3 basis points versus the previous auction. In other news, the Foreign Office termed the recent FATF team's on-site visit successful and was hopeful of a logical decision by the third week of October 2022, the report added. Arif Habib Limited, in its report, said that the market remained range bound during the current week on the back of weak economic indicators and political uncertainty.
State Bank's foreign currency reserves declined to $8.62 billion, putting further pressure on the rupee, which continued to weaken against the greenback and settled at Rs236.84. Moreover, there was 8% growth in remittances in August, increasing to $2.7 billion from $2.5 billion in the previous month. Overall the market remained lacklustre and closed at 41,679, losing 269 points (or 0.64%) week-onweek, Arif Habib report said. In terms of sectors, positive contribution came from technology and communication (231 points), power generation and distribution (55 points) and automobile assemblers (29 points).
Negative contribution came from commercial banks (172 points), fertiliser firms (89 points), cement companies (76 points), oil and gas exploration companies (75 points) and food and personal care products (43 points), the report added. Meanwhile, stock-wise positive contributors were TRG (248 points), Hubco (51 points), UBL (25 points), Millat Tractors (24 points) and Colgate-Palmolive (18 points). Negative contribution came from Habib Bank (81 points), Fauji Fertiliser Company (54 points), Meezan Bank (35 points), Pakistan Petroleum (28 points) and Habib Metropolitan Bank (24 points).
Foreigners turned buyers during the week under review, as they purchased stocks worth $13.8 million compared to net selling of $2.82 million last week. Major buying was witnessed in technology ($11 million) and other sectors ($3.1 million). On the domestic front, selling was reported by insurance firms ($8.5 million) followed by mutual funds ($3.6 million). Average volumes came in at 183 million shares (up 32% week-on-week) while average traded value settled at $30 million (up 46% week-on-week).
COMMENTS
Comments are moderated and generally will be posted if they are on-topic and not abusive.
For more information, please see our Comments FAQ