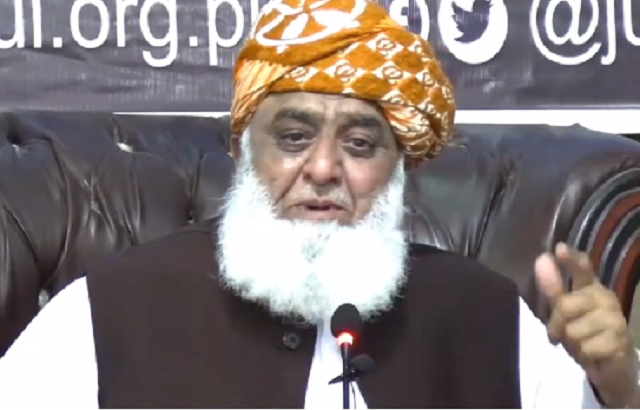 ---
PESHAWAR:
Jamiat Ulema-e-Islam-Fazl (JUI-F) chief Maulana Fazlur Rehman on Saturday hit back at PTI Chairman Imran Khan over his suggestion to defer the appointment of new army chief, saying its prime minister's prerogative to call the shot in this regard.
"Earlier, he [Imran Khan] would talk about removing the army chief but now he is asking for extension. Parliament will decide about this matter," he said while addressing the party workers in Peshawar.
He was responding to Imran's proposal to defer the appointment of new army chief till after the next general elections.
The deposed premier's suggestion effectively means granting another extension to the incumbent COAS, General Qamar Javed Bajwa, albeit for a short period.
"Only those countries prosper that pursue merit," the PTI chairman said in an interview with a private TV channel earlier this week.
"A cricket team whose selection is done on merit can only excel. If any institution is to succeed, meritocracy is paramount," he added.
Calling Imran fitna [mischief], the JUI-F chief in today's address said they "have crushed the head of fitna and they will not let him regain power".
Also read: PM to consult Nawaz on new COAS: minister
Fazl, who also heads Pakistan Democratic Movement (PDM), said it was easy to talk about "ideal situation" while in opposition.
"Have we forgotten their stupidity and incompetence that they showed when they were in government?"
Fazl alleged that PTI-led government was a slave of foreign powers and "it received funds from Israel, India and America".
The money that PTI received from foreign powers has been proved in foreign funding case, he alleged
The PDM chief said the world remained silent when governments were toppled in the past "but UN and Israeli media expressed concerns after Imran was ousted".
He said Imran wanted state institutions to support him and criticised courts and ECP when they ruled against him.
On Imran's demand to hold early polls to save the sinking economy, Fazl said the coalition government led by PML-N will decide on holding elections not Imran Khan.
COMMENTS
Comments are moderated and generally will be posted if they are on-topic and not abusive.
For more information, please see our Comments FAQ