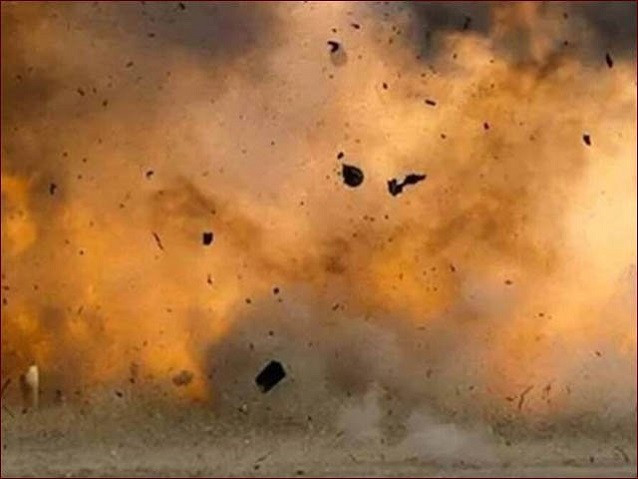 ---
QUETTA:
At least one person was killed and another 13 were injured in a blast on Quetta's Sabzal Road Friday night.
Police sources said unidentified miscreants lobbed a hand grenade on Sabzal Road which left one dead and 13 injured.
The hand grenade exploded between a rickshaw and a vehicle parked on the roadside.
The injured were rushed to Civil Hospital Quetta where an emergency was declared to save the lives of injured.
Also read: A tragedy for Balochistan is a tragedy for Pakistan
Senior doctors and paramedics were called to the trauma centre of the civil hospital to treat the injured by the blast. Police and frontier corps personnel reached the site and launched an investigation into the incident.
The blast was heard far and wide as it caused panic in the area.
Balocihstan Home Minister Balochistan Mir Ziaullah Langove strongly condemned the grenade attack and directed the law enforcement agencies to arrest the culprits behind the attack.
He said the perpetrators of the terror act would be brought to justice. A senior police officer told The Express Tribune that the target of the blast was a patrolling vehicle in the area.
However, he went on to say that no policeman was injured in the attack. Security has been tightened in the area in the aftermath of the attack that rocked Sabzal road and surrounding areas.
Earlier last month, at least one person was killed while 14 others sustained injuries, when unknown miscreants threw a hand grenade at a roadside stall, selling national flags and buntings in connection with the Independence Day celebrations.
Balochistan has been wrecked by ethnic, sectarian, militant and separatist violence fed by a potpourri of groups.
COMMENTS
Comments are moderated and generally will be posted if they are on-topic and not abusive.
For more information, please see our Comments FAQ