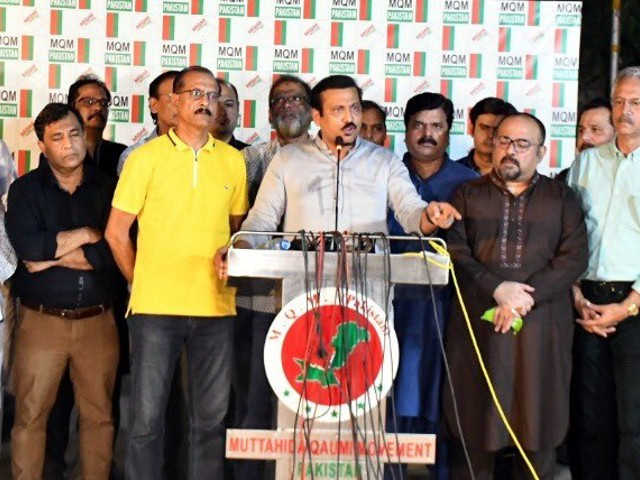 ---
KARACHI:
MQM-P leader Faisal Sabzwari on Wednesday said that the three missing persons whose bodies were found from different districts of Sindh belonged to their party.
The MQM-P leader made the revelation during an emergency news conference in Karachi. He was flanked by members of the Rabta Committee.
"Bodies of our three workers are found from different districts of interior Sindh," he said, adding that hundreds of MQM workers were arrested who later on went missing.
Sabzwari said an operation continued against MQM since 1992.
He maintained that the MQM-P was the only party that was raising the issue of missing persons across the country, adding that Justice (retd) Javed Iqbal was a "big question mark" on the missing persons' commission.
While referring to the MQM workers, he asked why the government could not hold talks with them if negotiations could be held with the TTP.
Sabzwari said he had joined hands with the government to recover the missing persons but instead was "given their bodies". "We are certain that these missing people are innocent," he said.
"We have requested the premier, Sindh chief minister, chief justice and the army chief to take notice so that an impartial inquiry is conducted and such incidents do not happen in the future."
Interior Minister Rana Sanaullah on Wednesday decided to conduct an independent investigation into the incident, saying those responsible would be brought to justice and that strict action will be taken against them.
کراچی میں مبینہ طور پر 3 لاپتہ افراد کی لاشیں ملنے کے واقعے کی مذمت کرتا ہوں۔ اس ضمن میں؛ سندھ حکومت کے ساتھ مل کر واقعے کی مکمل آزادانہ تحقیقات کروائیں گے۔ ذمہ داران کو قانون کے کٹہرے میں لائیں گے اور ان کیخلاف سخت ایکشن لیں گے۔

— Rana SanaUllah Khan (@RanaSanaullahPK) September 14, 2022
Sanaullah and Federal Minister of Economic Affairs Sardar Ayaz Sadiq met with MQM-P leaders Aminul Haq and Khalid Maqbool Siddiqui in connection with the case.
The federal ministers expressed their condolences to the families of the deceased.
COMMENTS (1)
Comments are moderated and generally will be posted if they are on-topic and not abusive.
For more information, please see our Comments FAQ