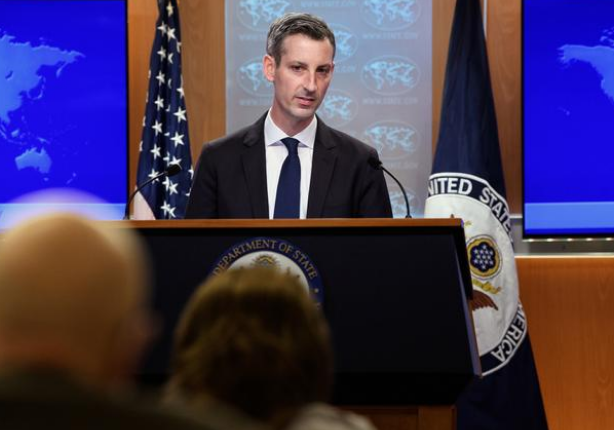 ---
ISLAMABAD:
The State Department has said that the US' proposed $450-million sale for Pakistan to refurbish its F-16 fighters fleet would sustain the country's capability to meet current and future counterterrorism threats.
During a weekly press briefing, Spokesperson Ned Price said: "This is a fleet that allows Pakistan to support counterterrorism operations, and we expect Pakistan will take sustained action against all terrorist groups."
Price was responding to a question from a correspondent of a private TV channel and added that the US "did recently notify Congress of a proposed foreign military sale valued at $450 million for maintenance and sustainment services for the Pakistani Air Force's F-16 programme".
He maintained that "Pakistan is an important partner in a number of regards - an important counterterrorism partner. And as part of our longstanding policy, we provide lifecycle maintenance and sustainment packages for US-origin platforms."
The spokesperson furthered that the country is an important part of a broader US-Pakistan bilateral relationship and the proposed sale will sustain Islamabad's capability to meet current and future counterterrorism threats by maintaining the F-16 fleet.
Meanwhile, the interim Afghan Taliban government on Wednesday rebutted claims that the chief of outlawed Jaish-e-Muhammad Maulana Masood Azhar was hiding in Afghanistan, asking Islamabad to refrain from levelling such allegations.
The statement from the Afghan Foreign Ministry spokesperson came a day after reports claimed that Pakistan wrote a letter to the Afghan government about the presence of Masood Azhar on the Afghan soil.
Reports claimed that the Foreign Office had asked Kabul to arrest the JeM chief and hand him over to Pakistan. However, there was no confirmation from the Foreign Office about the letter written to Kabul. When approached, the Foreign Office spokesperson did not respond. Other officials were also tight-lipped.
Masood Azhar, who founded the JeM, was released by India in 1999. He was one of the three men set free in exchange for the crew and passengers of an Indian Airlines plane hijacked and flown to then Taliban-ruled Afghanistan.
Meanwhile, India has blamed the JeM for carrying out several attacks including the 2001 Parliament attack.
The Islamic Emirate of Afghanistan (IEA) confirmed on Wednesday that the IEA and Pakistani military were involved in a clash along the international border.
According to IEA Deputy Spokesperson Bilal Karimi, the clashes took place in Dand Patan area in Afghanistan's Paktia province.
Karimi said on Twitter that military facilities, "in principle", should not be built close to the Durand Line. He further said that a day earlier, the "Pakistani military sought to build an outpost there."
"Some Islamic Emirate members went to talk to them, but Pakistani soldiers opened fire which caused casualties," the spokesperson added.
COMMENTS
Comments are moderated and generally will be posted if they are on-topic and not abusive.
For more information, please see our Comments FAQ