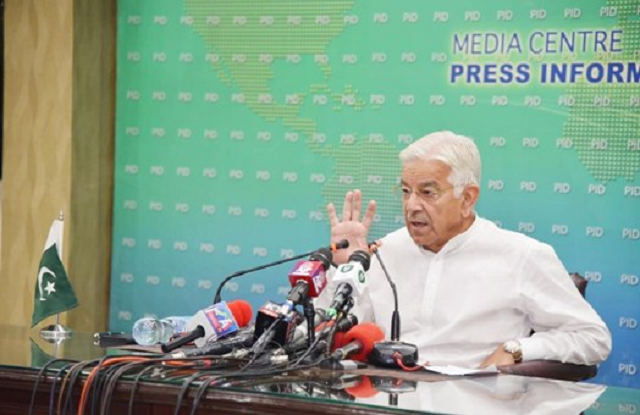 ---
Defence Minister Khawaja Asif confirmed on Tuesday the federal government was flexing its muscles to bring down the Pakistan Tehreek-e-Insaf-backed government Punjab, saying that a change in Pakistan's biggest province would bring political stability.
In an interview with a private TV channel, Asif, also a senior parliamentarian from the ruling Pakistan Muslim League-Nawaz (PML-N), said that the government would take the coalition partners into confidence on the appointment of the next army chief.
"Yes, we always have the option of Punjab government and we will move when we deem it feasible," Asif said, responding to a question about change in Punjab. "We are working on it politically and the change will bring political stability to this uncertainty," he added.
When asked about the appointment of the next army chief, the defence minister stressed that it was the prerogative of Prime Minister Shehbaz Sharif to make the appointment, adding that the government's allies would be taken into confidence.
Explaining the process, the defence minister said that consultations would be held with the institution, which would forward the names of recommended officers for the new chief. "So far the consultation has not been started," he remarked.
Read PTI may face tough time in Punjab, K-P
When asked to comment on former prime minister Imran Khan's claim that "a minus-one formula" was under way, the minister said that he was not in favour of such a formula in the country's politics. "Personally, I would not advise it."
The minister acknowledged that the ruling PML-N was struggling politically for the past few months, but showed optimism that the party "will come back successfully". He said that the return of PML-N supremo Nawaz Sharif would provide a big boost to the party.
When question about the incarcerated National Assembly member Ali Wazir, the minister said that Wazir's case as well as other issues, like those of missing persons, need to be looked into. "But I would say Wazir's case needs to be considered on humanitarian grounds," he added.
COMMENTS
Comments are moderated and generally will be posted if they are on-topic and not abusive.
For more information, please see our Comments FAQ