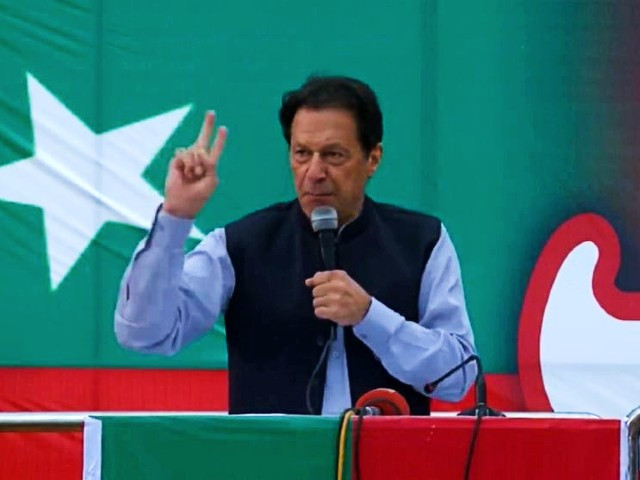 ---
Former prime minister and Pakistan Tehreek-e-Insaaf (PTI) Chairman Imran Khan on Monday alleged that the government 'tried to blackout' his fundraising telethon the previous night.
The PTI chief had organised a telethon in an attempt to raise funds to aid the flood affectees after the country suffered unprecedented devastation from monsoon rains.
Read Imran meets US lobbyist in Bani Gala
However, in a series of tweets, Imran claimed that the government had made several attempts to disrupt the live transmission of the fundraising drive.
Imported govt of cabal of crooks & their handlers stooped to new lows last night when they tried to blackout my telethon for flood relief fund raising. First they pressured channels not to air telethon. When some channels continued to air telethon they threatened cable operators.

— Imran Khan (@ImranKhanPTI) September 12, 2022
Imran alleged that TV channels were pressured "not to air the telethon" and cable operators were threatened when some channels continued to broadcast in an attempt to merely target his party. He added such actions were thereby "denying fundraising to aid flood victims".
This shows how petrified they are of our rising popularity amongst the nation. Also, they know no one trusts them with their money given their record of loot & plunder. So they sought to deny fundraising to aid flood victims just to get at me & my Party. Unbelievable callousness.

— Imran Khan (@ImranKhanPTI) September 12, 2022
The PTI chief also went on to claim that he had nonetheless managed to raise Rs5.2 billion.
Despite all this we managed to raise Rs 5.2 billion in just 2 hours. I want to thank everyone who pledged incl our overseas Pakistanis especially those based in the US.

— Imran Khan (@ImranKhanPTI) September 12, 2022
In a tweet announcing the funds raised, Imran expressed his gratitude to overseas Pakistanis for their contributions, making special mention of those residing in the United States of America.
Ban on Imran
The Pakistan Electronic Media Regulatory Authority (PEMRA) had imposed a ban on broadcasting live speeches of the ousted prime minister on all satellite TV channels, after Imran had warned the IG and DIG of Islamabad police, saying that he will not spare them and register a case against them for "torturing" party leader Shahbaz Gill during physical remand. He had also called out Additional District and Sessions Judge Zeba Chaudhry for approving the police request of physical remand despite knowing that Gill was subjected to "torture".
Read More ATC extends Imran's bail till September 20
Although the Islamabad High Court (IHC) had later overturned the move allowing live telecast of Imran's speeches on the electronic media and set aside the Pemra order in early September, Chief Justice (CJ) Athar Minallah, while hearing the plea challenging the ban, had expressed displeasure over some other of Imran's statements, particularly the ones pertaining to the armed forces.
Meanwhile, reports had also emerged of disruptions in online video sharing platform YouTube services.
COMMENTS (1)
Comments are moderated and generally will be posted if they are on-topic and not abusive.
For more information, please see our Comments FAQ