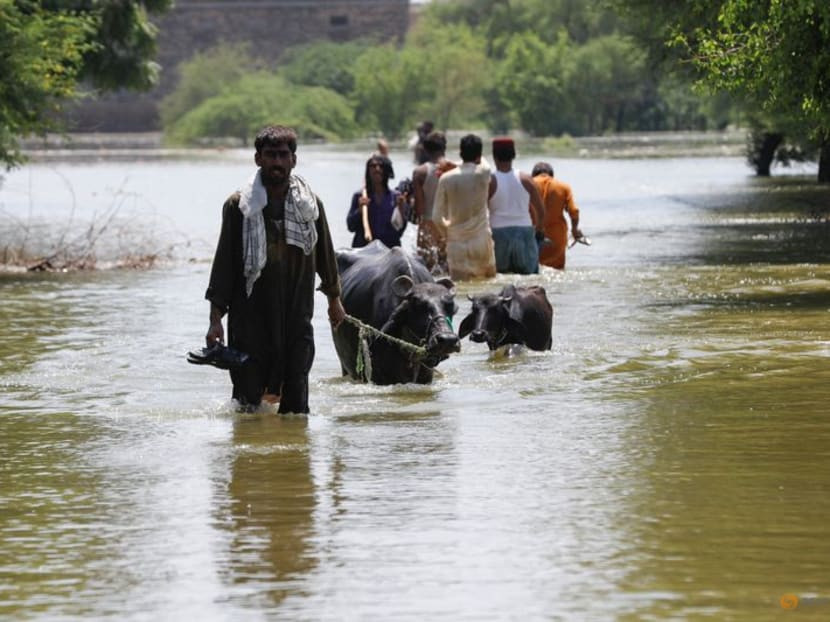 ---
LAHORE:
In true one man's loss is another man's gain fashion, traders from different parts of Punjab are visiting the province's flood devastated Southern part to buy cheaper live-stock from cash-starved affectees.
Having lost their homes, some of the populace of the flood hit areas of Taunsa, Rajanpur, Lehya, Mianwali, and DG Khan, are presently living under tents and caring for livestock has become a tall task given the shortages of fodder and the risk of diseases spreading in animals.
Explaining the dire situation, a resident of the Fazilpur area in Rajanpur, Amir Hussain Lashari, who is currently living in a tent settlement with his family, said that taking care of his animals was proving to be a challenge.
"I had more than 50 livestock animals, half of them got swept away in the flood and now I am taking care of the rest. However, I can barely attend to them given that I have my own two meals a day to worry about," lamented Lashari.
The small scale farmer said that he was worried if he held on to the animals while he was unsettled himself they would develop foot and mouth disease.
"Even though welfare organisations are providing fodder and vaccinations, selling the animals is in their best interest." Ahmad Khan Baloch, another
farmer and flood victim, who has just sold his animals for cheap, agrees.
"My house is currently sub-merged in water and I do not know when I will be able to go back. So it is better that I can get some cash for the livestock, to end their misery and mine," said Baloch, adding that the cash would help him get back on his feet and help his family as well.
According to Punjab Wildlife's Spokesperson, Dr Asif Rafiq, currently, there are around 1,500 animals in camps and more than 6,500 animals in open places.
Hence, there are many other farmers like Lashari and Baloch looking for a cash injection, which has resulted in traders from Lahore, Sahiwal, Kasur, and Faisalabad flocking to Southern Punjab.
One such trader, Rana Mubashir Hassan, who is from the provincial capital, said that prices of livestock were already low due to the outbreak of lumpy skin disease and the flooding had a further impact.
"Presently a cow costs anywhere between Rs 50,000 to Rs 100,000."
However, Hassan informed that prices of buffaloes which give milk have gone through the roof.
"In South Punjab, milk giving cattle is retailing for Rs 250,000 to Rs 450,000 as people have a use for them."
Despite buying the live-stock at bargain prices, Hassan does not think that consumers in other parts of Punjab would get any benefit.
"The cost of transporting the animals to cities like Lahore is quite high, so the prices of livestock over there will remain the same," the trader explained while talking to The Express Tribune.
COMMENTS
Comments are moderated and generally will be posted if they are on-topic and not abusive.
For more information, please see our Comments FAQ