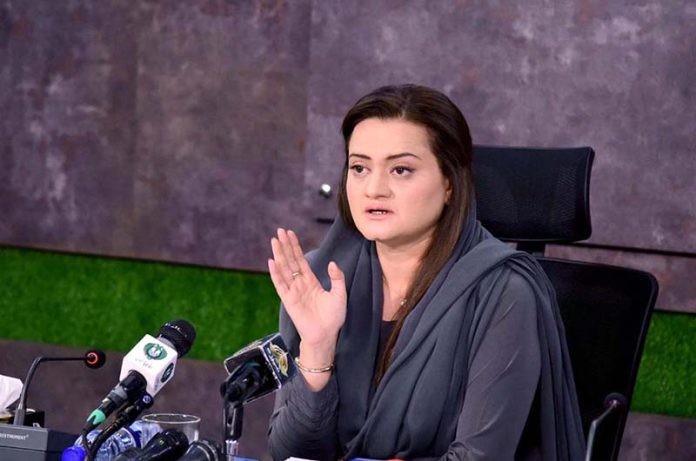 ---
ISLAMABAD:
Federal Information Minister Marriyum Aurangzeb on Sunday, in response to PTI chairman and deposed premier Imran Khan's call for early elections, insisted that the general polls would take place in 2023.
In a news statement, the minister said it seemed that the PTI chief's ears were not open. She added that Imran should open his ears and listen: the general elections would be held in 2023.
She ridiculed Imran's "call" for protests. She added that the people did not pay heed to those who ridiculed the Election Commission of Pakistan (ECP) and hurled threats at the judiciary.
She claimed that people were already on the streets because of the recent floods. "You have become blind and deaf. Elections are not held by force, crying, shouting and beating," she maintained.
The minister said while the country was flooded, the PTI chairman could not see all this because he was immersed in his "poisonous ego".
Marriyum maintained that the former premier had become accustomed to being a "favourite" and have his way.
"Change your [PTI chief] habit as the time has changed. If you take the law in hand, the law will move, then you will shout and cry," she added.
The minister said the only problem was that the "real face" of Imran had come before the public.
She added that the whole reality of the PTI chief and his family's "robbery" had been exposed.
Marriyum claimed that the public had come to know about Imran being a foreign agent and using charity money for personal expenses.
The minister castigated the PTI chairman for abandoning his people midway of a protest which he had announced himself.
She further claimed that Imran was bent on creating chaos and anarchy instead of joining the whole nation in flood relief and rehabilitation efforts.
Marriyum alleged that Imran again wanted to reinstall a corrupt model of governance in the country by imposing people including Usman Buzdar, Farah Gogi and Bushra Bibi.
The minister claimed that Imran, who had announced the so-called real freedom movement, had hired the services of a former CIA chief for improving his image in the US.
Marriyum said the government would complete its constitutional term and general elections would be held in time, adding that Imran's whining and shrieking would not make any difference.
(With input from APP)
COMMENTS (2)
Comments are moderated and generally will be posted if they are on-topic and not abusive.
For more information, please see our Comments FAQ