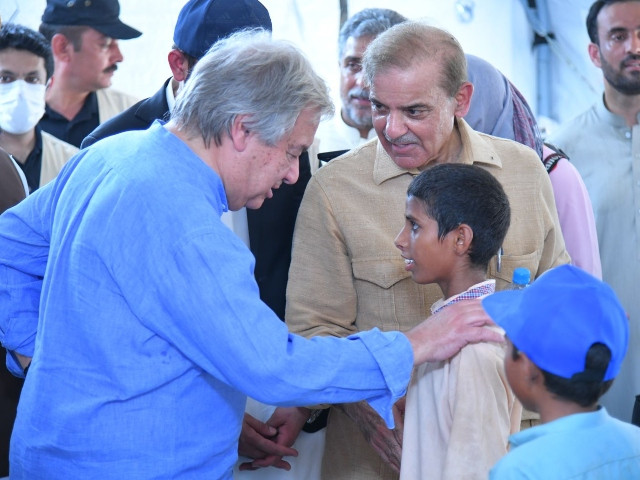 ---
ISLAMABAD:
Prime Minister Shehbaz Sharif on Sunday said the United Nations Secretary-General (UNSG) Antonio Guterres was 'overwhelmed' after seeing the devastation caused by the flooding in Pakistan.
The premier said that during UNSG's two-day visit to the country's flood-affected areas and camps, Guterres was "overwhelmed by the scale of devastation that has engulfed Pakistan".
During his visit to the flood-affected areas & camps under scorching heat, UN Secrtary General was overwhelmed by the scale of devastation that has engulfed Pakisan. His voice has become the voice of flood victims. The world should pay heed to what he said about climate change. pic.twitter.com/I2Ag2ttm32

— Shehbaz Sharif (@CMShehbaz) September 11, 2022
"The world should pay heed to what he [Guterres] said about climate change," said PM Shehbaz in a tweet, alluding to the UNSG's earlier remarks on the catastrophic effect of climate change in the country.
He added that the secretary-general's "voice has become the voice of the flood victims."
'Unimaginable' flood devastation
Earlier on Saturday, Guterres, while on his visit to Sukkur and other flood-hit areas, called for the international community to step up in helping Pakistan overcome the challenges posed by the devastating floods and extend support in rebuilding a climate-resilient infrastructure.
The UN secretary-general said the countries vulnerable to climate change, including Pakistan, must be supported to rebuild resilient communities and infrastructure to resist future disasters. He also stressed a reduction in emissions.
Read: Flood-ravaged Pakistan bracing for secondary disasters
Expressing solidarity with Pakistan, the UNSG said the United Nations will do everything possible to raise awareness about the flood situation in Pakistan and request those who have the capacity to support the country in these difficult times.
Taking an aerial view of the flood-affected areas along with Prime Minister Shehbaz Sharif, the secretary general termed the flood devastation 'unimaginable'.
UNSG to advocate for 'debt swaps'
Guterres also said that the UN will strongly advocate for 'debt swaps' with the IMF and World Bank through which developing countries like Pakistan instead of paying a debt to foreign creditors will be able to use that money to invest in climate resilience, investments in sustainable infrastructure, and green transition of their economies.
He said, "We will go on strongly advocating for these solutions in the meetings with the IMF and World Bank, which will take place soon. And, also in G-20 meeting."
Read More: Flash floods: British MP demands cancellation of Pakistan's int'l debt
He stated this while talking to media persons on his arrival at Karachi airport on Saturday. PPP chairman and Foreign Minister Bilawal Bhutto Zardari, Federal Minister for Planning, Development and Special Initiatives Ahsan Iqbal, and Sindh Chief Minister Syed Murad Ali Shah among others were also present on the occasion.
COMMENTS
Comments are moderated and generally will be posted if they are on-topic and not abusive.
For more information, please see our Comments FAQ