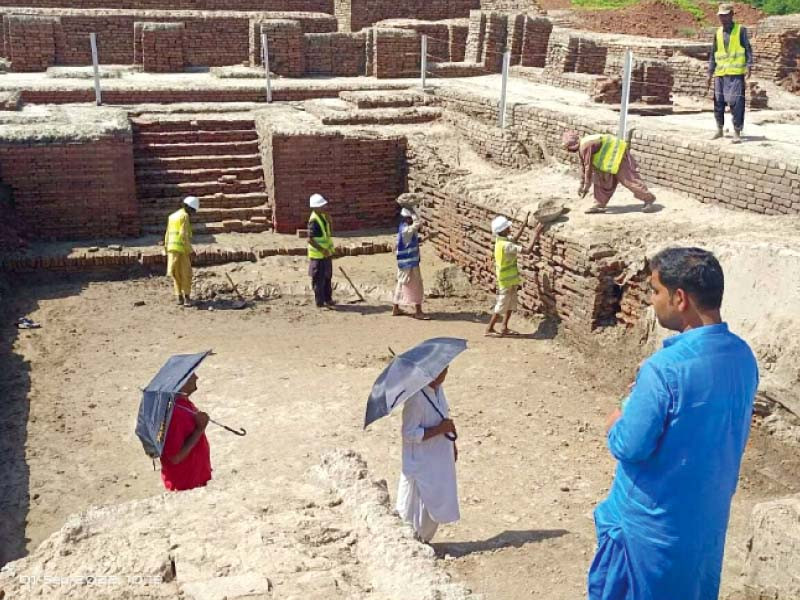 ---
HYDERABAD:
The Technical Consultative Committee on Mohenjo Daro has requested the national and provincial disaster management authorities to include heritage safety during natural calamities in their policies and plans.
The committee's chairperson Dr Kaleemullah Lashari has also suggested the NDMA and PDMA to play a role in the assessment of the damages done to the archaeological and heritage sites during rains, floods, storms and earthquakes.
In its recommendations put forward to the government, the committee, which functions under Directorate of Antiquities and Archaeology, has demanded tractor mounted heavy duty mobile pump for Mohenjo Daro. Digging two wells near the quarter of the site's in charge to pump out groundwater which dampens the surface structure has also been propounded.
The rainstorm drains built in 1980s need reconstruction to enhance the drainage capacity. The rainwater which accumulates at the archaeological site should be drained into Dadu canal, the committee said.
It was further required that the government should allocate emergency funds to pay for expenditures sustained during natural disasters.
The government has also been requested to stop the residents of proximate villages from draining the floodwater towards the site.
Mohenjo Daro, spread over an area of 620 kilometers and located near Larkana, is believed to be largest Bronze Age urban center which some scholars say lasted for around six centuries. The site faces two types of drainage problems which pertain to the structures. There are multiple levels of the settlements in each quarter of Mohenjo Daro in addition to the self containing building units which store the rainwater.
The public has access to that archaeological site and Lashari said that access has become a 'nightmare' for the custodians. With construction of the Sukkur Barrage the underground water level rose under Mohenjo Daro and began to post a threat to the surface structures by dampening them. In the 1960s the crumbling walls and meandering Indus river continued to affect the site.
But later United National Education, Science and Culture Organization (UNESCO) helped the local archaeologists through construction of the river discipline structures. A mechanism was also devised to deal with multiple preservation challenges to the site.
The installation of tube wells to lower the water level by pumping out subsoil water and placing DPC under baked brick walls were among those measures which were introduced. But these preservation techniques were soon discarded.
According to the Sindh Culture and Antiquities Department, at least 19 archaeological and heritage sites in 10 districts of Sindh were damaged by the recent monsoon rains.
Published in The Express Tribune, September 9th, 2022.
COMMENTS
Comments are moderated and generally will be posted if they are on-topic and not abusive.
For more information, please see our Comments FAQ