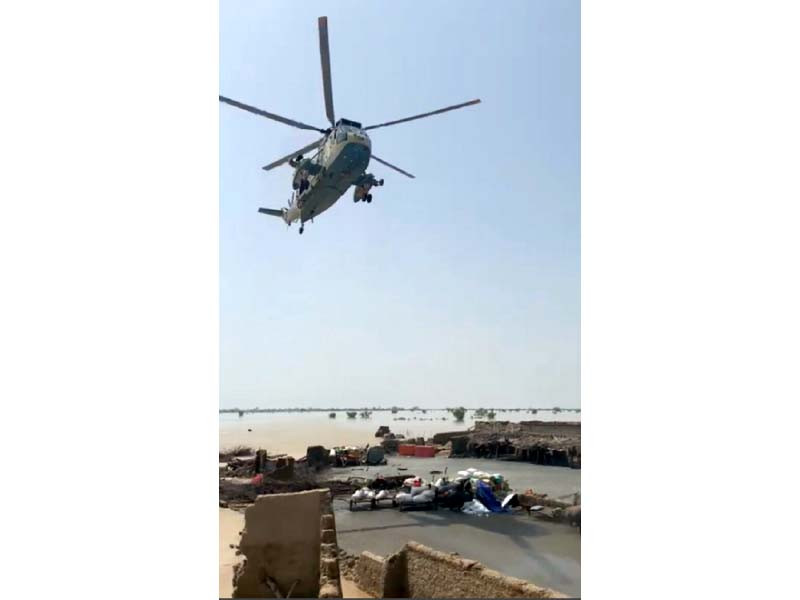 ---
KARACHI:
September 8 marks a golden chapter in the history of the Pakistan Navy (PN) when its officers and men demonstrated indomitable courage by undertaking the successful bombardment of Dwarka in India during the 1965 war.
During Operation Dwarka, PN Flotilla heavily bombarded the Indian port of Dwarka, destroying important shore installations, including Indian radar station and a radio beacon. The swift attack trounced the Indian Navy and condemned their pride to dust.
Every year, September 8 is marked as Pakistan Navy Day to celebrate this victory over Indian Navy. However, this year, the Pakistan Navy is active in extraordinary situations caused by the epic floods, helping people trapped in various districts of Sindh.
So far, 450 people have been rescued from different districts of Sindh and transported to safe places by the Sea King helicopters of Pakistan Navy's Triple One Squadron. The weight winching system installed in this giant copter holds the key position during such operations.
The Sea King helicopter, which can lift up to 6,000kgs of cargo, has so far carried out about 30 food airdrop and rescue missions. "As many as 75 people trapped on the rooftop of a mosque in Sukkur were evacuated to a safe place by the Sea King helicopters within one and a half hour," said Commanding Officer Triple One Squadron, Captain Zahid Shahid, while talking to The Express Tribune.
He further said that Pakistan Navy formally started its rescue and relief operation in early July in Othal and Lasbela districts of Balochistan. This operation continued until August 14 in which land and air teams of Pakistan Navy participated but when the extremely unusual monsoon rains started, it had to be stopped temporarily.
According to Captain Zahid, the rain spell that started after August 14 triggered a deluge of epic proportions in Sindh and the rescue operation was shifted to this province. "Fixed-wing aircraft, helicopters and ground forces participated in the operation that began from August 20," he added.
Published in The Express Tribune, September 8th, 2022.
COMMENTS
Comments are moderated and generally will be posted if they are on-topic and not abusive.
For more information, please see our Comments FAQ