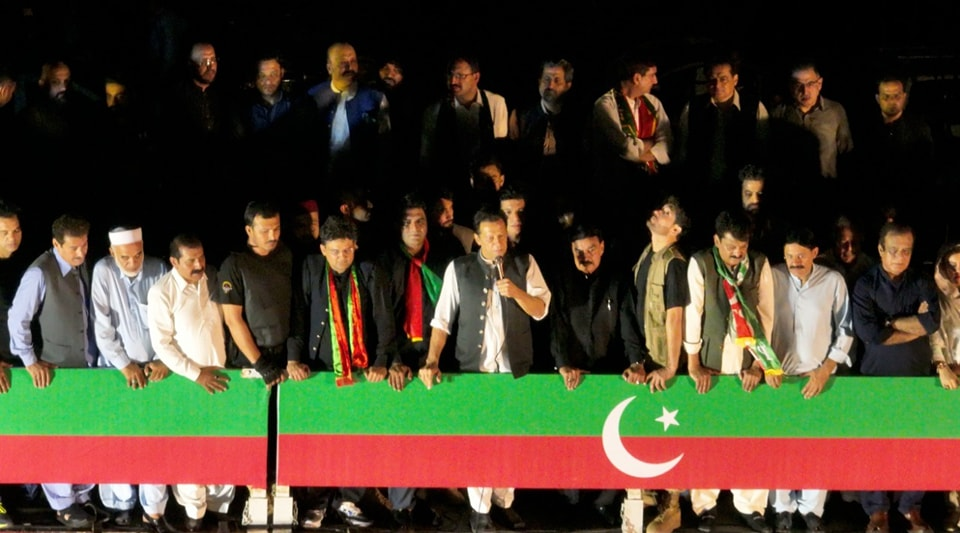 ---
ISLAMABAD:
The Pakistan Tehreek-e-Insaf leaders on Monday sprung to the defence of their party chief after Pakistan Army expressed anger at Imran Khan's remarks that political parties were trying to bring in an army chief of their choice, saying that the statement did not mean to cause any harm to the institution.
Addressing a rally in Faisalabad on Sunday, the former prime minister had alleged that Nawaz Sharif and Asif Zardari wanted to appoint the army chief of their choice because if a strong and patriotic COAS came, they would be questioned about their loot.
PTI leader Fawad Chaudhry accused the incumbent coalition government of being one of the minority instead of majority, claiming that their "moral status is not good". "They cannot go out in public because of their deeds. It has become difficult for them to sit outside and eat a burger."
Fawad claimed that PML-N leader Javed Latif had revealed that "we were brought to power under a conspiracy".
"Properties of Asif Zardari, Maryam Nawaz and (Prime Minister) Shehbaz Sharif are outside," Fawad said. "Maryam Nawaz, (Foreign Minister) Bilawal Bhutto and Asif Zardari have no interest in Pakistan while Nawaz Sharif's children are British citizens."
The PTI leader said that former Punjab chief minister Hamza Shehbaz and his father (Shehbaz Sharif) had Rs24 billion money laundering cases against them.
He said Imran's question was that would it be in the interest of Pakistan that this political group made the army controversial.
Read Army 'aghast' at Imran's 'defamatory' allegations on COAS appointment
"There can be no doubt about our forces. All people are connected with this soil. We believe that Pakistan Army should not be a part of the political arena."
He said it was unfortunate that a man like Khawaja Asif was the defence minister. "He (Khawaja Asif) himself is compromised as he is doing the work of other countries. Will a person like Khawaja Asif send the summary for the appointment of the new army chief?"
Taking to Twitter, former planning minister Asad Umar said that the context of Imran's statement regarding the COAS appointment had already been clarified.
"There was never an intent to cause harm to the reputation of the institution or its senior leadership," he added.
The former minister said that the party and its chairman had always appreciated the "professionalism and sacrifices" of the army personnel.
In a separate tweet, another PTI leader, Shireen Mazari, said, "Unfortunately, the [ISPR] statement is a cause for concern because despite all the clarifications, Imran's statement has been misconstrued and that too at a time when the PDM (Pakistan Democratic Movement] is deliberately distorting the statement to target him. In his speech at the Faisalabad rally, he did not criticise the army or its leadership anywhere.
"With all due respect, the ISRP's statement was totally unnecessary after the leadership's tweets and Fawad Chaudhry's very clear explanation that Imran Khan's allusion to the COAS issue was entirely directed at the corrupt leadership of the PMLN + PPP who have a history of targeting the military from Dawn Leaks to Memogate."
COMMENTS
Comments are moderated and generally will be posted if they are on-topic and not abusive.
For more information, please see our Comments FAQ