 ---
BHAKKAR:
Relief goods loaded on a truck, which were meant for distribution among flood victims, were sold to a vendor in Bhakkar. The police arrested both the truck driver and the vendor and started an investigation.
Philanthropists in Lahore dispatched a truck loaded with flour, mineral water and other food items to Dera Ismail Khan for the flood victims. However, the truck driver, after reaching Bhakkar, sold all the relief goods to a junk vendor at a low price. Seeing the suspicious activity, people in the vicinity informed the police.
Upon receiving reports, police reached the spot and took the truck driver, the junk vendor and the relief goods into custody, transferring them to the police station. DPO Syed Ali Raza said that legal action has been initiated and city police are interrogating the suspects.
A case was registered under 379 and 411 PPC against accused truck driver, Tariq and Amanullah, the junk dealer who bought the goods. The accused maliciously sold the goods which were to be distributed among the flood affectees to the junkyard. The relief material was being transported from Siyal Flour Mill Sheikhupura to DI Khan.
Public social circles expressed their deep regret for the theft and sale of relief goods and added that only the insensitive are capable of this feat. The public demanded punishment, whilst being appreciative of the performance of the DPO for apprehending the suspects and recovering the stolen goods.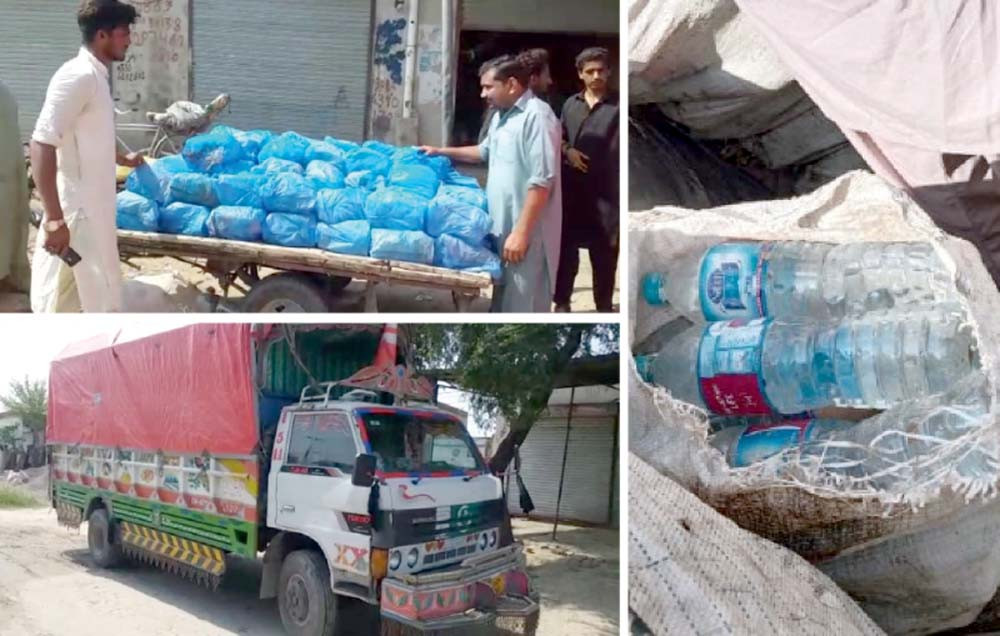 Relief efforts for flood victims have been fraught with problems nationwide, ranging from a lack of road access to affected areas, to aid convoys being intercepted and having their cargo stolen. Transporters are also overcharging to take the goods to the designated areas, throwing relief efforts further into discord.
In a piece published by the Express Tribune, truckers cited poor travel conditions, longer commute times, and high demand as reasons for the increase in inter-provincial transport fares, in addition to, in some cases, completely destroyed road networks.
Moreover, volunteers are concerned about the reliability of the transport itself. A volunteer at a relief camp said to The Express Tribune that they had sent a truck of relief goods to Balochistan, but the truck was in such poor and dilapidated condition that it could not keep its balance on the flooded road and overturned. Any relief items onboard were destroyed and wasted.
Published in The Express Tribune, September 4th, 2022.
COMMENTS
Comments are moderated and generally will be posted if they are on-topic and not abusive.
For more information, please see our Comments FAQ