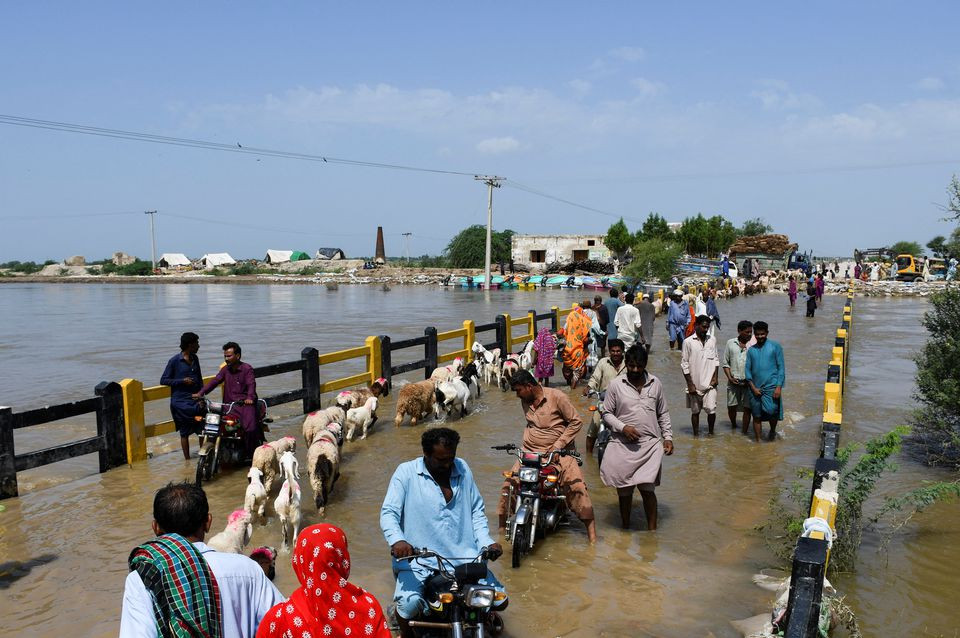 ---
QUETTA:
A large number of flood-stricken people from Sindh's Kandh Kot, Thul, Garhi Khairo and other parts have started arriving in Balochistan to escape the devastating floods.
Since most parts of interior Sindh are flooded, a large number of flood-affected people fled to the safety of Dera Murad Jamali and other parts of Naseerabad division.
Around 72 people including women and children arrived in Balochsitan on Friday on foot due to lack of other means of transportation.
These families hail from Garhi Khair, Sindh who walked day and night to reach Kalat.
"No one has asked about food and shelter as we are living under the open sky on our own," Rukhsana, a woman with her two daughters, said.
She said their children were suffering from different diseases and the authorities have not provided them any support so far.
These people reached Kalat Bazar where local people provided them with food on their arrival.
"We are extremely tired and our women and children are in desperate need of help," Ilahi Bakhsh, an aged man said.
Bakhsh said their hut-like houses were washed away and the entire area had been inundated by floodwater.
"We had no option other than fleeing to Balochistan," he said.
Meanwhile, army, Frontier Corps (FC) and the Provincial Disaster Management Authority (PDMA) launched a joint rescue and relief operation in the six worst hit districts of Balochistan.
Read Floods in Pakistan threaten Afghanistan food supply: UN
Army has established medical camps in all flood affected districts of Balochistan to provide free medical treatment.
Chief Minister Balochistan Mir Abdul Quddus Bizenjo said the situation in Sindh was worst and Balochistan was also supporting the flood affected people from Sindh province. "Naseerabad is completely flooded," Bizenjo told The Express Tribune.
He, however, said Balochistan was still in far better shape than Sindh when it comes to floods.
He said there was no dry space in Sindh and Balochistan was not bad except for the Naseerabad division.
Mir Muhammad Sadiq Umrani, the central leader Pakistan Peoples Party (PPP) said that still thousands of people were without any support.
Hundreds of thousands of huts mud houses were destroyed by floods, Umrani said.
He said the federal and provincial governments should evolve a strategy to support over a million affectees in Naseeraebad division.
All the affected people are taking shelter at the highway linking Balochistan with Sindh since the entire area is flooded.
Published in The Express Tribune, September 3rd, 2022.
COMMENTS
Comments are moderated and generally will be posted if they are on-topic and not abusive.
For more information, please see our Comments FAQ