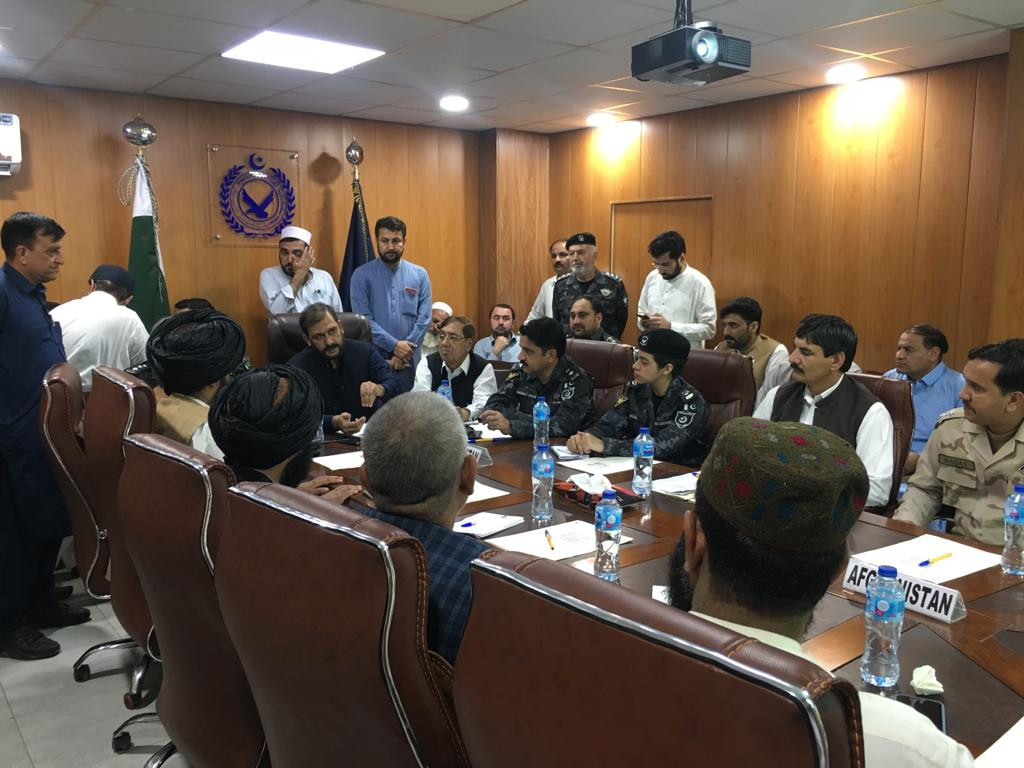 ---
TORKHAM:
Pakistan and Afghan officials met on Thursday at the Torkham border and agreed on coordinated efforts for the promotion of trade between the two countries.
The participants expressed satisfaction over the increase in the number of vehicles crossing the border from 500 to 1,200.
FC, NLC, FIA and police officials participated in the meeting from the Pakistan side while the Afghan delegation was led by border security commander Maulvi Khalid.
The Pakistani officials during the meeting, which took place at the Customs House under the chairmanship of Additional Collector Customs Mohammad Tayyab, demanded to the Afghan authorities to abolish the export tax imposed on coal just like Pakistan abolished the duty imposed on the import of onions and tomatoes from Afghanistan.
Read more: Afghans allowed to cross Torkham border by showing Tazkira for Eid
On this, the Afghan side assured Pakistani officials that they will convey their request to the Afghan trade ministry.
The Afghan delegation demanded that dozens of trucks of fresh fruits are waiting to enter Pakistan for several days from Afghanistan, adding that it is feared that the fruits, which are worth millions of rupees, might get spoiled.
The Pakistani officials assured the Afghan body that trucks will be cleared on a priority basis.
The Afghan officials thanked the Pakistani side for increasing the number of vehicles allowed to cross into Pakistan from 500 to 1,200. Pakistani Additional Collector Customs said that the movement of vehicles would be increased to 2,000 vehicles per day.
During the meeting, the Afghan authorities expressed their satisfaction that child labour has been eliminated by 80 per cent by the actions of Customs and FC, hoping that it would be completely eradicated.
The Pakistani delegation demanded from the Afghan authorities that the concession given to Afghan patients to come to Pakistan via Torkham is misused by elements involved in human trafficking.
They were of the view that the Afghan authorities should prevent human trafficking and cooperate with Pakistani officials.
COMMENTS
Comments are moderated and generally will be posted if they are on-topic and not abusive.
For more information, please see our Comments FAQ