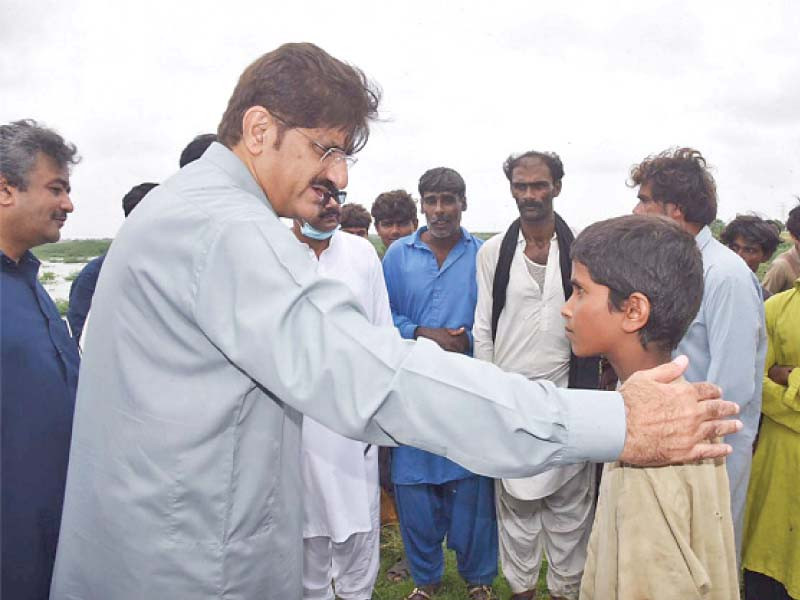 ---
KARACHI/SUKKUR:
Chief Minister Syed Murad Ali Shah in his meeting with representatives of donor agencies and diplomats of different countries at VIP Lounge of Begun Nusrat Bhutto Airport, Sukkur, disclosed that his province was in a dire need of Rs860 billion to reconstruct the devastated houses and villages, repair road network and revive agriculture, otherwise things would not move forward.
The chief minister and chief secretary givging detailed briefing to the visiting diplomats and donor agencies' representatives said that unusual monsoon rains in July were 308 per cent above the average and in August it was 784 per cent above the normal.
Shah said that the 2022 floods are bigger catastrophe than the floods of 2010 and 2011 and crisis has compounded with high flood in Indus at Guddu and Sukkur which has inundated the entire kutcha area - the illegally occupied riverine land on Indus River banks.
Chief Secretary Sohail Rajput told the meeting that 24 districts with 102 talukas and 5,727 dehs have been declared calamity hit. The chief minister said that ex-gratia assistance is needed immediately to compensate for death, injuries, house collapse, reconstruct road links, damage crops, loss of live stocks grant of compensation on account of injuries, houses damaged and livestock, rescheduling of agriculture loans grant of subsidy on agriculture machinery, fertilisers, pesticides, and supply of seeds to farmers etc.
Shah said that one million tents, three million mosquito nets, two million ration bags for two months, one million jerry cane and one million kitchen sets, 500,000 plastic mats and 500,000 woolen matress and one tarpaulin was required for relief requirements.
Talking about loss of lives, Shah said that 405 people have died and 1,074 injured. Reconstruction of 105 million damaged houses will cost Rs450 million at a rate of Rs300,000 per house. Loss of 11,734 cattle will cost Rs903.96 million while Rs335.44 billion is the cost of 3,171,726 acres of crops damaged.
The CM said that almost all the cash crops such as cotton, dates, sugarcane, rice, kharif vegetables, tomato, chilies, onions and others have been destroyed in the floods.
The visitors were told that 570 roads of 2,281.5 kilometer and 45 bridges costing Rs22.8 billion at a rate of Rs10 million per kilometer were required. Similarly, for Karachi's infrastructure such as roads, bridges, sewerage system would cost Rs50 billion to repair or reconstruct.
In this way the initial assessment of damages is estimated at Rs860 billion, the chief minister told the visitors.
Another similar meeting was held under the chairmanship of Foreign Minister Bilawal Bhutto Zaradri which was attended by more diplomats and donor agency heads and representatives.
After the meeting all the guests took aerial view of the inundated cities, towns, crops and canals.
The chief minister after his Sukkur engagements flew to Sehwan where he visited FP Bund, Manchhar lake along with Minister irrigation Jam Khan Shoro.
The diplomats and representatives of donor agencies who attended the meeting include Deputy High Commissioner Australia Joanne Frederiksen, EU Deputy Head of Mission Thomas Seller, Deputy Head of Mission Denmark Simon Kjeldsen, Charge d'affairs Norway Dr Mah Noor, Italian-AICS Italy Pietro Del Sette, Director Italian Agency for Development Emanuela Benin, focal person on flood relief assistance USAID Xerses Sidhwa, Disaster Management Specialist USAID Ali Gohar Khan and others.
Published in The Express Tribune, September 1st, 2022.
COMMENTS
Comments are moderated and generally will be posted if they are on-topic and not abusive.
For more information, please see our Comments FAQ