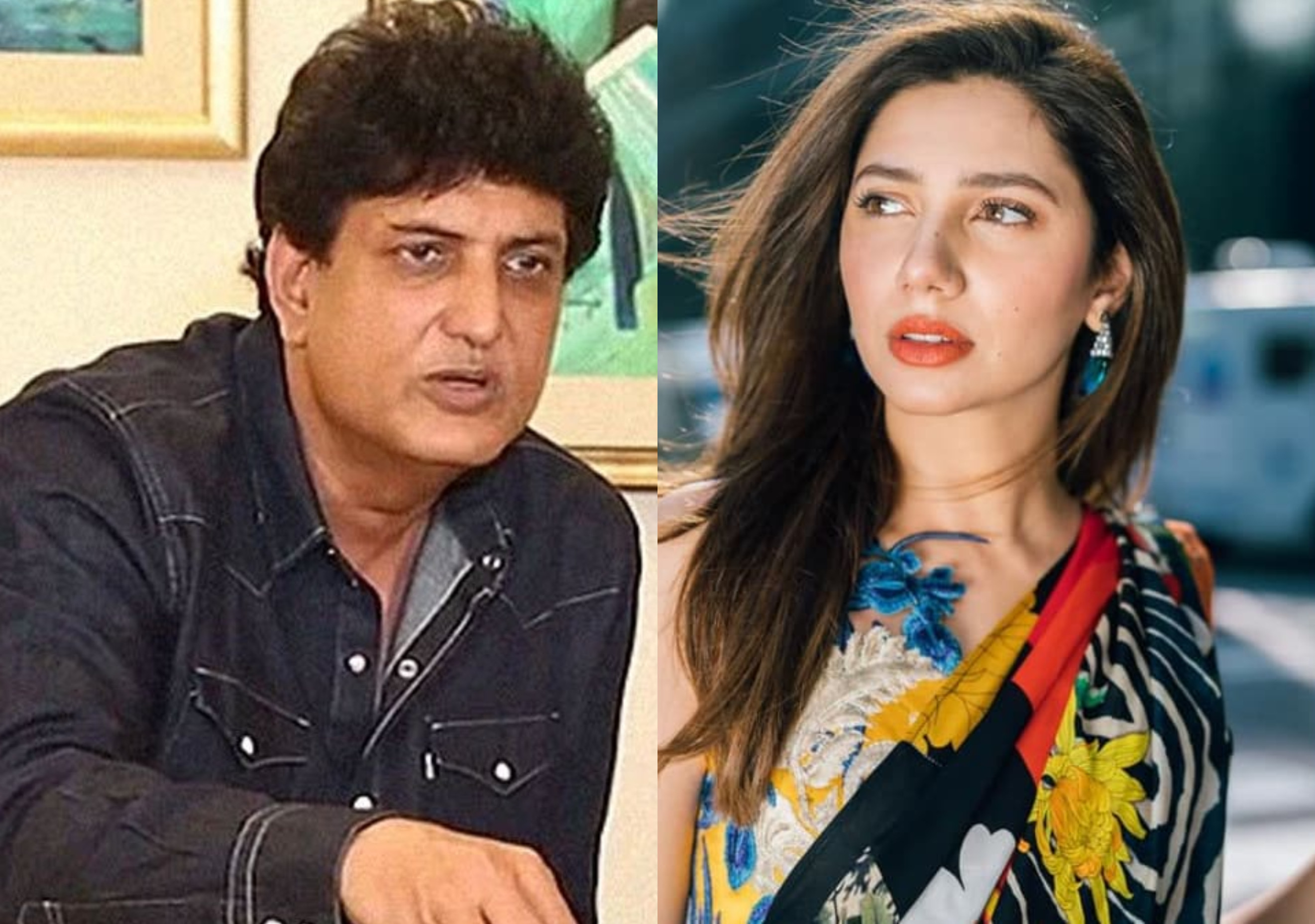 ---
Revered writer and notorious figure Khalilur Rehman Qamar [KRQ], has once again aired his grievances against the ever-popular Mahira Khan for tweeting against him in March 2020, after he shouted at, belittled and abused a woman on live television.
The writer appeared as a guest alongside actor Sara Loren on Ahmed Ali Butt's talk show for a local TV channel on August 29. When asked if he is one to forgive and forget, Qamar maintained that he is quick to forgive but never forgets. Butt, then inquired if he had forgiven Mahira Khan, to which he said, "I wrote it in Meray Paas Tum Ho, didn't I? I have forgiven you but I can't go back in time. That, I can't do."
To get some clarity, Butt asked what Qamar would do if he and Khan are to work on a project together. "I can only pray that I get to leave that project and die so that she [Khan] can get to work on it," replied Qamar, laughing. "That means you're still very upset with her. Why?" probed Butt.
"Look, had she said something against me, it would've been fine. But she insulted my stars," complained the Sadqay Tumhare writer. "That was sacred to me. I was so infuriated because she was my friend, like you are my friend. She had the right to call me and fight with me. She could've told me the problem she had with me, to my face. But she chose to pen such a disgusting tweet?" he continued, revolted.
"But you said she was like your friend. So, wouldn't you want to forgive your friend?" pressed Butt. "To hell with such friendship! To hell with such friendship! I don't want such a friendship!" lashed out Qamar. Motivated, perhaps, to mend broken ties, Butt went on to ask whether Qamar would forgive Khan if she forgives him too. "Why would I need her forgiveness? What have I ever done to her? What kind of condition is that? What are you even saying?" sought Qamar, appearing offended.
Butt instantly stopped himself from probing any further and chose to change the topic.
In April this year, the Raees star, who played Shaano in Sadqay Tumhare, shared a clip from the serial, written by Qamar, on her Instagram. She coupled the post with a heartfelt caption, "Aaaj Sadqay yaad aaya... PS: I just got told Sadqay Tumhare is finally out on YouTube." While fellow artists lauded her portrayal, Qamar took to Twitter to lament how he will always curse himself for casting Khan in a role so "sacred" to him.
"I'll always curse [myself] for the sin I committed by casting her Mahira Khan in Sadqay Tumhare. This is what this woman tweeted a day after the incident with Marvi Sirmed. I used to respect her but I will never forget her language and absurdness until the day I die," he tweeted.
In her tweet, Khan had called out Qamar for cursing commentator Marvi Sirmed on TV. "I am shocked at what I have just heard and seen. Sick to my core. This same man, who abused a woman on TV is revered and given project after project, and for what? We are as much to blame if not more for perpetuating this thinking!"
In March 2020, Qamar had cursed Sirmed during a live chat after he expressed his disdain towards the slogan "Mera jism, meri marzi (My body, my choice)," and she went on to chant it in protest of his views. Instantly triggered, he lashed out, "Tere jism men hai kya? (What is in your body) Don't talk in between. Thookta nahi hai koi tere jism pe (No one would even spit on your body). Shut up you b****. Beech men nahi bolo (Don't talk in between)!"
Khan is yet to comment on the London Nahi Jaungi writer's latest or previous remarks.
Have something to add to the story? Share it in the comments below.