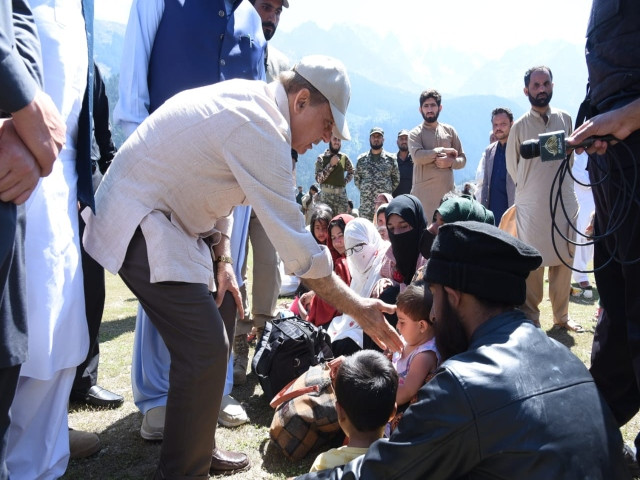 ---
PESHAWAR/ ISLAMABAD:
Rescue operation was going in full swing in the country on Wednesday, with army helicopters flying sorties over cut-off areas in the country's mountainous north and rescue parties fanning out across waterlogged plains in the south as misery mounted for millions trapped by the worst floods in the country's history.
Also, global aid started to gain pace, with planes carrying tents, food and medicines coming from China, Turkey and the United Arab Emirates, the Foreign Office said.
Monsoon rains have submerged a third of the country, claiming over a thousand lives since June and unleashing powerful floods that have washed away swathes of vital crops and damaged or destroyed more than a million homes.
Foreign Minister Bilawal Bhutto-Zardari accompanied diplomats from 20 countries on a flight over the flooded regions.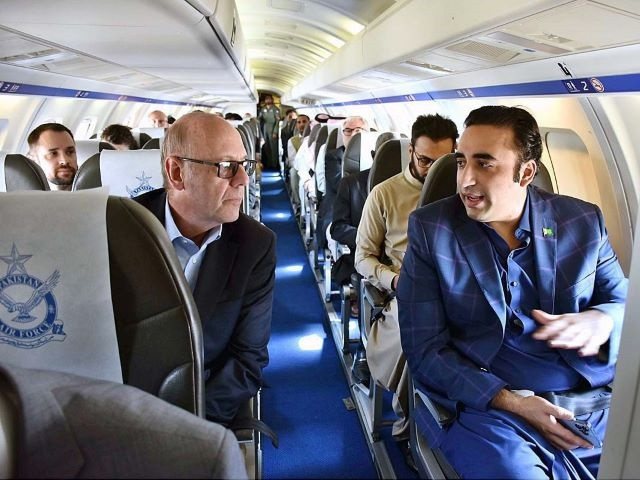 Meanwhile, Prime Minister Shehbaz Sharif announced Rs10 billion grant for flood-affected populace of Khyber-Pakhtunkhwa as flood relief assistance.
Addressing a gathering, the prime minister said that the amount would be spent for the relief and rehabilitation of the flood-hit people of the province.
The federal government, the NDMA and the provincial administration, through close coordination, would ensure transparency and immediate disbursement in the affected areas.
The minister said the international response had been encouraging. Among the deliveries, four Chinese planes had delivered a total of 3,000 tents and other relief goods, the Foreign Office said.
The Indus river has reached "high to very high flood" levels that are likely to continue rising over the next 24 hours, the National Disaster Management Authority (NDMA) said.
Read: ECC okays Rs103b for urgent relief
The total death count in various incidents reached 1,302 with 36 more deaths in the past 24 hours and 3,554 individuals got injured since the onset of the rainy season.
The NDMA issued a 24-hour situation report released on routine basis that accounted overall life, property, and infrastructure losses incurred by the heavy rains lashing out various parts of the country. It said 480,030 displaced persons have been shifted to refugee camps.
The heavy rains and flash floods caused deaths of four women and a man in Kachhi district of Balochistan. In Khyber-Pakhtunkhwa, nine persons perished due to roof collapse and flash floods in various districts, including two men and a child in Upper Kohistan, a man in Karak, two men in Dera Ismail Khan, a man each in South Waziristan, Hangu and Lower Dir.
However, four people were reportedly injured including two children in Upper Kohistan, one man in Dera Ismail Khan, and one in Upper Chitral due to the flash floods.
United Nations chief Antonio Guterres called it "a monsoon on steroids" as he launched an international appeal late Tuesday for $160 million in emergency funding.
Officials say more than 33 million people are affected -- one in every seven Pakistanis -- and it will cost more than $10 billion to rebuild.
The focus for now, however, is reaching tens of thousands still stranded on hills and in valleys in the north, as well as remote villages in the south and west.
"We appeal to the government to help end our miseries at the soonest," said Mohammad Safar, 38, outside his submerged home on Wednesday in Shikarpur.
"The water must be drained out from here immediately so we can go back to our homes."
There is so much water however that there is nowhere for it to drain.
Climate Change Minister Sherry Rehman described the country as "like a fully soaked sponge", incapable of absorbing any more rain.
Prices of basic goods -- particularly onions, tomatoes and chickpeas -- are soaring as vendors bemoan a lack of supplies from the flooded breadbasket provinces of Sindh and Punjab.
Makeshift relief camps have sprung up all over Pakistan -- in schools, on motorways and in military bases.
Displaced people are sweltering in the summer heat with sporadic food aid and little access to water.
Read More: Helicopters rescue the stranded from Swat Valley
In Sindh, doctors treated patients who made their way to a makeshift clinic after walking barefoot through dirty floodwater, mud and streets full of debris and manure.
"My child's foot is burning with pain. My feet too," said Azra Bhambro, a 23-year-old woman who had come to the clinic for help.
In the northwestern town of Nowshera, a technical college was turned into a shelter for up to 2,500 flood victims.
The army said its helicopters had flown over 140 sorties in the past 24 hours, plucking people from cut-off areas in the north, and dropping off food and fresh water elsewhere.
Aid flights have arrived in recent days from China, Turkey and the United Arab Emirates, while other countries including Canada, Australia and Japan have also pledged assistance.
The World Health Organization said over 6.4 million people were in dire need of humanitarian aid, including refugees. "Access to health facilities, healthcare workers and essential medicines and medical supplies remain the main health challenges for now," WHO said in a statement. Some 888 health facilities have been damaged, it added.
The floods have washed away standing and stored crops that officials say will likely lead to a food shortage, with prices of edible items shooting up in a South Asian country already suffering from 24.9% inflation.
General Akhtar Nawaz, chief of the national disaster agency, has said that more than two million acres (809,371 hectares) of agricultural land have been flooded.
"The rice crop has been washed away," Prime Minister Shehbaz Sharif told reporters after visiting northern Pakistan. "Fruit and vegetables are gone." He said floodwaters had swept away 700,000 livestock.
(With additional input from Agencies)