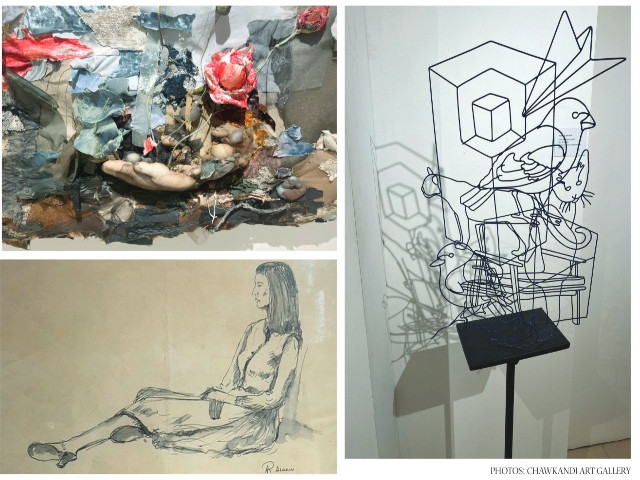 ---
KARACHI:
With the mix of art styles, either contemporary or connecting the art of drawing with the power of self-respect, 16 artists showcased their best
works at Chawkandi Art Gallery on Tuesday.
The exhibition titled as, 'Lines of Inquiry' kicked off on August 30 will end on September 17. The artworks of each artist define them as their form of expression through their drawings. In Lines of Inquiry, the revelatory potential of drawing is emphasised as a deliberate effort that aids in the artist's self-realisation and autonomy while also serving to explain the artist's thinking.
The participating artists' work exemplifies how art may connect inner experience with external expression. An art piece that was catching the most attention was the artist, Adeel Uz Zafar, An Installation, Variable materials, and the size of the container.
The installation was placed on the wall with paper different kinds of pens, colours, crayons, and markers with a headset placed by with a few instructions to follow and make your own art piece.
One of the other interesting installations was from Ruby Chishti, she put out a big art piece with recycled pieces that she defined as the murkiest conditions in a lotus emerged. She focused on how it can be protected with some dark mud and pebbles. Keeping it to the miseries women have been facing around the country, Hamama Tul Bushra depicts the woman, who is a construct that exists in every gender. Through her work, she examines heteronormativity to question social norms. The reason for putting it up for more than 15 days is because there are so many artists and such a huge exhibition so the gallery itself wanted to give it some time so that the work can get its deserved spotlight.