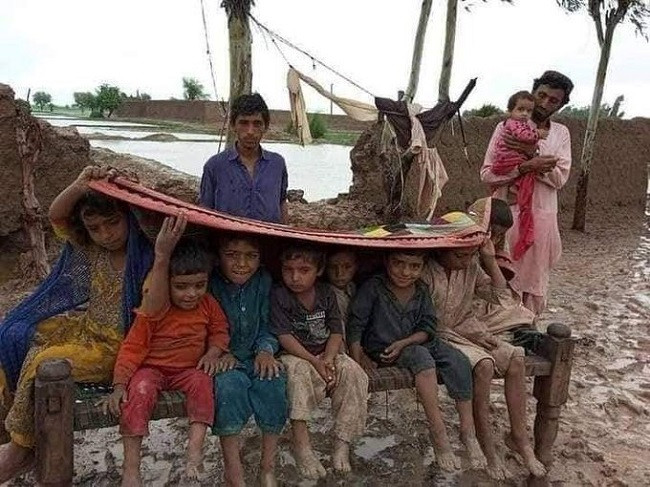 ---
KARACHI:
Hundreds of families devastated by catastrophic rains and floods have come to Karachi from Balochistan and Sindh in search of shelter, food and medical help.
Over two dozens relief camps have been set up in four districts of Karachi division, including Malir, Keamari, West, and East districts. The provincial government has given permission to most of the affected families to take shelter in the education department's buildings like schools and colleges.
Over 90 per cent of the displaced people are from 23 districts of Sindh, while the rest have come from Balochistan, which has also been devastated by the calamitous rains and floods.
Volunteers and officials at the relief camps believe more families will come to Karachi as their villages and homes are still underwater while there is a fear that more rains and floods are likely to hit most parts of the province.
On the directives of Sindh government, all displaced families are being provided two to three times meals, medical help and other basic needs. According to the data shared by the provincial government, around 50,000 people have reached the city during the last two weeks.
While chairing a meeting, Labour and Human Resources Minister Saeed Ghani said that no exercise has been conducted to determine the exact number of displaced families. He also said that the financial losses caused by the floods could be in billions.
Sindh Social Welfare Minister Sajid Jokhio said that so far 25,000 flood-affected people have been accommodated in District Malir so far, as the district has been receiving 3,000 to 4,000 victims daily.
"I left my village as it was unwise to live there without food and shelter," said Abdul Shakoor, a displaced person from Dadu district.
He said, his only house located near Mehar Town was destroyed in the third week of August. "The only way was to shift my family to a safer place, and Karachi was the best option," he said.
Shakoor said that 80 percent of his relatives in the village have left their homes. "Some of our families are living in other parts of this area (district)," he said.
"We will reunite and go back when the floodwater recedes," he added.
Mohammad Yaseen, who lives in Keamari's Budhi Goth, said that he sold out his cattle to come to Karachi. "It was my only source of income, but I did not have any other option," he said, adding that he had never thought of bringing his family to a relief camp. "It was a hard decision but I wanted to ensure the security of my family."
Some of the displaced families living in schools have complained that they were expecting immediate relief in the city from the government but we were not entertained for two days.
Speaking to The Express Tribune, Deputy Commissioner East District Raja Tarique Chandio said that over 6,000 flood victims were residing in different camps set up in his district. "There are a total of 13 camps in my district. We are providing them with food and medical facilities and
when required," he added.
Chandio said that doctors were available round the clock at the relief camps. "Serious patients are being shifted to the Dow University Hospital where their treatment is free," he said. The government is trying to provide the best food and medical facilities to the flood-affected families.