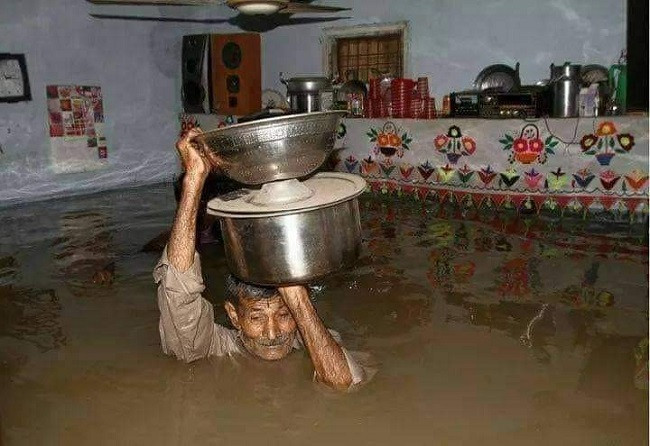 ---
ISLAMABAD:
The recent torrential rains and floods in Pakistan have inflicted a loss of around Rs536 billion on the country's agricultural and livestock sector, according to the national food security ministry's preliminary report on the damage to the farm sector.
However, sources said this figure would reach Rs1.30 trillion in the final report and was expected to further rise.
The calamity has destroyed cotton, corn, rice, sugarcane, pulses, tomatoes, onions and other crops across the country.
The document revealed that Sindh's agricultural sector had suffered the most with a loss of more than Rs300 billion so far.
It further disclosed that the damages caused by the rains and floods to Balochistan's farm sector had also hit billions of rupees.
In Khyber-Pakhtunkhwa, farms have suffered a loss of over Rs36 billion.
According to the report, crops standing on an area of more than 2.4 million hectares were destroyed in Sindh.
It added that cotton and dates had been completely washed away in the province.
Sugarcane, pepper, tomato, rice, onion and other vegetables haf been partially damaged in Sindh, the report added.
In Balochistan, crop damage is higher in the districts of Labela, Sibi, and Awaran, where areas of 50,000 acres, 3,400 acres, and 3,212 acres, have been affected, which resulted in a loss of Rs4.9 billion, Rs1.02 billion, and Rs963.6 million, respectively.
Seeing the shortage of food the situation might create, the national food security ministry decided to issue import permits of onion and tomatoes within 24 hours.
During a meeting, the ministry also proposed to the Federal Board of Revenue (FBR) to waive-off taxes and levies on import of onion and tomatoes for the next 90 days.
These steps are taken to ensure the supply of essential commodities in the market and to stabilise prices.
According to the details, the ministry has directed the Department of Plant Protection (DPP) to facilitate the import and ensure that there were no hinderances for the importers.
Furthermore, a contact group to facilitate imports was created. The importers would be able to share their problems with this group.
The Pakistan embassies in Iran, Afghanistan, UAE and other countries have been requested to assist the imports.
Director General, Agriculture, Balochistan, Abdul Wahab Kakar on Tuesday said that devastating rains and floods had caused Rs98 billion losses to the agriculture sector of the province.
"The loss incurred to the agriculture sector of Balochistan alone is estimated as Rs98 billion," DG Agricultural said during a meeting held at the Agriculture office to review the losses caused by the rain in the province.